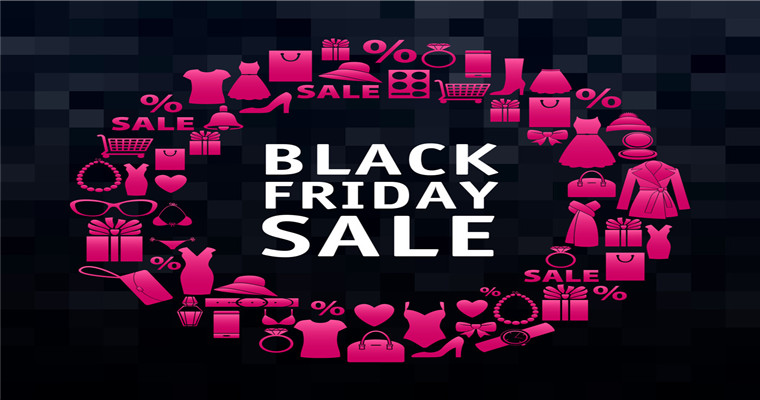 TikTokIt has always been one of the leading platforms for promoting e-commerce products, and cross-border sellers should not miss the opportunity to useTikTokPromotion activitiesOpportunities, especiallyBlack FridayandNetwork Mondayperiod。
Blue Ocean Yiguan has learned that,According to a recent study, compared with other platforms, 54%TikTokUsers plan to purchase through sponsored social media postsBlack FridayProducts for.
1.70% of TikTok users hope that TikTok can inspire them to shop on Black Friday this year.
2. TikTok affected 80% of users to buy things during the Black Five last year.
3. Among the users who bought things on Black Friday last year, 40% bought the things they saw on TikTok.
It is expected that this trend will continue in 2021, and TikTok has also improved e-commerce functions for the brand.
Last year, the Black Five Movement started early and lasted longer.#blackfridayThe number of tag views tripled in the second week of October and peaked on that day, maintaining a relatively high level untilChristmaseve.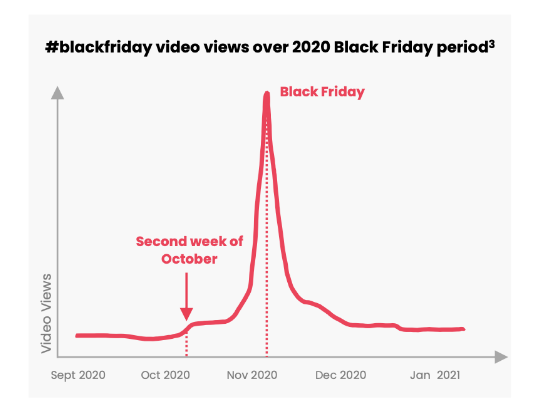 In view of thisfestivalseasonsellerSupply chain problems facedVery serious, manysellerThe promotion of Black Five has been started in advance. Users have adapted to this change,festivalShopping has started.
IDuring the Black Five,TikTokWhat are users more likely to buy?
Based on 2020 data,as well asTikTok anticipates shoppers from social platformsthereInformation collected,findCompared with users of other platforms, TikTokuserMore likelystayBlack Friday shopping。Popular products include:
1. Clothing:15%。
twogift:32%。
threesporting facilities:35%。
fourPersonal Electronics:16%。
fivePersonal care products:20%。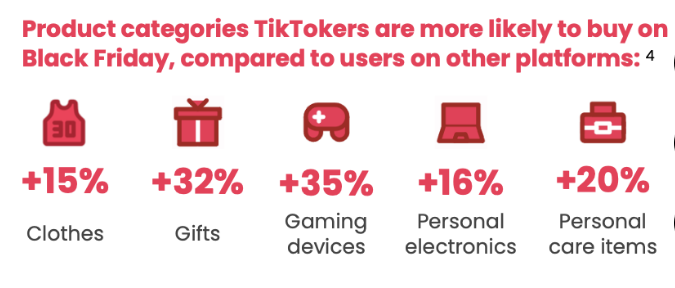 IIBlack Five Period,How to maximizeTikTokMarketing effect?
oneUse Branded Effect add ons to increase click through rates
Branded Effect's In-App CTAandIn-Camera CTAWill useInteractive and fun waysDrain the store, HelpsellerMaximize conversion.
2. UseTopView attracts eyeballs
takedealsPut at the front and centerpart, GuaranteeappMaximum exposure on。
3. UseSpark Ads uses thenaturalcontent
Black Friday offers can attract a large number of TikTok usersnaturalPosts. Monitor mentions the product, and then uses Spark advertising to promote itmoreTikTok CommunityuserYou can see them in their FYP。
fourLeverage TikTok Creators
Support from the creators of TikTok trust can be very helpful. stayTikTok Creator MarketplaceFind the right partner for the brand on the website and ask them to introduceseller's topic tagChallenges(Hashtag Challenge)。
oneTikTokbyMagalubring196 million video views
Magalu is the largest digital multi-channel platform in Brazilone ofIs also the largest in Braziltransactionecosystemone of。 Magalu Desires and TikTokOn the Black Five CampaignCooperation. Due to limited time, Magalu wants to quickly attract public attention and promote the flow of its annual flagship activities.
To achieve these goals, Magalu uses two high-end brand solutions from TikTokTopViewandBrand TakeoverAfter a week-long activity, users first see these two solutions when they open TikTok. The smooth visual effect and creative style of the activity are very suitable for TikTok, which is also reflected in the results of the activity.
(3)fivePartitionsfourTikTok users ofBecameNew users of Magalu。
twoTikTokbyOmolola Jewellerybring1 million 800 thousandDisplay volume
Omolola Jewellery is a boutique headquartered in the UK(Africa)Our jewelry is full of enthusiasm. Before the black five networks and one sales in 2020, theyadoptTikTok helps promote the brand and products to young British audiences.
Omolola useTikTok Ads ManagerTo monitor the activities, Omolola released three remarkableIn-Feed Auction AdsAdvertising to promote seasonal sales.According to Blue Ocean Yiguan,They useTikTok Ads ManagerBuild and run your ownbiddable adActivities, mainly convert the browsing volume into website visits.
twoone hundred and seventy-five00+Click。
(Polly ZhangNew media of cross-border e-commerce - Blue Ocean Yiguan website domain news) connects with high-quality resources of cross-border e-commerce.Wal Mart, Coupang、Wayfair 、Mercado Libre and other platforms settled,Brand copywriting planning, network wide promotion, e-commerce training, incubation and other services, please contact us. No unauthorizedRewriting, reprinting, copying, clipping and editingIn whole or in part.