Amazon's IPO boom continues.
Recently, the "scalping" big seller, Hour Loop, submitted a prospectus, which will be listed on NASDAQ, and intends to raise $6 million.
The business model of Hour Loop is slightly simple,
"Resale" mode adopted
, that is, purchase goods from brands or wholesalers and resell them on Amazon for profit.
This mode seems simple and easy to operate, but choosing it means stepping on
The "Red Sea Market" is generally red.
Choosing the right product is the key, and Hour Loop is best at it.  
At present, Hour Loop receives goods from 226 suppliers, but this is far from enough. It plans to increase the number of suppliers receiving goods by at least 150 each year to 2000 within three years.
It can be seen that Hour Loop has benefited from this model, and the existing suppliers have been far and away meeting their needs.
According to the domain news of Blue Ocean Yiguan, in the past year (as of June 30), the sales of Hour Loop reached
US $49 million (contract 312 million yuan).
In the first half of this year,
Hour Loop won 800000 orders,
The unit price of the customer is 29.47 dollars, and the sales volume is about 20.97 million dollars, up 93% year on year.
This volume is not big compared with our big sellers in China. In Longhua, Longgang and Bao'an of Shenzhen, there are a large number of hundred million level sellers whose volume is far larger than that of Hour Loop.
However, these sellers may still have a long way to go before they are listed, or they are suffering from a number blocking and price war.
For example, the front-line seller in Shenzhen has a tree, which is the same as the Hour Loop,
However, in terms of performance, one is "uphill" and the other is "downhill".
By the end of 2020, the number of stores with trees on each platform is about
3873
Amazon alone has 1135 SKUs, and the total number of SKUs exceeds 1 million.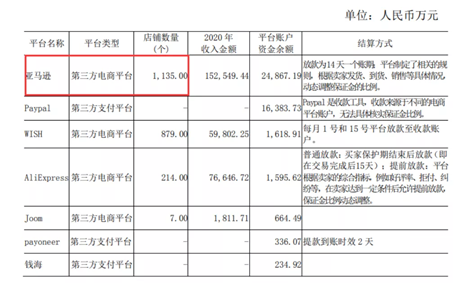 (There is a mother tree
Tianze Information Financial Report)
Because there are too many tree stores and SKUs, and the size is too large, it is inevitable to neglect one thing and lose another. In the process of operation, many problems have arisen.
As of July this year, a tree has been closed or frozen
About 340 sites
, accounting for about 30% of its active Amazon site, and freezing funds of about 130 million yuan.
In the first half of this year, the total order volume of one tree still stood at 12.62 million, but due to the impact of the number blocking event, the sales revenue on Amazon platform declined by 57.15% year on year.
(The first half of 2021 report of "Tianze Information")
Relatively speaking, the Hour Loop needs to converge a lot, and it is not the kind of open and closed
"Extensive paving" mode
, but closer
"Large and fine paving" mode.
In terms of stores, Hour Loop did not specify the specific number, but according to Amazon
The principle of "one company, one store"
As a local company in the United States, Hour Loop (Redmond, Washington) generally does not have more than 1000 stores like a tree.
Perhaps limited to the number of stores,
Compared with 1 million SKUs with a tree, the Hour Loop has only 100000+SKUs.
In addition, in terms of business category, it is more focused and has more boundaries than a tree.
Although its categories also cover home furnishing, garden decoration, toys, kitchen supplies, clothing, and electronic products, there is a basic focus
It refers to the two directions of "daily home+life consumption (play)".
Among them, toys are an important category,
Almost 20%.
These toys are purchased from well-known brands, including Barbie, Hasbro Gaming, Mega, Mattel Games, GUND, Hoyle, Polly Pocket, etc.
One of the desktop game toys named "Hungry Hungry Hippos" from Hasbro Gaming brand has sold 16128 pieces in the past 30 days,
The sales volume is 270000 dollars.
(Data source: seller wizard)
Unlike many price driven and quantity driven distribution sellers, the founder of Hour Loop is a software engineer with "technical control".
Like many engineer startups, Hour Loop has a certain "geek spirit" and tries to build itself into a technology driven seller.
Indeed, the founder's technical background provides a huge support for Hour Loop.
As a "scalping" seller, the biggest challenge is to pick out the potential part from the uncountable commodities.
For this purpose, the Hour Loop
Self developed a system
, collect a large amount of commodity data every day, compare the historical sales data, predict the sales curve, and compare the data of peers to find the gap products.
This system has been polished and optimized for many years, and is advanced and efficient. Most importantly, the data collected and deposited in recent years,
Let it become more and more "smart".
If peer sellers simply copy their systems, they may not be able to learn, because data is accumulated, not learned.
It's not like being the founder of software engineers
The background of working at Amazon for 7 years is directly corresponding.
It can be said that the product selection software system developed by former Amazon engineers has great advantages from the beginning. The selected products are almost in line with the Amazon platform
"Spleen and stomach"
。
Based on this advantage, Hour Loop has passed five hurdles, killed six generals and sung all the way in a few years.
According to a survey by Marketplace Pulse,
Hour Loop ranked 53rd among the top 100 sellers on Amazon America
。 (Ranked according to the number of favorable comments)
As early as 2019, there were 2.7 million active sellers on Amazon's entire site, and only 18000 sellers had annual sales of more than $1 million.
That is to say, the sellers with millions of sales only accounted for 0.67%, while at that time
The sales volume of Hour Loop has reached 26.56 million dollars.
Two problems: taking food from Amazon and relying on Amazon excessively
Although the Hour Loop has enjoyed favorable weather in recent years, it is also under great pressure. The biggest pressure is to compete directly with Amazon itself.
This is determined by the Hour Loop mode itself.
Since 2013, Hour Loop has been engaged in wholesale and resale. The products it purchases are not private brands. To put it simply, it purchases from brand owners and manufacturers at wholesale prices and then sells them on Amazon.
This mode determines that it will meet Amazon's own retail business in a narrow way.
In detail, the biggest competitor of Hour Loop is not other sellers,
It's Amazon Retail
This business is divided into "Amazon Vendor Central" and "Sold by Amazon Program".
Amazon Vendor Central, Amazon
VC seller mode
Amazon buys products in bulk from brands (including suppliers of Hour Loop) and then sells them at a very low price.
Since VC sellers are "wearing the same pants" with Amazon, they will get full support from Amazon in terms of traffic, advertising and logistics. They often "kill off" a lot of sellers of the same category when they are out of the Jianghu.
And the Hour Loop
"Third party procurement+resale"
The business model of, just hit the gun of Amazon VC seller.
Because this mode is to compete directly with Amazon VC business and compete face to face.
It often happens that the brands that Hour Loop likes are also liked by Amazon.
As a result, the pricing of the Hour Loop and even the entire operation are limited everywhere and cannot be implemented.
It is downwind.
In addition, the Hour Loop will also compete with Amazon's Sold by Amazon program.
This plan is a project of Amazon to help sellers grow their business, and let brand owners (sellers) control inventory management and product listings,
You can edit product links at any time.
But Amazon's
The pricing engine has the right to continuously monitor commodities,
When the price is "too high", Amazon's pricing engine can directly change the price of the product to ensure that consumers enjoy the most favorable price.
For sellers like Hour Loop, Amazon's SBA plan also brings a lot of pressure.
First of all, Amazon constantly monitors and manages product pricing to ensure that the product price of SBA plan is lower than the horizon, while Hour Loop can only be priced in a highly competitive environment without any advantage.
Secondly, the goods under Amazon's SBA plan are more likely to win shopping carts than third-party sellers because they can often provide the best price;
Thirdly, Amazon has formulated various restriction policies for third-party sellers, but it does not limit itself and the VC sellers and SBA sellers who work closely with it, such as replenishment restriction policies.
Therefore, at all levels, the Hour Loop is in an unfavorable situation.
In addition, there is also a significant pressure on Hour Loop, which is the heavy dependence on Amazon.
According to the domain news of Blue Ocean Yiguan, like Vesync, a big seller of small appliances listed in Hong Kong, China (96% of the revenue comes from Amazon),
Hour Loop also relies heavily on Amazon as a single channel.
Although it also has independent stations and Wal Mart (America) stores, the proportion of revenue is very small. The independent station also started operation in 2013, while Wal Mart stores were launched in October last year.
Last year, nearly 100% of the net income came from Amazon,
The current revenue contribution of independent stations and Wal Mart can be almost ignored.
It is very dangerous to rely on a single platform. Especially in May this year, since the large-scale closure of Amazon, the related risks are greater.
For example, Zebao, a big seller in China, is also overly dependent on Amazon, and has been hit hard.
In the first half of this year,
Zebao
Online sales reached 1.756 billion yuan, of which 1.705 billion yuan came from Amazon,
The sales through Amazon accounted for 97.13%.
In the first half of the year, due to suspected violations of Amazon platform rules, Zebao's three important brands, RAVPower, Taotronics and VAVA, were closed and suspended from sales, affecting its revenue.
After the three brands of Zebao were closed by Amazon, they increased the layout, investment and promotion of Wal Mart, eBay, Shopify and other platforms.
Although the Hour Loop has not been closed yet, it is still uncertain to "bet" almost all your wealth on Amazon.
Multi channel sales is the way most Amazon sellers want to go. Perhaps this is also the reason why Hour Loop started to build a Wal Mart platform last year.
Advantages: 60 people manage 100000 SKUs, ACoS is far below the average (27.59%)
It is reported that Amazon has 9.7 million sellers worldwide (including inactive sellers).
In such fierce competition, it is not luck that Hour Loop can make a big sale by selling goods, but the foundation behind it.
First, although the number of the operation and sales teams of the Hour Loop is not large, they can make more with less.
Although 100000 SKUs need to be managed, the number of employees in the Hour Loop is only
60.
Only some of them are operating personnel, while the rest are from the support departments such as warehousing, logistics and finance.
However, due to the increasing business, the number of Hour Loops is planned to increase to 120 by the end of the year, 250 by 2022 and 900 by 2024.
Accordingly, the number of active SKUs will increase from 42000 to 60000, to 130000 in 2022, and to
300000 yuan.
Second, the cost advantage of batch purchase:
At present, there are 226 suppliers cooperating with Hour Loop, a large number of which are planned to increase to 300 by the end of the year, and to 2000 by 2024.
The Hour Loop has certain advantages in the purchase price of goods, because they are purchased in batches and the purchase volume increases every year,

Hour Loop has the capital to bargain with suppliers and can get more discounts than other resellers

<span style="outline: 0px; max-width: 100%; font-family: 微软雅黑; color: rgb(90, 90, 90); ove <footer>The content of the article is created by the author, and the author is responsible for the authenticity, accuracy and legality of the content. Overseadia advocates respecting and protecting intellectual property rights. Without the permission of the author and/or this website, the content of this website may not be copied, reproduced, or used in other ways. If you find that there are copyright issues in the articles on this site, please contact chuhaiyi@baidu.com, and we will verify and deal with them in time. Source of the article: egainnews, this article is the author's independent point of view, and does not represent the position of overseadia.</footer>