Two years ago, Amazon launched Amazon Live Live.
Many sellers have raised their morale and are ready to work hard, as if they have seen the Amazon version of
"Li Jiaqi" and "Weiya"
The birth of.
In the eyes of many sellers, even if they fail to become "Li Jiaqi" and "Weiya", they can still "fly at low altitude" in the vent of Amazon live broadcast e-commerce.
Now, Amazon Live has been launched for more than two years. What's the effect? Did many sellers get a piece of fat?
The reality is somewhat bony.
Liu Hui, a seller in Shenzhen, believes that Amazon Live is a "pit".
He said: "We once invited foreign online celebrities to broadcast live, but the effect was very poor. It was totally different from our Taobao live broadcast. It would be better to send the money for testing."
A seller insisted on doing live broadcast for a period of time, but the effect was far from meeting expectations, so he resolutely stopped.
"Live broadcasting requires a lot of preparation, but the conversion rate is pitifully low, and the input and output are not in direct proportion. If we rely on Amazon Live to make money,
Maybe the team will starve,
"Lin Qiyan, the seller in Dongguan, also insisted on Amazon Live for some time, and then gave up.
Andy, a seller in Fujian, believes that the live function of Amazon has not played its due role at present, which is mainly related to its live positioning and consumer habits.
On the one hand, at present, Amazon Live is not a popular live broadcast, but mainly a shop broadcast,
If the attention of the store itself is not high, the live broadcast is a chicken rib.
If there is no online celebrity endorsement with its own traffic, it is very difficult for sellers to accumulate traffic through shop broadcast.
On the other hand, the behavior habits of Amazon consumers are not very consistent with the live broadcast.
"Consumers who go to Amazon to buy things have a clear purpose under normal circumstances. I just want to buy something, search directly, screen, place an order, and then finish. Few people will go to check whether a store is doing live broadcast.
Generally, the things I see happen to be live, so I can click in to see if they are more favorable.
With such an accidental probability, we can imagine the conversion rate. "
Amazon's live broadcast effect is relatively poor, and there are many sellers who hold this idea.
So, why is Amazon's live broadcast not so good?
This has a lot to do with the traffic of Amazon's live broadcast room and its "Buddhist gene".
First of all, compared with hundreds of thousands or millions of people in domestic broadcast rooms,
There are far fewer people who are online at the same time in Amazon Live Studio.

(Number of people watching a popular live broadcast in China)
Two years after the live broadcast was launched,
Generally, only tens of thousands of people watch.
These are also the live broadcast rooms recommended by the home page and supported by huge traffic.
This kind of traffic is a drop in the bucket for millions of sellers.
At the beginning of this year, the popularity of Amazon Live Studio was even weaker. According to the statistics of Beluga Whale going to sea, Amazon often had only
About 500 people
 。

(Source: Beluga Whale Goes to Sea)
Wal Mart's e-commerce platform, which is also a large platform, is not much better. In the middle of December 2020, Wal Mart and TikTok jointly broadcast the first live broadcast, and only
10000 people.
By contrast, at the beginning of this year, AliExpress
Number of viewers in the live broadcast room
Most of the time
100000 people,
In June 2020, the 10th anniversary business summit of AliExpress will last for three days, and the number of live viewers on the first day will be
Breach
1 million.
The number of visitors is a hundred times worse.
The live broadcast activity with large traffic of AliExpress has brought real benefits to sellers. Liu Qiang, a seller in Xuchang, Henan Province, promoted Chinese wigs to African Americans on Quicksell,
You can earn up to $3000 an hour.
Her initial success stimulated her bold idea to become an overseas version of "Li Jiaqi" in the wig industry.
Coincidentally, young Japanese anchor Saito Hibo has also made great achievements in AliExpress: live online
90 Minutes,
Sold more than
USD 40000
(About RMB
255 thousand and 600
)
, Average
per minute
About to sell
2839.78 yuan
。
The product he sells is a Youmi mobile phone (not a Xiaomi brand) produced in Shenzhen, China.
(Picture: the original logo of the Youmi mobile phone)
Saito and Bo, who were unemployed due to the epidemic, were at home. Their fate was unexpectedly changed by the live broadcast room of Sumitong.
In contrast, the live broadcast room of tens of thousands of people in Amazon is really unpopular, forming a sharp contrast with the lively live broadcast room of Quicksell.
Amazon and Wal Mart are both local platforms in Europe and the United States,
Why was it defeated by "Foreign Monk" Quicksell?
This is determined by the gene, concept and business layout of the platform.
AliExpress is from China, backed by Alibaba, and its sister platform Taobao (Tmall) is a master of live broadcast e-commerce, with rich experience. Therefore, AliExpress is deeply rooted in Alibaba's live broadcast e-commerce.
The externalization of this gene is to promote live broadcast to a strategic height,
And mobilize a large number of resources for "centralized" intervention.
For example, in May last year, AliExpress launched a global online celebrity incubation plan to create 1 million foreign version "Li Jiaqi" and content entrepreneurs within three years.
This means that AliExpress will step down to cultivate the "live network popularity" in person. In addition, in the live broadcast of AliExpress, there are many official activities led by the platform, which often cost a lot of money, inviting a large number of celebrities and opinion leaders, creating one after another spectacular live broadcast carnival.
This is a "centralized" operation that focuses on doing great things.
In contrast, although Amazon, Wal Mart and other local platforms also attach great importance to the live broadcast business, they basically adopt a Buddhist attitude, generally do not make centralized intervention, organize a large number of online celebrities, and engage in large-scale "battle" and "sports war".
On the contrary, Amazon strictly implements the policy of "decentralization", allowing sellers to freely organize resources for live broadcast. Only based on the quality of live broadcast, it selects some live broadcast rooms for traffic support.
Even if the live broadcast room is supported, it is only watched by thousands or tens of thousands of people online. Compared with the popularity of FastConnect, it is really incomparable.
Again, this is determined by Amazon's genes and ideas.
As Pei Pei, the head of the Internet Odd Thieves Group, said, there is a huge difference between Amazon and major domestic e-commerce platforms and even social networking platforms,
That is not to pursue "user duration".
No matter Taobao, JD, Pinduoduo and Tiktok, they are making every effort to use their own content and activities to retain users, preferably all day long, so that they can spend most of their time in the App.
Therefore, they designed live broadcast, games and so on to stick to users.
Amazon doesn't talk about this,
It is about "leaving after use",
Customers come to the platform, quickly screen out what they want, buy it and leave. Amazon has achieved its goal without having to linger more.
Although Amazon also has strong streaming media, digital reading, games and other businesses, it did not want to integrate into the e-commerce platform to occupy more users' time.
Because Amazon has always wanted to save users' time.
What Bezos said in his letter to shareholders in 2020 is a proof.
Bezos wrote: "In Amazon, 28% of purchases were completed within three minutes,
Half of the purchases are completed within half an hour.
The study found that it takes about an hour to go to a physical store to buy things, including driving, parking, looking for goods, waiting for checkout, looking for a car, and driving home.
If you replace two physical store purchases with Amazon twice a week, you can save 75 hours a year.
This is important because we live in the busy early 21st century. "
Bezos even calculated the economic value of Amazon's "time saving". According to the "time cost" of $10 per hour (slightly higher than the minimum wage level in most states of the United States), saving 75 hours per year saved $750.
Amazon Prime membership service has more than 200 million members worldwide, mainly located in developed countries.
200 million people multiplied by $750, equivalent to saving $150 billion.
The principle of "saving users' time" extended from "customer first" will always be followed by Amazon.
According to Blue Ocean Yiguan, this means that Amazon will pay attention to its live broadcasting business, but it will not spend a lot of money, organize major online celebrities, make tens of billions of large subsidies, and engage in sports type live broadcasting activities, like AliExpress and Pinduoduo, so as to cultivate users' minds on "Amazon Live" and win the battle.
Therefore, Amazon is still the same Amazon, and we can follow it to do live e-commerce business, but don't expect too much. Like domestic Taobao, Tiktok and other platforms, we can share a big cake in a very short time, and even create an Amazon version of Li Jiaqi.
Instead, it is the gradual growth of a long and narrow flow.
▎
PowerSeller broadcasts live 2-3 times a week. Is Amazon's live broadcast worth continuing?
Steven, a Guangdong seller, has done a lot of Amazon live broadcasts with his friends, and has a clear understanding of the live broadcast.
Steven believes that the current live broadcast on the site is mainly supported by Amazon official traffic,
The effect of the live broadcast has much to do with the store.
If the store has its own traffic and popularity, the live broadcast effect will be better.
But if the store itself is not well-known,
Just want to clear the inventory through live broadcast, which will not have much effect.
"During live broadcast, the host's expressiveness, shooting scenes and techniques, and shooting image quality will affect Amazon's rating of live broadcast quality, thus affecting traffic distribution. However, in my opinion, the most important thing is to adhere to live broadcast."
According to Steven, with the increase of the live broadcast duration, Amazon will also open more permissions for the store, for example, the live broadcast will be kept on the product listing page for 48 hours.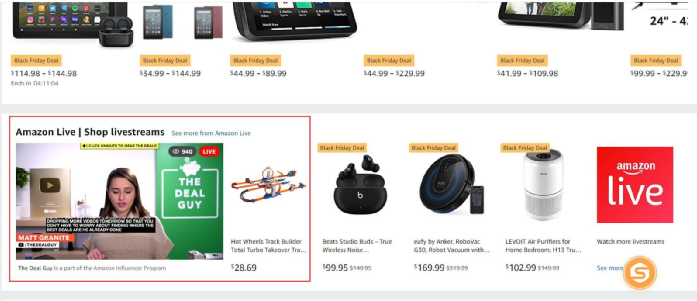 At the same time, live videos will be saved in Amazon Live App for consumers to swipe videos, and product links will also be saved. That's a lot
A sustainable flow inlet.
"At present, some big sellers in Shenzhen have started
Keep going every day
2-3
site
In terms of the sensitivity in this regard, the big seller is really ahead. "
As a competitor of Amazon, Wal Mart e-commerce platform has been increasing its live broadcast business in recent years.
However, most sellers have the same attitude towards Walmart Live as Amazon Live.
"I'm very interested in the live broadcast of goods, but Walmart's live broadcast is not enough."
Dai Fengchun, a beauty makeup seller in Shenzhen, revealed his views to the website of Ocean.com,
"What I reject is not the live broadcast, but the live broadcast of Wal Mart."
Dai Fengchun believes that at present, Wal Mart's online platform has not been built and improved. How can sellers believe that their live broadcast can achieve good results?
There are still many problems in Wal Mart's platform, such as the customer service system is not perfect, and there is a problem with one of its products on the shelves, so they look for customer s