Although the development of overseas live broadcast market is not yet mature, the future prospects are still considerable.
Liang Guorui, general manager of Xiaomi's live broadcast department in China, believes that live broadcast can make consumers more intuitive and comprehensive understanding of goods, and help consumers make shopping decisions.
This trend has initially shown signs in the United States. Wal Mart and other platforms have spared no effort to arrange live delivery, which may be just the huge prospect of this market.
According to data from the consumer market research organization Coresight Research, the live broadcast market in the United States last year was worth about $6 billion, and this year it will reach $11 billion. It is estimated that the market may exceed $25 billion by 2023.
At present, the number of online celebrity fans has played a decisive role in the live broadcast effect.
According to the statistics of Visual Capitalist, among the 50 most influential users of global social media, Kardashian and Jenna family members occupy several seats.
Kali Jenna, the youngest of Kardashian's family, was less than 30 years old by selling cosmetics liveValue exceeds3 billiondollarThe rich.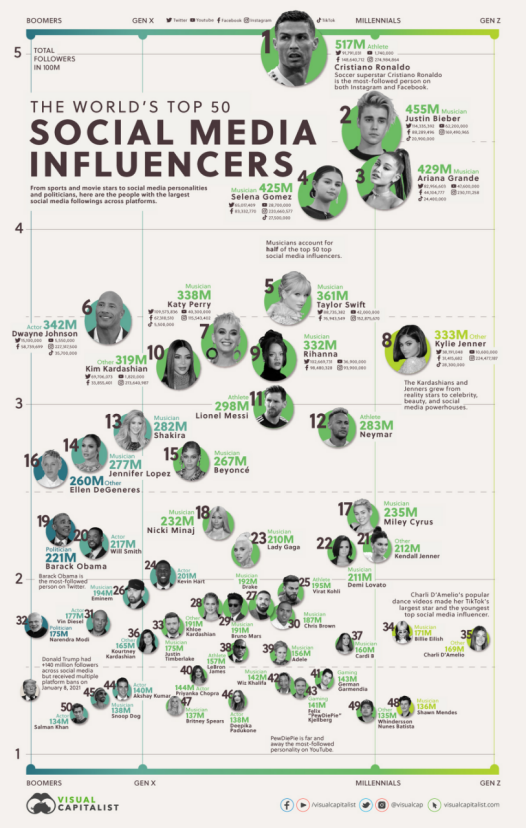 It is worth noting that the 35th Charli D'Amelio, a 17-year-old girl, first became popular on TikTok, and it took one and a half years to accumulate more than 100 million fans.
Today, Charli D'Amelio has 169 million active fans on social media such as TikTok and YouTube. As a real ordinary person, his live influence on social media may be more valuable.
For cross-border e-commerce sellers, there may be many problems in the current live broadcast, and the conversion rate is not ideal. However, we are more willing to believe that in the near future, live delivery will form a wave, which is worthy of the seller's attention. (Article/cross-border e-commerce blue ocean Yiguan website egainnews.com)