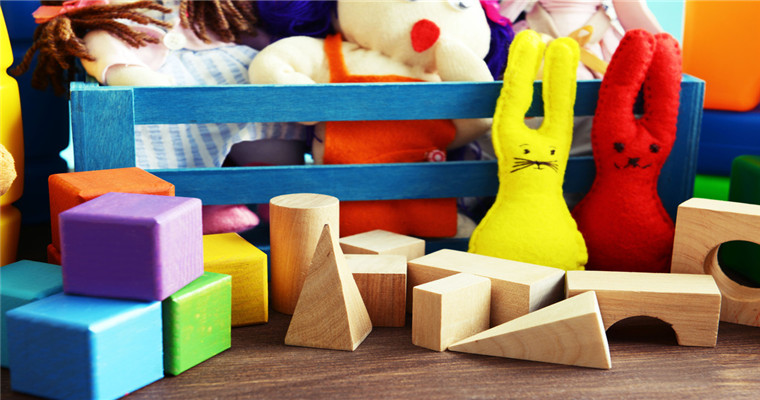 latelyTHOITS LAWThe law firm acted togethertrademarkandCopyright infringementCase, with a toy brandBunch O BalloonsThe seller infringes on Amazon, eBay, Wish and other platforms related to water balloons.
This is a very popular water balloon product, according toAmazonData of website and seller wizardMultiple Bunch O Balloons products scored above 4.5。

Multiple listing in the Water Balloons categoryBSR ranked in the top 10。 It can be said that as long as buyers search for Bunch O Balloons or buy water balloons on Amazon, they will most likely buy this product.
ICase parameters
oneCase No.: 21-cv-nine thousand eight hundred and seventeen
twoTime of prosecution: 2021November 23rd
threePlaintiff brand:Bunch O Balloons
fourPlaintiff company: ZURU (Singapore) PTE., Ltd
sixRight protection type: trademark+Copyright
According to the Yiguan Cross border Infringement Warning,thistrademarkRights protection cases, in addition toBUNCH O BALLOONSText trademark related, also related toCopyright infringement。
1. Trademark infringement
Plaintiff CompanyZURU (Singapore) PTE., Ltd.Successfully registered on March 24, 2015BUNCH O BALLOONSThe main products involved are water balloons and other water balloons.
Customers can use Bunch O Balloons without blowing or binding one by oneThe water balloon product is directly connected to the water pipe to make 100 water balloons in 60 seconds. This product is suitable for use at parties, in the yard or outdoors. Because it is simple to operate and suitable for multiplayer games, many children like this toy.
BUNCH O BALLOONSRegistered trademark categories include028、022、023、038、050Etc. The sellers of games and toys, and those who sell some sports products and Christmas tree decoration products are prone to infringement, so they should pay attention not to step on the pit.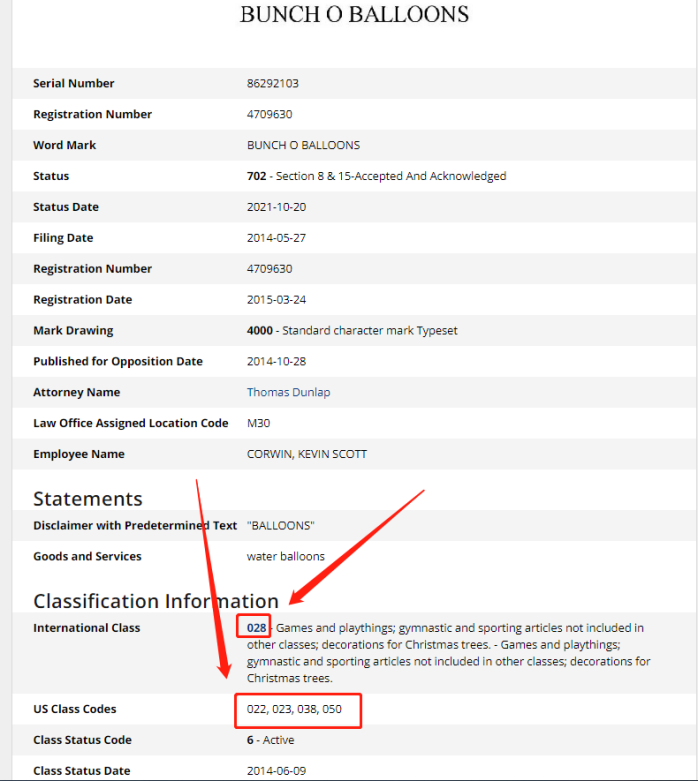 Plaintiff CompanyZURUAlso registeredBUNCHO word trademark。 exceptBUNCHOIn addition, the seller should also pay attention to 028, 022, 023, 038, 050 and other registered trademark categories.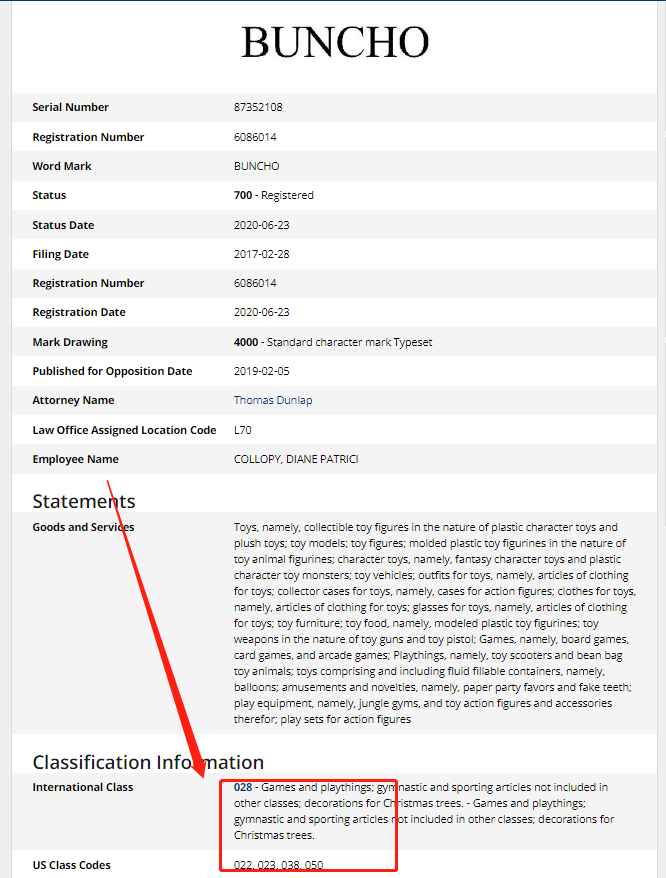 According to the data of the United States Patent Office, the plaintiff company Zuru (SINGAPORE) PTE. LTD. has registered a total of 44 trademarks, of which the latest registered trademark is BY BAIRE.
Except for the product title, description, external packaging and product itselfDo not useIn addition to the relevant text trademarks, the seller should also pay attention toCircumvent copyrightInfringement.

According to the Yiguan Cross border Infringement Warning,Brand sidePictures on official website and various product copybookssuch asProduct introductionproductusage methodIt's useless to wait.Copyright infringementIs not restricted by category, anycategoryProducts, if anyInfringement,Could be prosecuted。
This is their official website address: https://www bunchoballoons . com /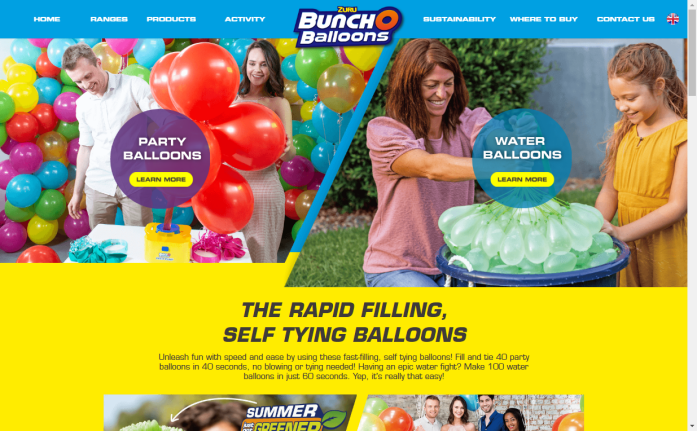 Zuru sells on multiple platformsBunch O BalloonsWater balloon, there are 59 official channels in the world, includingAmazon、Target Target、Wal-Mart、CostcoAnd other platforms. These platform sellers should pay special attention to self inspection and remove infringing products in time.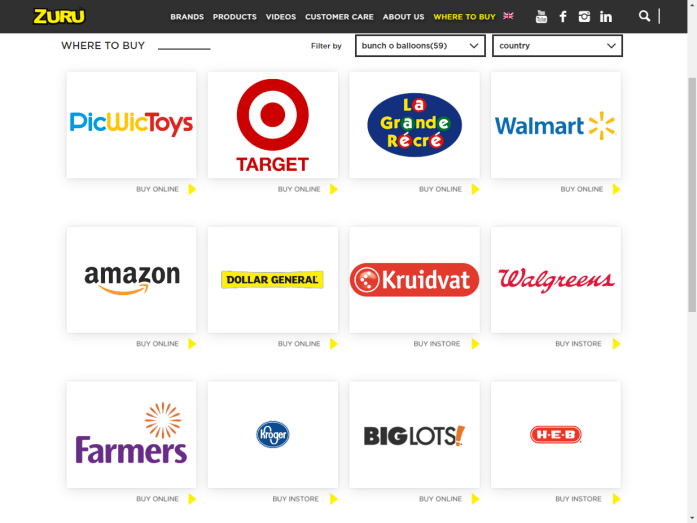 3、 Example of trademark infringement
On Amazon, eBay and Wish platforms, there are many sellers with infringement risks. If there is a product listing like the following two pictures, it belongs to the scope of infringement.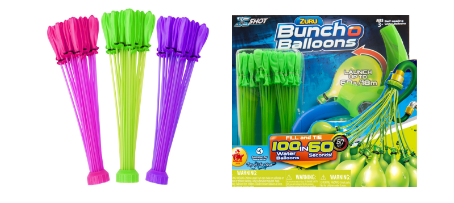 A Wish seller directly used the official website image of the Bunch O Balloons brand, which is an obvious infringement.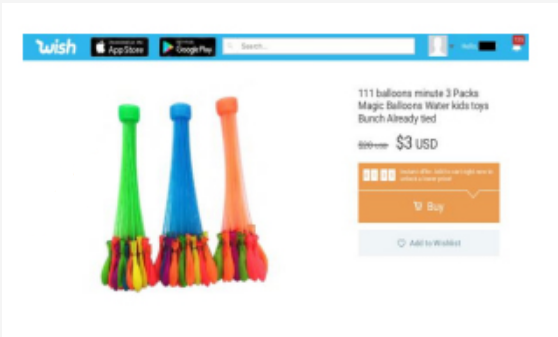 Search "bunk o balloons" on eBay and find 786 search results, many of which are used in product titlesBunch o balloons text trademarkIn addition, the product pictures are very similar to the pictures on the brand's official website, which can be basically judged as infringement.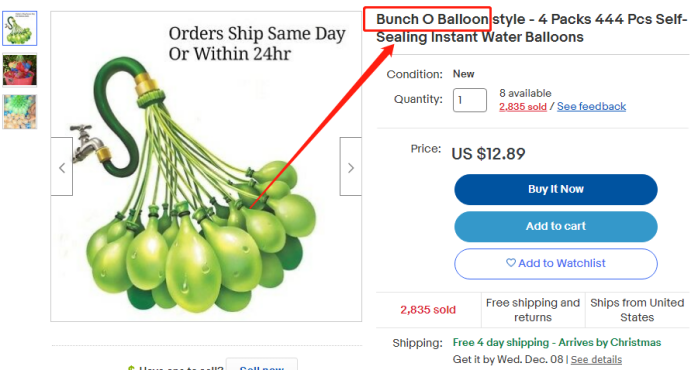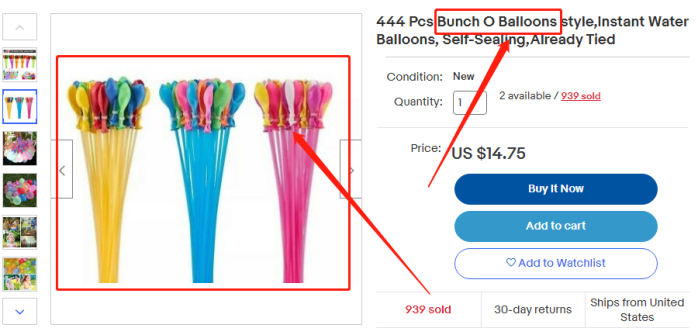 Search on eBay"BUNCHO "also found that many sellers were selling this water balloon product, and the seller used the BUNCHO word trademark in the title, which was an infringement.
The seller shall conduct self inspection in a timely manner,IfproductlistingThese images are used on,It's better to do it right awayLower shelf。If you only use a text trademark on the listing page, delete the relevant words to avoidtortcoverprosecution.
(Polly ZhangNew media of cross-border e-commerce - Blue Ocean Yiguan website domain news) connects with high-quality resources of cross-border e-commerce.Wal Mart, Coupang、Wayfair 、Mercado Libre and other platforms settled,Brand copywriting planning, network wide promotion, e-commerce training, incubation and other services, please contact us. No unauthorizedRewriting, reprinting, copying, clipping and editingIn whole or in part.