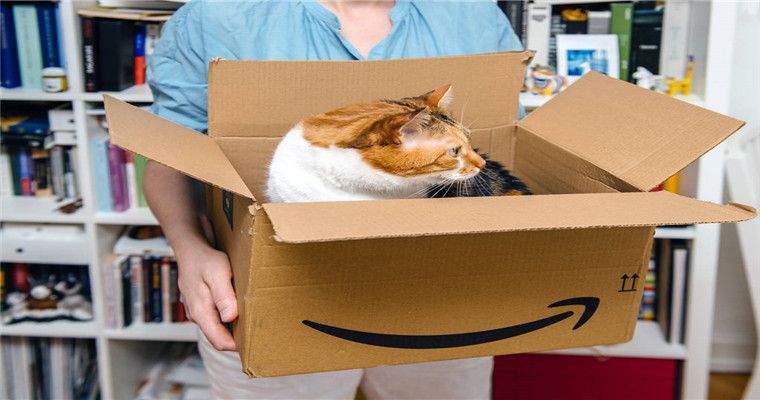 For Amazon sellers, the annual holiday shopping season is very suitable for pet products.
First of all, Petpedia data shows that more than 67% of American families have at least one pet. Pets are often regarded as part of the family. Owners like to buy things for pets, including food, pet supplies, care products, etc., especially during the holiday shopping season,More than half of dog and cat owners will buy Christmas gifts for their pets.
secondly,Pet Supplies & PetGood sales and high profits on Amazon.
According to Jungle Scout's 2021 Amazon Seller Report,Among the best-selling categories of Amazon, "pet products" rank 10th, and 13% of sellers have this category。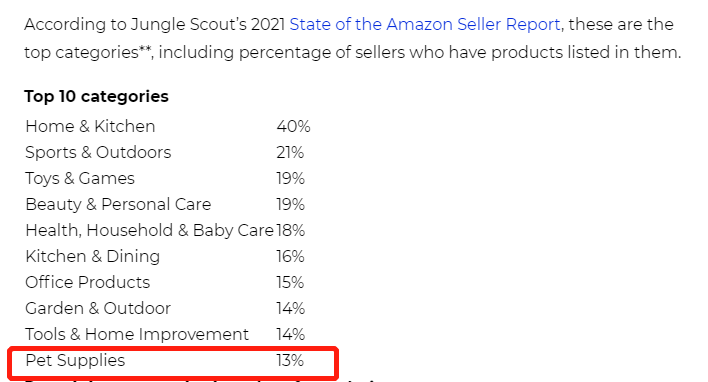 And theseThe average profit margin of pet product sellers is 23%, which is at a high level, because the average profit margin of all sellers in all product categories of Amazon is 17% - 26%.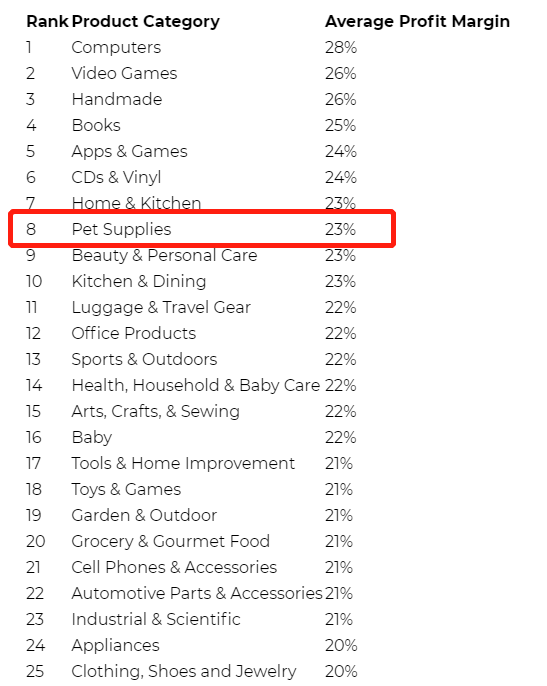 (Source: Jungle Scout)
Let's look at other statistics of the pet products industry:
1. In order to meet the demand for pet food, 61% of American pet owners will pay more for food
2. Dog owners spend an average of $73 a year on grooming their dogs
3. During the severe epidemic, 21% of pet owners spent more money on their pets
4. 31% of pet owners are millennials
5. The owners of cats and dogs spend about 300 dollars on pet food and snacks every year
6. 69% of Millennials are petsChoose natural and organic products
7. 43% of dog owners and 41% of cat owners choose to buy high-quality pet food
What is the reference for selling pet products on Amazon?
There is no special category restriction on the sale of pet products on Amazon. Unless the seller sells handmade pet products, animal related products, or pet toys containing lasers, it should comply with the policy of Laser Pens and Related Products.
When it comes to pet supplies and gifts, pet owners have their own unique preferences.
According to Amazon's current bestselling pet products list, most consumers choose to buy functional and interesting pet products.
pet dog:
1. Dog toys, especially those with squeaks
2. Chewing toys
3. Wet dog food
4. Dry dog food (no grain and real meat)
5. Dog pad
6. Dog snacks, including real meat and natural food
7. Collar and belt
Pet cat:
1. Wet cat food
2. Dry cat food
3. Bulk cat food
4. Toys interacting with the owner
5. Cat litter
6. Pet camera with snack thrower
7. Pet hair remover
Fish:
1. Fish tank (water tank) filter
2. Aquarium gravel, including fluorescent
3. Filter element, including assembled and unassembled
4. Feeder, divided into daily use and long-distance travel use
5. Water purifier
6. Fishing net
7. Fish food, pressure reducer, vitality enhancer and balanced diet options
Do you have any suggestions for selling pet products in Amazon during the holiday shopping season?
Lanhaiyiguan has learned that pet owners often choose trustworthy brands and high-quality products when buying pet products. They certainly hope that the toys, snacks and supplies they buy for pets are safe and reliable.
In view of this, if the seller sells pet products on Amazon, the following tips can be used for reference to optimize the sales strategy in the shopping season.
1. Life scene map
Consumers' purchase decisions for pet products are often driven by their emotions. Therefore, it is necessary to add a life scene map, which can show the use of the seller's products in the natural environment. For example, a picture of a dog playing with a chewy toy will attract consumers, and it can also learn about the actual size of the product to enhance purchase confidence.
It is recommended that the seller add 2-4 life scene maps and a short video in each product listing.
2. Use A+content
"A+content"It is a valuable marketing tool, especially for pet products.
Because the A+content allows sellers to add more pictures, text descriptions and brand stories on the product details page, which makes consumers believe that the product is valuable, safe and reliable.
It is suggested to share the brand value in "A+content", display more product life scene pictures, highlight product functions and advantages, provide size charts, and even compare charts of different products, and link to other products under the brand.
(New media of cross-border e-commerce - Domainnews Riley Huang)Coupang, Wayfair, Wal Mart, Mercado Libre and other platforms settled, brand copywriting planning, whole network promotion, e-commerce training and incubationPlease contact us for other services. No unauthorizedRewriting, reprinting, copying, clipping and editingIn whole or in part.