Not surprisingly, Amazon's new charging standard for logistics distribution in 2022 will soon beEffective on January 18, 2022 (Pacific Standard Time) at Amazon America Station.
Previously,The "Amazon Logistics (FBA) New Product Warehousing Discount Plan" provides free advertising promotion, free warehousing, free removal, free return processing, carrier warehousing transportation and warehousing freight limited time discount for new Amazon Logistics (FBA) products released by sellersetc.Six preferential benefitsIt must be clear to many sellers that they have enjoyed many discounts.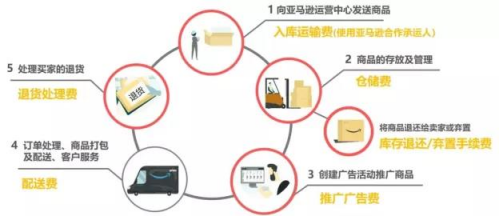 The detailed rules on the return of sales commission have been issued.
For different sizes and categories of goods, there are certain differences in the applicable terms of this benefit. The details are as follows:
1. For large commodities that meet the requirements of the plan, each parent ASIN can enjoy a refund of 5% of the sales of up to 30 commodities within 90 days。
2. For the standard commodities that meet the requirements of the plan, each parent ASIN can enjoy a refund of 5% of the sales of 50 commodities at most within 90 days。
3. For apparel and footwear products that meet the requirements of the plan, each parent ASIN can enjoy a refund of up to 5% of the sales of 100 products within 120 days。
Benefit eligibility: This benefit is only applicable to sellers who have completed the Amazon Brand Registry in the US, Japan, Europe (Germany/France/Spain/Italy) and the UK.
In any case, the return of sales commission is a good thing for many sellers. However, this commission is a hot potato. Sellers who have not applied for brand registration cannot get it. Sellers who want to get this benefit should hurry up and act.Let's take this opportunity to review the changes in Amazon's logistics distribution charging standards and sales commissions in 2022:
Shipping rate willAverage increase of 5.2%To reflect rising operating costs.
For all large standard size items (except clothing), Amazon will use the larger value of the item weight or volume weight to determine its shipping weight.
Amazon will increase removal and disposal costs based on changing costs. The clearance fee will remain unchanged and will be lower than the removal or disposal service fee.
Before the expense update is implemented, you can go to Amazon Logistics Settings to enable automatic clearing or remove obsolete inventory and non saleable inventory.Automatic setting and automatic removal of non saleable goods Change of saleable inventory。
Amazon will increase the off-season monthly storage fees for standard size goods and large goods (January September).
This change will be reflected in the storage fee charged in March 2022 in February 2022. Storage fees in peak season (October December) will remain unchanged.
Amazon will introduce a tiered rate structure for long-term storage charges, which are surcharges based on monthly storage charges, including a storage charge for 271-365 days of storage.
This change will take effect on May 15, 2022. Amazon recommends that you check your overage inventory and take appropriate steps [such as reporting deals, clearance or product promotion (Ads)] to sell these products before the 271 day threshold, so as to avoid paying these fees.
Amazon will increase the pre-treatment service fees of Amazon Logistics (FBA) to keep consistent with the operating costs of Amazon labeling, plastic bag packaging and packaging.(Amazon will release details by the first quarter of 2022)。
For Amazon's logistics light and small commodity plan, Amazon will increase the maximum weight of goods from 12 ounces to 3 pounds.
Amazon will launch Amazon logistics rating and resale service and charge corresponding fees. This service will enable sellers to rate returned goods and publish them as second-hand goods, so that they have the opportunity to recover the value of returned goods.(Amazon will release details by the first quarter of 2022)。
Amazon sales commission change
For total sales priceOver $500ofMower and snow remover commodities, Amazon willReduce sales commission from 15% to 8%。
AllOther classified goodsOf sales commissions willLeave unchanged.
In this regard, many sellers laugh at themselves. Amazon is really a slap in the face, a handful of dates, making you painful and sweet.
So far, in addition to the outbreak of the epidemic in Beilun Port District of Ningbo City the day before yesterday (Ningbo Zhoushan Port is the world's largest port of cargo throughput, and Beilun Port District is the core port area of Ningbo Zhoushan Port), the location of the epidemic has affected cross-border sellers eager to prepare for shipment.
Then came the news that the Meisen sea ship, which was scheduled to sail in Ningbo and Shanghai from January 19 to December 20, could not return to China, and that the shipping date of No. 19.20 would be cancelled.

It is expected that the logistics freight will rise again, which will make it more difficult for sellers to stock up.
It is not easy for cross-border sellers affected by the global epidemic.
Fortunately, everything has two sides. The epidemic has led to home isolation, which has also promoted the explosion of online shopping. You can endure the temporary difficulties and enjoy a hundred days of sweet. All sellers see the rules clearly and take precautions to welcome the big sales harvest in the coming year.