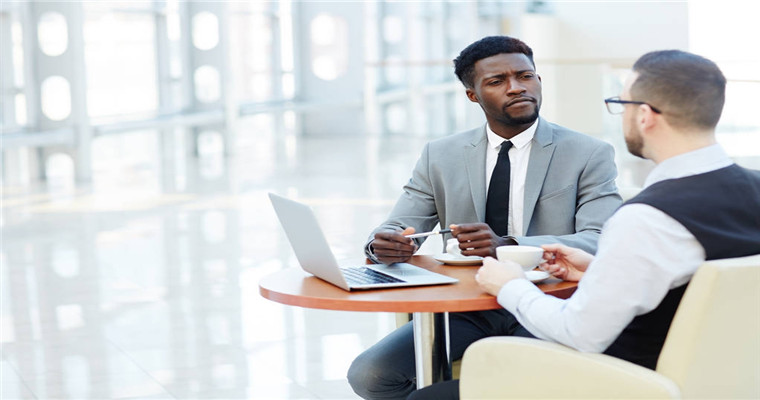 Many Indian companies want to replicate Taobao's success in the field of "live broadcast e-commerce", including the local well-known social media e-commerce platformMeesho。
According to insiders,MeeshoWe are building a live broadcast platform for online celebrity, hoping to promote the sales of e-commerce sellers and provide another sales channel for sellers.
Blue Ocean Yiguan has learned that Meesho will charge the seller for this service.
What is live broadcast e-commerce? Social e-commerce?
The live broadcast e-commerce was first launched by Taobao, which links the online live broadcast with the e-commerce store, so that the audience (the people who enter the live broadcast room) can complete the shopping action while watching the live broadcast, that is, "shopping while watching the live broadcast".
In China, the model of "live broadcast e-commerce" is very useful for promoting consumer interaction and promoting sales. It has been practiced and verified in the market, and has quickly become the "standard configuration" of shopping activities on the Double 11.
According to a report by McKinsey, Taobao achieved a sales volume of 7.5 billion dollars through live broadcast 30 minutes before the Double 11 pre-sale activity in 2020.
In addition,In 2020, Taobao sellers achieved a total turnover of 171 billion dollars through live broadcast, an annual growth of 280% from 2017.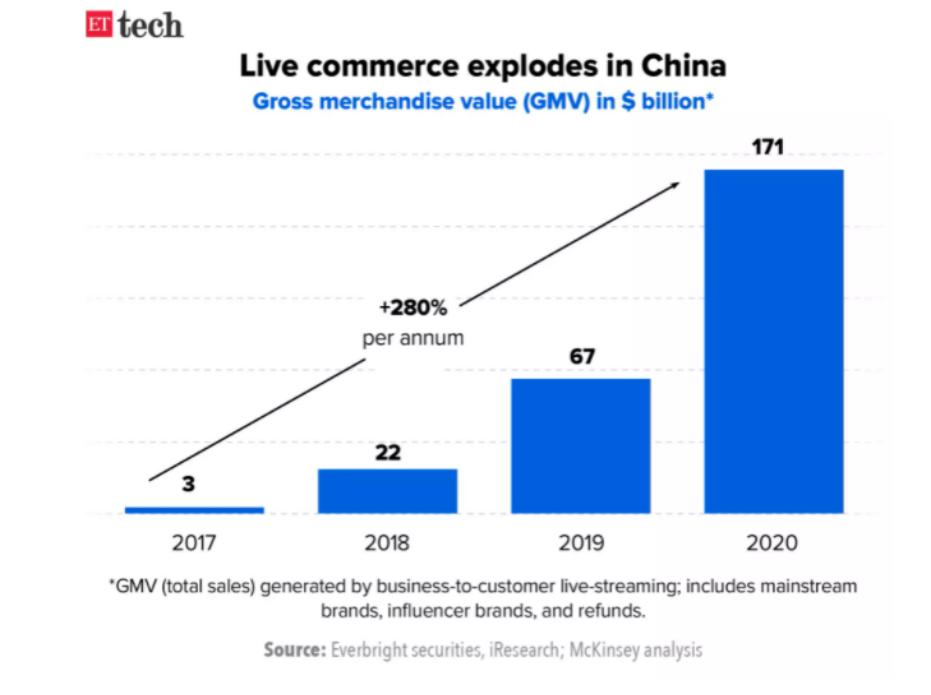 This is what Meesho and other enterprises want to replicate in India.
An insider said that live broadcast would become an important part of e-commerce. If the seller cooperates with enough online celebrities, they will be able to "take charge" of the sales work for the seller, and the business will not worry.
Let's talk about social e-commerce. Different from the conventional e-commerce model, social e-commerce includes "middlemen", which can be called "reseller". Such sellers purchase goods in batches and then sell them on social media platforms, such as WhatsApp and Instagram.
Blue Ocean Yiguan has learned that,Meesho adopts a zero commission modelTherefore, at present, the seller's advertising expense is its only source of income.
What are the opportunities for Indian live broadcast e-commerce?
In addition to Meesho, many other Indian enterprises are also involved in the field of live broadcast e-commerce, such as Flipkart and Myntra, large Indian e-commerce companies, and online celebrity based platforms, such as Roposo (under Glance).
They believe that after adding the function or tool of "live e-commerce", online shopping can be brought to new markets.
FlipkartRecently, it was announced that it is cooperating with the video platform Moj to launch a live broadcast e-commerce product.
Myntra also announced in November that it would enter the live broadcast e-commerce through cooperation with celebrities.
At the same time, the video sharing platform Roposo is also testing live broadcast e-commerce; Nykaa, a beauty retailer, reported the live broadcast activity dominated by online celebrity on Pink Friday.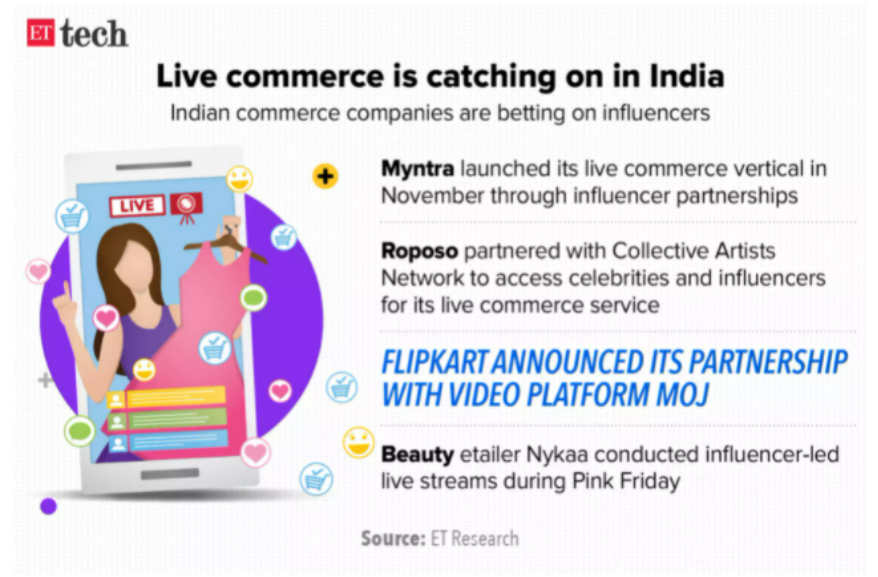 (Source: India Economic Times)
But,These Indian companies still have a long way to go if they want to replicate the success of Chinese e-commerce platforms or social media platforms in the field of e-commerce live broadcasting.
After all, the market value of China's live broadcast e-commerce has reached 171 billion dollars, which is expected to grow rapidly to 423 billion dollars next year.
In India, there is no sign of success in the field of live broadcast e-commerce. Some small video platforms either shut down the live broadcast e-commerce function or test other modes.
Industry insiders believe that this situation in India is due to some local challenges, such asBackward back-end technology, cannot host concurrent live streams; The number of live programs (live studios) is small and the supply is insufficient; stayNatural traffic cannot be introduced during live broadcast。
(New media of cross-border e-commerce - Domainnews Riley Huang)Coupang, Wayfair, Wal Mart, Mercado Libre and other platforms settled, brand copywriting planning, whole network promotion, e-commerce training and incubationPlease contact us for other services. No unauthorizedRewriting, reprinting, copying, clipping and editingIn whole or in part.