《
Blue Ocean Yiguan Network has learned from many sources that ByteDance has launched the independent e-commerce app Fanno.
Fanno is a
Comprehensive e-commerce platform for global users
, will cover a large number of categories and provide cost-effective goods.
In fact, Fanno App has been on the iOS App Store for a while.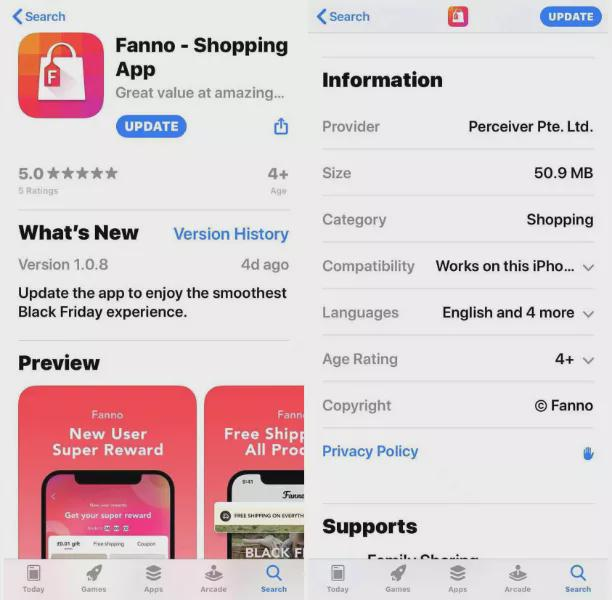 At present, Fanno is mainly aimed at European countries, including the United Kingdom, France, Germany, Italy and Spain. It has been selling cosmetics, watches, bags, headphones, glasses, clothing, toys, pets, fitness, etc.
According to an insider who knows the situation,
At present, there are about 40000 SKUs.
It is positioned as a comprehensive mall with "high price", and the price is very cheap. Goods in the range of 1 euro to 16 euros are very common. Some European consumers have placed orders to buy watches, accessories and clothes at the prices of 1, 3 and 5 pounds.
Fanno's current page is mainly divided into several modules, such as "new users receive 1 euro reward zone", "hot money zone", and "recommend for you". During the Black Five Period, the "Black Five Promotion Activity Zone" was also launched.
Fanno attracts users with high discount, low price and long protection period:
1. New user incentives:
New users can get rewards, buy goods of 0.01 pounds, and get free delivery without minimum consumption and new user coupons;
two
Big discount
: "Top Deal" is available every day, with a maximum discount of 60%, covering men's clothing, women's clothing, cosmetics and 3C electronics;
3. Long term buyers
Buyer protection
:
Within 14 days of the delivery date, eligible items can be returned for any reason. If the item is damaged, defective, or the actual item does not meet the description on the page, you can ask for a refund within 30 days of the delivery date.
With a monthly salary of 50000 yuan in Guangzhou, will Fannno be open to third-party sellers?
The information disclosed by the Fannno team shows that Fanno is a new existence and will be independent of TikTok and TikTok Shopping.
Before that, the "TikTok Shop" (similar to Tiktok store, where transactions are completed in the station) and TikTok Storefront (cooperative store mode, synchronizing Shopify independent station goods, and jumping to independent station transactions) of bytes were all their attempts in overseas e-commerce.
According to Blue Ocean Yiguan,

From the perspective of its trajectory, the overseas e-commerce layout of ByteDance is basically divided into three stages, which is to do the content first and form a super flow pool with high viscosity in TikTok.
Then, in the initial stage, it diverted the independent e-commerce stations to earn some easy money, but the ceiling of this money was relatively low. Then, in the next stage, it built an ecosystem in TikTok,
Realize "flow+transaction" e-commerce closed-loop
。
Now, the ambition of Byte has not stopped at diverting "e-commerce". On the basis of TikTok transaction closed-loop, it has further built an independent and comprehensive e-commerce App Fanno.
At present, the self support mode adopted by Fanno,
But it is still a platform to "connect Chinese suppliers and overseas consumers" in essence.
According to some insiders, Fanno currently has more than 40,000 SKU on the shelves,A considerable part of them are from Chinese big sellers who have gone global.These big sellers are very mature in the offshore supply chain, and have arranged a large number of overseas warehouses, which are rich in varieties and highly available. It is very convenient for Fanno to transfer goods from its warehouse.
Because, at the initial stage, bytes are very easy to create an e-commerce app with beautiful interface and smooth interaction. However, in terms of overseas supply chain and logistics, bytes have serious deficiencies. Therefore, it is a better choice to cooperate with mature big sellers in the supply chain.
In this case, the current mode of Fanno is also relatively simple, generally using
Direct delivery of small packages (no inventory) and overseas inventory
Mode of.
And a large part of this overseas inventory comes from mature Chinese cross-border e-commerce big sellers.
At present, Fanno attaches great importance to fashion category at the start-up stage. It may be that the fashion category SKU is rich enough, with wide user coverage and fast volume, which helps the new app expand to a larger population and circle through the spread of users.
In addition, SHEIN successfully broke through the encirclement and suppression of Amazon, eBay and other comprehensive local e-commerce platforms, providing a demonstration for Fanno.
For clothing products, SKU can achieve a very large scale. If the price is low enough and the frequency of updating is high enough, it can attract a group of users with high viscosity, visit their apps frequently, achieve a good repurchase rate, and help to build an independent e-commerce ecosystem.
Now, SHEIN has played out the positioning of "cheap and good style" of Chinese fast fashion clothing, firmly occupying an unshakable position in the minds of European and American consumers.
Fanno, to a large extent, will follow this route, taking clothing as an important single point breakthrough.
According to insiders, Byte has made a great layout in Guangzhou, cooperating with a fashion supply chain platform and recruiting people in Guangzhou.
In the recruitment information, the cross-border e-commerce operation leader, with a maximum monthly salary of 50000, is responsible for the recruitment and management of cross-border stores, including
Beauty and clothing
Etc.
At present, Fanno mainly adopts the self operated mode. Self operation means that you can find goods in person, or even occupy the inventory. You need to build a procurement and supply chain team.
An analyst said that it is reasonable to do self operation first, test the market situation, step on some holes and pay some tuition fees when overseas e-commerce experience is not rich. After all, self operation is relatively controllable. In addition to problems, you can deploy your own resources to quickly put out fires and solve problems.
Then, Fanno may become a large-scale integrated e-commerce platform open to third-party sellers in the future?
In addition to big sellers supplying goods to them, can small and medium-sized sellers also open stores on their platforms to sell their own goods to consumers?
Some analysts expect this.
"After all, ByteDance has always had the gene of a large platform, and has been used to being a third-party platform. If Fanno has been engaged in self support, even if it is larger, it may be an individual model, which does not match its gene of a large platform." An analyst said.
At the same time, at present, Chinese sellers need to have more third-party platforms to choose from outside Amazon. Since May of this year, the Amazon blockbuster, as well as the soaring advertising expenses in Amazon's website, FBA's price rise and profit thinning have made many sellers miserable.
Although Alibaba Quicksell has long been in the European and American markets, there is still much room for improvement in localization. Many sellers would like to see a real local market"
China Gene Third Party E-commerce Platform "
。
ByteDance Tik Tok, as a social platform of Chinese gene, breaks through the barriers of language and culture, accumulates a large number of user data through artificial intelligence algorithms, quickly takes a firm foothold in Europe and the United States, and with a strong momentum, snatches the cake from the native Facebook, Twitter and other hands in Europe and the United States.
Therefore, we expect Fanno to
"Data driven localization gene"
, quickly gain a foothold and achieve rapid localization.
"We have set up an independent station SHEIN that understands European and American people, and we also look forward to a comprehensive mall that goes out of China, understands European and American people, and allows Chinese sellers to settle in and do business." A seller in Shenzhen said.
Here, we are happy to see Fanno's success. (The blue ocean Yiguan website domain news)