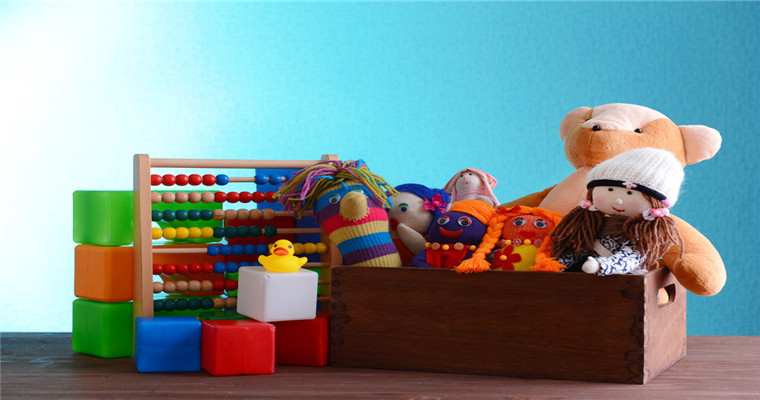 latelyFlenerThe information of an anonymous case represented by the law firm in November was released recently, which is a popular dartToysofTrademark copyright infringementThere are already casesAmazon SellerIs frozen.
PopdartsstayAmazonIt sells well on the Internet. According to the data of Amazon and the seller wizardToysRanked No. 9 in the Floor games category list, scoring more than 4.5, and the sales volume in recent 30 days exceeded 80,000 dollars.

PopdartssuckerDartsthrowToys's video, ZengstayTikTokGo crazy and get23 million views, afterPopdartsIt quickly became the hottest new game this summerone of。 TheToysThe darts can be glued to any smooth surface, such as kitchen countertops, windows and glass doors.
ICase parameters
oneCase No.: 21-cv-five thousand nine hundred and sixteen
twoTime of prosecution: 2021November 4th
threePlaintiff brand: Popdarts
fourPlaintiff Company: PD Games, LLC
fiveAgency Firm:Flener IP Law, LLC
sixRight protection type: trademark+Copyright
IICase information
According to the Yiguan Cross border Infringement Warning,This case isPopdartsThe case of trademark rights protection involves copyright issues at the same time. Amazon sellers have said they have received a freeze notice, as shown in the following figure:

Popparts is a family of two brothers(JoshAnd Jason Carman)Small companies owned and operated,During the epidemic last year, theyCreated thisSuitable for all agesgame,The purpose isGather friends and family of all ages together to stimulate creativityandChallenge ability.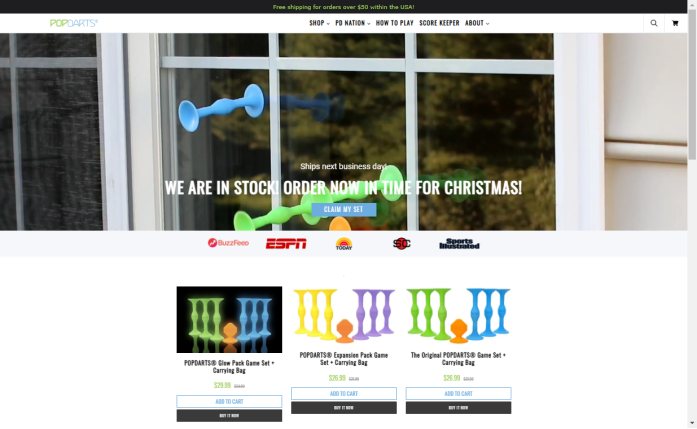 PopdartsDartsToy setInclude an orange targettarget, three greenSilicone toy dartAnd three blue onesSilicone darts, also yellow and purple dart suits。
According to the United States Patent Office,The plaintiff company PD Games, LLC registered two word trademarks,namelyPOPDARTSandTARGET MARKER,The seller should pay attention that these are useless.

POPDARTS and TARGET MARKERThe registered trademark categories of word trademarks are028、022、023、038、050。This means thatGames, toys and sporting goodsSellers selling products by category should pay special attention to the possibility of infringement.028It also includes sports and sporting goods not belonging to other categories, as well as Christmas tree decoration products.
At the same time, the categories of tools, machinery, tools and their parts; Sellers of printed matter, publication categories and unclassified commodity categories also need to pay attention not to infringe.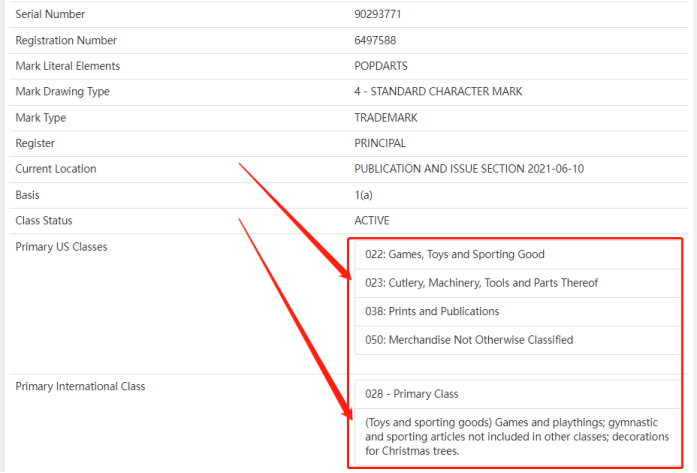 According to the Yiguan Cross border Infringement Warning,Plaintiff CompanyIt also owns the following copyrights:VA0002266901、VA0002267156、PAu004099364、PAu004099609、PAu004099362The product images on the brand's official website cannot be used, which means infringement.
In addition, copyright infringement ignores the category, and any category seller who infringes the copyright may be prosecuted.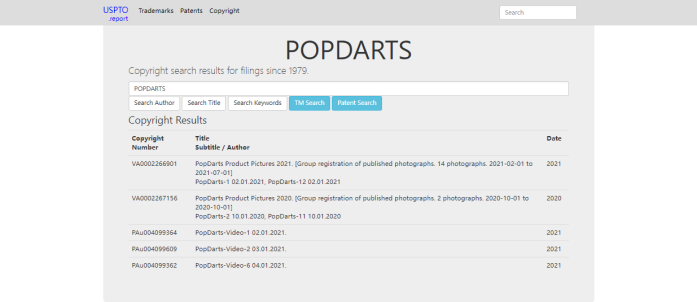 If the seller is not sure whether he has infringed, he can go to their official website to see if it isPopdartsOfficial website address: https://poppartsgame com /。 Here isPopdartsSome product pictures on the official website should not be used by these sellers: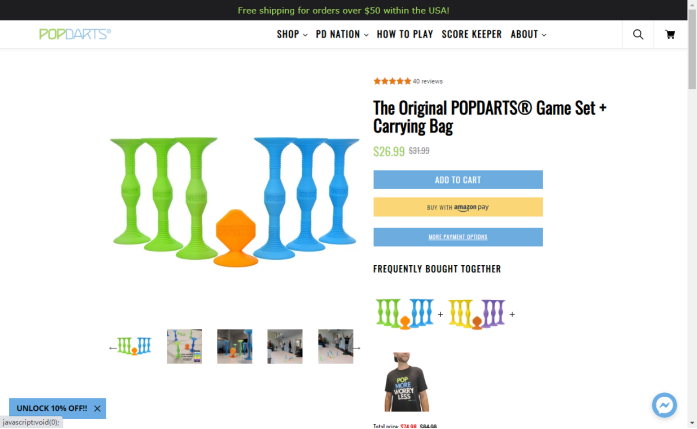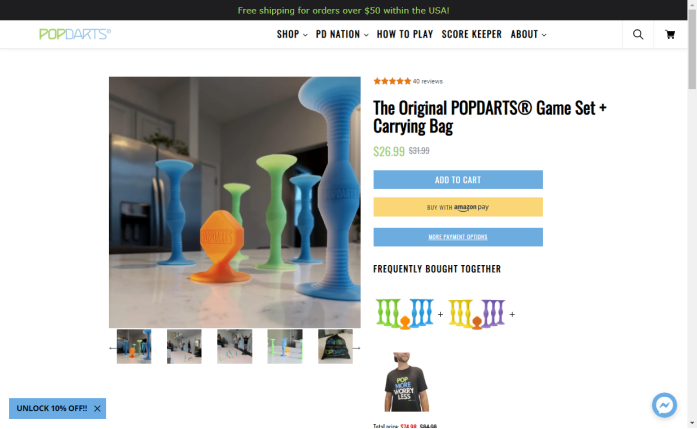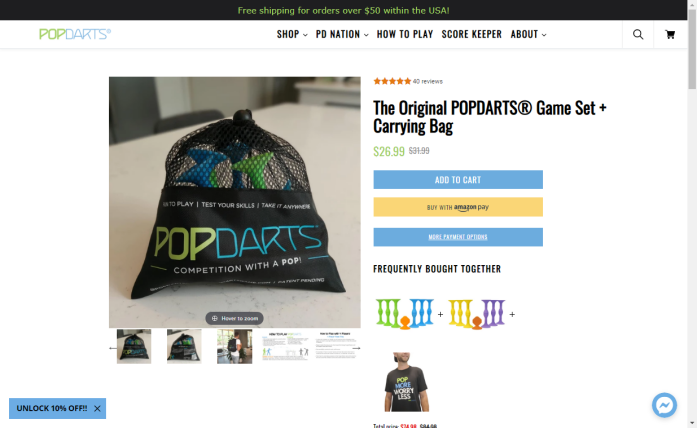 at presentSo far, there have been manyAmazonplatformsellerReceive freezing notice, Near termaboutWill also be frozen in successionProducts of other platforms。If the seller thinks that he may infringe, he should remove the product as soon as possible and pay attention toaccountmailboxAnd backstageofInformation.
3、 Example of trademark infringement
There are too many products listing pictures andPopdartsThe images on the official website are similar, which may cause copyright infringement.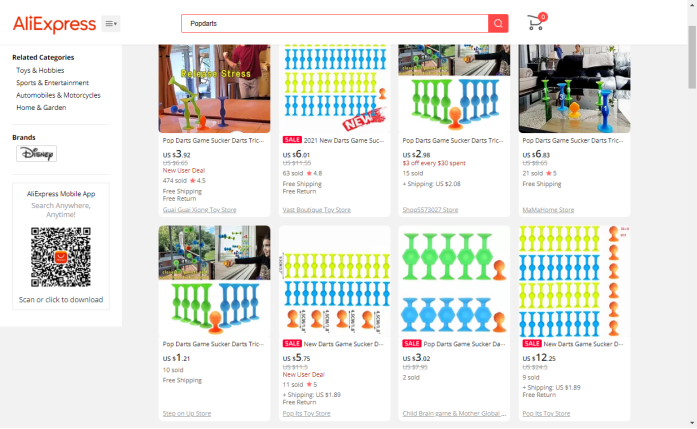 The product title should not contain text trademarksPOPDARTS,The following listing is obviously infringing.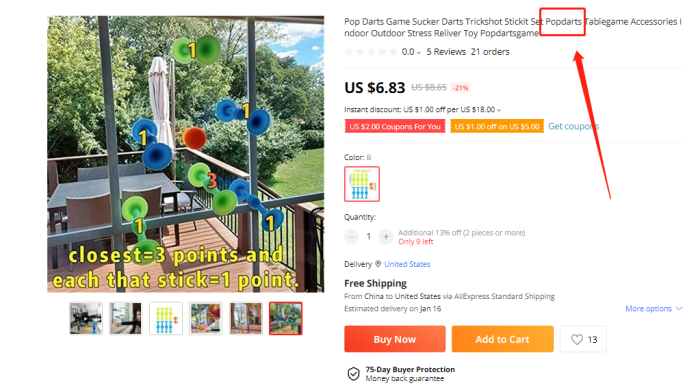 TARGET MARKERThe word trademark cannot appear in the product title, so it is easy to be judged as infringement.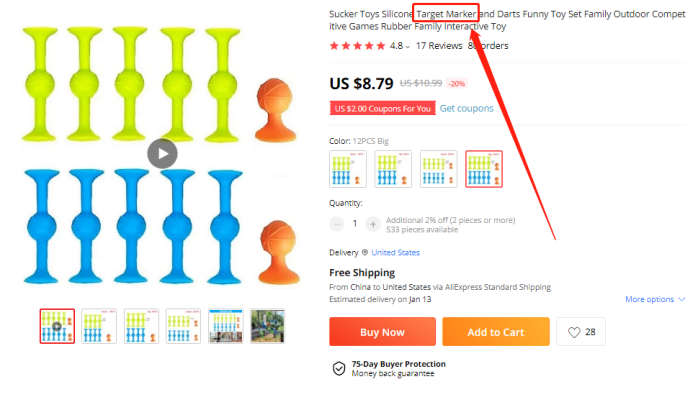 (Polly ZhangNew media of cross-border e-commerce - Blue Ocean Yiguan website domain news) connects with high-quality resources of cross-border e-commerce.Wal Mart, Coupang、Wayfair 、Mercado Libre and other platforms settled,Brand copywriting planning, network wide promotion, e-commerce training, incubation and other services, please contact us. No unauthorizedRewriting, reprinting, copying, clipping and editingIn whole or in part.