Oni Electronics (Shenzhen Oni Electronics Co., Ltd.), a big seller of Amazon cameras and a supplier of Zebao, is finally going public.
Its IPO application status is"Registration takes effect ", which means its successful listing.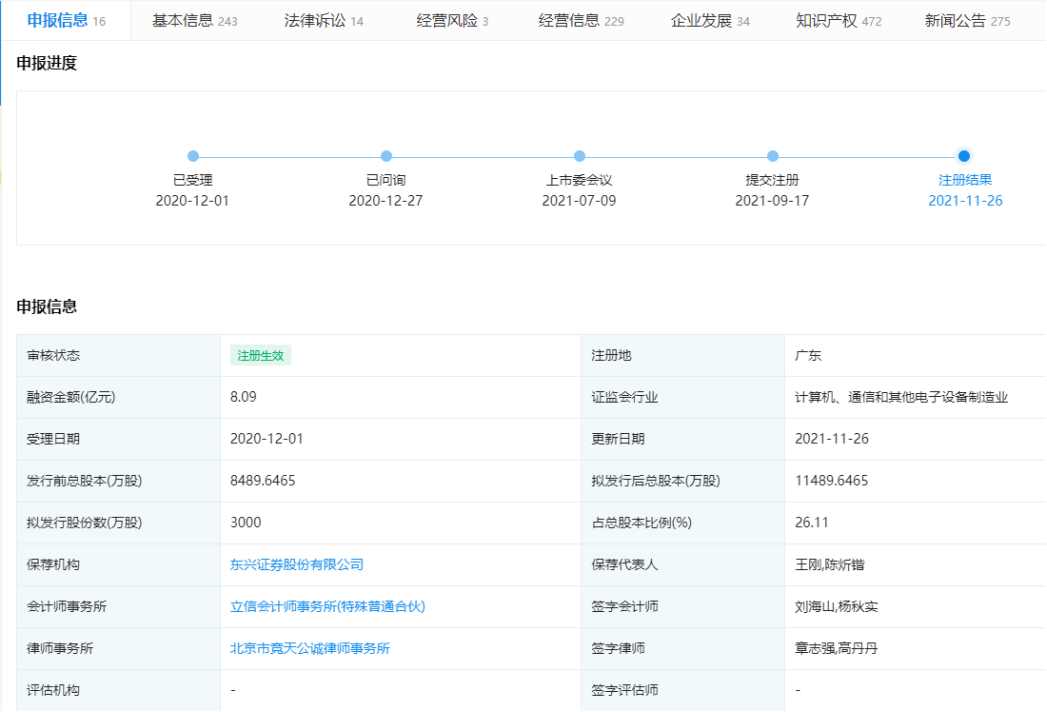 (Source: enterprise investigation)
According to the domain news of Blue Ocean Yiguan, Oni Electronics started with cameras, and then expanded to Bluetooth headsets, speakers, driving cameras and other products.
It is not only a big seller of Amazon, but also a big seller.
In 2020, Oni Electronics will go to the front line
PowerSeller Zebao
Linyoutong, a subsidiary of

100 million yuan.
Linyoutong has many well-known Amazon consumer electronics brands, including
"RAVPower", "TaoTronics", "HooToo", "Uspicy", "VAVA", "Anjou", etc.
A considerable part of the products of these brands are made by Oni Electronics.
The camera is Oni Electronics

The category of "Fuxing" has provided great support for its development.
Last year, with cameras alone, Oni Electronics
And sold it

610 million
, contributed
1.07 billion yuan
More than half of the total revenue.
Statistics show that,
Last year, only in Amazon America,
Oni electronic
The search volume of PC/TV external cameras increased by 5.94 times, and the purchase volume also increased by 5.37 times.
It can be said that the camera business has laid a solid foundation for the successful listing of Oni Electronics.
However, Oni Electronics did not find this "lucky star category" at once.
Before that, I had taken many detours.
As early as the last century

In the 1990s, Wu Shijie, founder of Oni Electronics, began to do business related to electronic hardware. Its main business is the agency business of computers and peripherals,
He was once the agent of Lenovo Computer.
Always acting as an agent, the ceiling is too low.
In 2003, Wu Shijie decided to work on his own, rented a factory in Buji, Shenzhen, and the formal trade turned to "trade+manufacturing".
The initial direction was PC peripheral products and digital products. At the beginning, what we did was the hot MP3 player and flash disk at that time.
Wu Shijie found that he thought he had been an electronic agent for many years and was very familiar with the products, but after his own production, he was faced with great technical weaknesses. The return rate of the MP3 players produced was 70%~80%, which almost destroyed the factory.
Wu Shijie resolutely cut off this product line.
At that time, QQ was vigorously promoting the video function, and the Internet cafe market rose. Video chat via camera became a trend for a while.
Wu Shijie sniffed the opportunity and switched to the camera industry in an all-round way.
Then, Oni Electronics has enjoyed the dividend cake of the growth of external cameras for several years, and quickly secured the leading position of domestic cameras through the mode of "cutting down the upgrading agents and establishing 100 core municipal agents".
Of course, the bonus cake of the external camera,Only let Oni eat for a few years,Especially after 2008, the camera industry began to slow down. After the advent of mobile phones with cameras, laptops, especially smartphones, the external camera market shrank sharply.
Many manufacturers have implemented external cameras

"Strategic abandonment",
However, Oni has always maintained its position in this category.
Nearly 20 years later, the camera once again became the "lucky star" of Oni Electronics, giving it a taste of the sweetness and ushering in explosive growth.
Only in

In 2020, the single camera and other products will make the revenue of Oni soar.
stay

In 2019, the revenue of Oni Electronics in terms of cameras
Only 57 million.
However, in 2020,
"PC/TV cameras" alone sold 610 million
, contributing more than half of its total revenue.
In only one year, the growth is nearly

10 times.
From the perspective of the proportion of total revenue, the camera's share has soared from 11.1% to 56.99%.
This is mainly

The COVID-19 in 2020 has created a huge demand for cameras.
Under the epidemic situation, home office has become the new normal, which has greatly driven the growth of demand for external cameras. Especially in Europe and the United States, the sales of cameras have increased dramatically in remote office, video conference, remote teaching, video chat and other scenes.
In the last century

In the 1990s, PC external cameras and desktop computers went through the boom and decline together, and now they are again revitalized, especially in the
"Epidemic situation application scenario"
Under the impetus of, it will usher in a new wave of market.
reach

In 2025, the global PC/TV external camera market
Will grow to

US $5.78 billion.
(Data source:

Grandview Research)。
(
USD 3.75 billion in 2019)
This will be a big industry cake.
Therefore, the external camera industry will not die, and will continue to usher in the "second spring".
This is a

Adherence to "1m wide and 100m deep"
, extremely focused, extremely deep, and
It is precisely because of this kind of persistence that Oni Electronics has kept to a new position and obtained excess returns.
This is what Oni Electronics deserves in return.
Of course, many people will say that with a certain degree of contingency,
If Oni Electronics worked very hard on MP3 and did well in that year, it might be doomed.
Therefore, it is worth advocating to stick to one direction, provided that this direction is correct in the long-term strategy. At least, the industry we stick to will not die out or will not decline fundamentally.
Only in this way can our perseverance be meaningful, and in the process of perseverance, we can constantly polish our needle tip and iterate until the day when "one needle pierces the sky" comes.
Contribution of Amazon Store

70% of brand revenue, "video+audio" two-way flowering
Of course, Oni Electronics did not completely stick to a tree, but naturally extended along the trunk

"
video

+Audio "
Two way flowering.
A product matrix of video terminals, mainly including tachographs, PC/TV external cameras and webcams, and an audio terminal product matrix, mainly including headphones and speakers, has been developed.
In addition to supplying Zebao and other sellers, Oni Electronics also attaches great importance to cultivating its own brand.
Blue Ocean Yiguan

Domain news learned that Oni Electronics has set up
Oni
, Brainstone

ANC and other brands sell PC/TV cameras through Taobao, Tmall, JD and other platforms (offline sales and distribution are not considered here, but online direct sales, the same below).
Overseas, Oni Electronics established
Papalook, AUSDOM, Mixcder brands
, sell

PC/TV cameras, headphones and speakers,
Open stores in Amazon and AliExpress.
Online sales of Oni's own brand,
Most of them come from overseas e-commerce, especially Amazon platform
。
<span style="outline: 0px; max-width: 100%; color: rgb(90, 90, 90); letter-spacing: 2px; back <footer>The content of the article is created by the author, and the author is responsible for the authenticity, accuracy and legality of the content. Overseadia advocates respecting and protecting intellectual property rights. Without the permission of the author and/or this website, the content of this website may not be copied, reproduced, or used in other ways. If you find that there are copyright issues in the articles on this site, please contact chuhaiyi@baidu.com, and we will verify and deal with them in time. Source of the article: egainnews, this article is the author's independent point of view, and does not represent the position of overseadia.</footer>