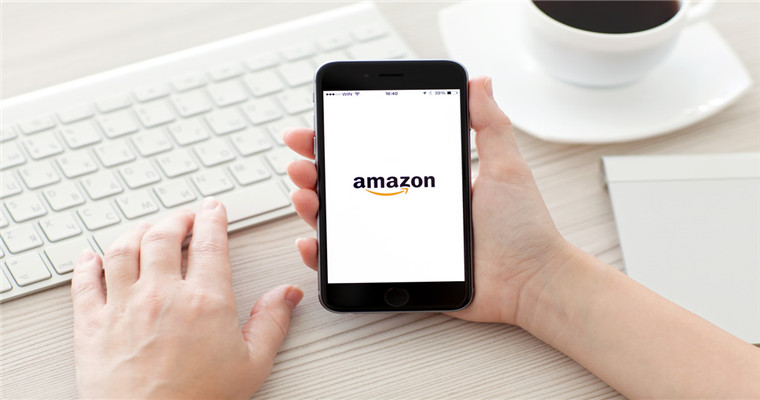 AmazonThere is a specialAmazon Seller app, for iOS and Android systems, helpAmazon SellerEasily manage products.
Blue Ocean Yiguan has learned that,This seller app is not only a mobile control panel, but also provides some convenient tools,AmazonSellers can access these tools anytime and anywhere through their smartphones.
IWhat is the Amazon Seller App?
Amazon seller appIt aims to let the seller manage the order transaction directly on the mobile phone. It can be used not only to deliver orders and check transactions, but also to manage time sensitive tasks in real time, such as changing prices and replying to customers.
In addition to providing standard vendor options on mobile devices,Amazon seller appIt also supports some functions unique to smartphones, such as scanning barcodes or product packaging with a camera. It also includes a built-in image editorPhoto Studio, you can optimize the new product image before uploading it.
This app is free to use, but the seller is required to have aAmazon seller account。 The app is very popular. According to Ecoengine, it is rated 4.1 on Google Play and 4.6 on the iPhone App Store.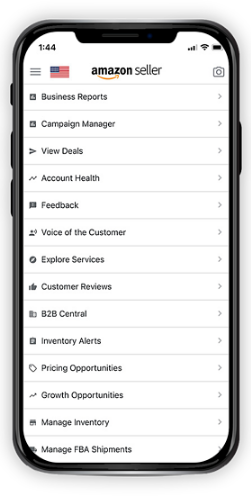 IIWhat can Amazon Seller App do?
Amazon Seller App has a wide range of functions to accommodate all types of sellers and sales strategies. Specifically, the following are the things that sellers can do with apps:
oneUpdate listing: modify the price and quantity immediately.
twoMonitor Orders: confirm shipment, approve pending orders, and set sales notifications at any time.
threeReply to customer messages: receive new customer inquiries and respond immediately.
fourCheck sales analysis: view the breakdown of total sales or check the performance of a single product.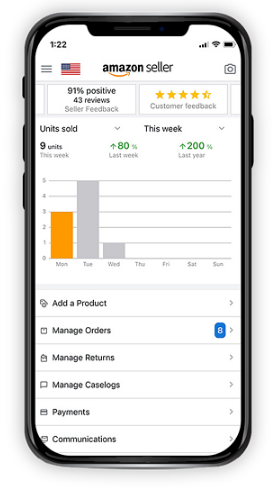 fiveFind a product: Scan the barcode or product packaging to view the product in Amazon's database. Check prices, sales rankings, competitors, and reviews to see if it fits the seller's store.
sixManage returns: confirm returns and issue refunds.
sevenReview sponsored product activities: pay attention to their performance and make quick modifications.
eightView the next payment balance: preview the next payment, how much it will cost, and when the seller will receive it.
nineTake and edit product photos: take product photos with your phone's camera and edit them in Photo Studio for quick upload.
According to Blue Ocean Yiguan,Essentially, Amazon sellers can manage the entire Amazon account through this app, including purchasing products, uploading new listings, sending confirmation messages, and chatting with new customers.
The app itself does not provide many functions that the seller cannot obtain from the seller center,In addition to identifying products with mobile camera, this is very useful for actual procurement of products.Its real value lies in making the daily work of sellers more convenient, especially those time sensitive work, such as changing prices and replying to customers.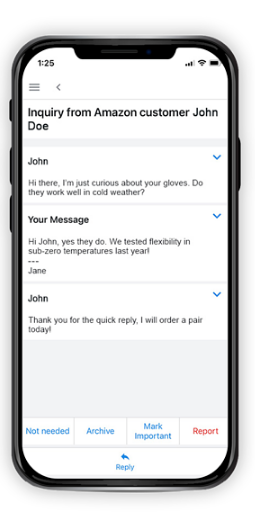 The function of changing the price at any timeyesA big help from the seller. becauseThe seller oftenneedChange the price of products to keep up withabreast of the timesSupply, demand and competition.Amazon seller appMake it easier, make it easiersellerStatistics can be checked and prices updated at any time.
Amazon SellerappCustomer information on andReply function, YeshisHighlightsone of。 Shoppers felt the highest happiness during the shopping process, and then gradually decreased in the following day. Ifseller's reply came too late, shoppers may have lost interest completely,Or have bought something from a competitor. When customerssellerWhen sending messages directly,sellersureVia appReceive alerts immediately to keep them shoppinginterest, addproductOpportunity.
(Polly ZhangNew media of cross-border e-commerce - Blue Ocean Yiguan website domain news) connects with high-quality resources of cross-border e-commerce.Wal Mart, Coupang、Wayfair 、Mercado Libre and other platforms settled,Brand copywriting planning, network wide promotion, e-commerce training, incubation and other services, please contact us. No unauthorizedRewriting, reprinting, copying, clipping and editingIn whole or in part.