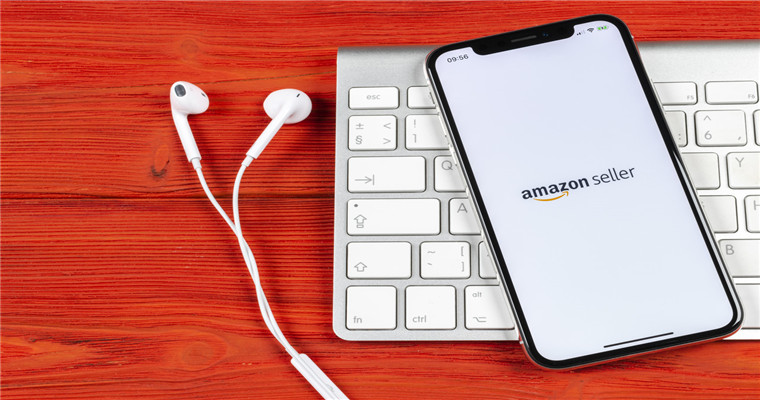 AmazonRecently said that,India SiteThe number of sellers has exceeded 1 million. Since January last year, more than 450000 new sellers have settled in.
More than 90% of Indian stations are small and medium-sized sellers from second and third tier cities
Amazon was an Indian site launched in 2013, when there were only 100 sellers. Today, the site has obviously become a preferred third-party e-commerce platform for local sellers, at least one of the preferred platforms.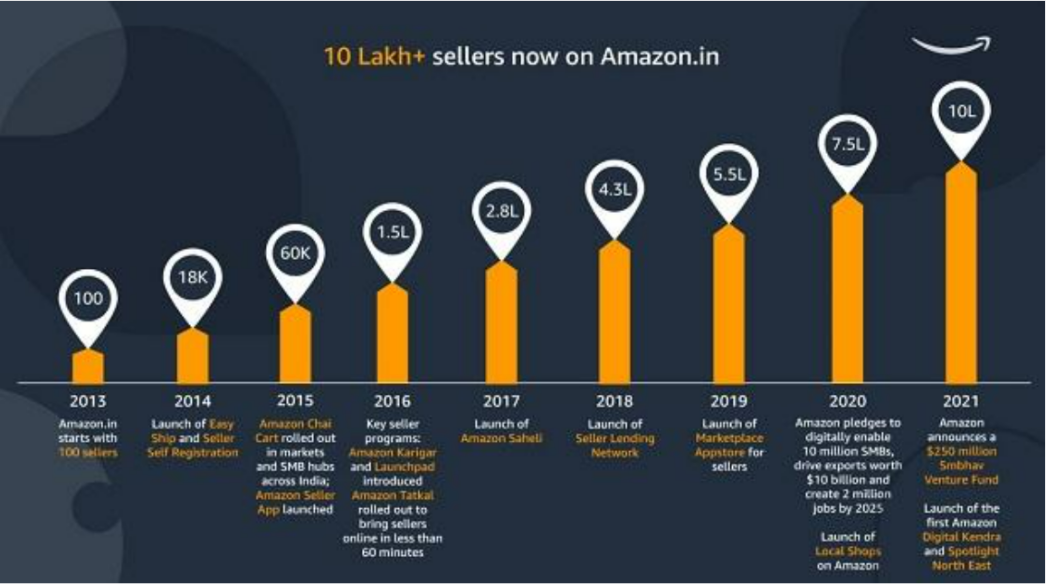 (The growth of the number of sellers in Amazon India)
It is worth noting that theSeller, 90%The above are local small and medium-sized sellers, and more than half of them are from second tier cities and third tier cities.
The rapid growth of the number of sellers in Amazon India reflects the entrepreneurial spirit of Indian enterprises and the key role of e-commerce in their overall business, especially the challenges brought by the epidemic.
In the future, Amazon India will continue to make efforts to enable 10 million small and medium-sized sellers to achieve digital sales (expand online sales). Amazon will play a significant role in the process of India's digital economy developing towards a market value of 1 trillion dollars.
What special "seller support" plan does Amazon India have?
Since the launch of the Indian site, the site has been building infrastructure and ecosystem to help SMEs enter the e-commerce field and add an important sales channel. Amazon also continues to launch new products and plans for the Indian site.
First, the "Local Shops on Amazon" project.
It was mentioned at the beginning that 450000 new sellers have been added to the India Station since the beginning of last year.
Blue Ocean Yiguan has learned that more than 100000 of them are local offline retailers and community stores in India. They have settled in the Amazon platform through Amazon's "Local Shops on Amazon" project.
The "Local Shops on Amazon" project will be launched in April 2020. This project isTo help sellers start online salesLet the seller establish business on the Amazon platform to make up for the lack of physical store traffic.
For consumers, these sellers are local stores that they are familiar with and have trust. They don't need to worry about the security of online shopping, and online shopping is also convenient.
Now, the "Local Shops on Amazon" project has been accelerated to be adopted nationwide in India, covering 450 cities, including metropolises and second and third tier cities. Since its launch, the number of sellers participating in the project has doubled in the past eight months. Amazon also promised that the number of local stores in India will increase to 1 million by 2025.
Second, Amazon Easy.
This plan was launched in 2015 to help consumers newly entering the Amazon platform to shop, especially in small towns and cities, and increase additional income for local Indian stores.
To put it simply, consumers enter physical stores, place orders from the Amazon platform under the guidance and assistance of shop assistants, and then pick up the goods from physical stores or directly let the goods be delivered to the door when the order package arrives.
By the end of this year, the number of Amazon Easy stores had reached 100000. Recently, Amazon has also upgraded the format of such stores to provide a "touch experience" product experience, and integrated multiple Amazon services through a single contact.
Third, the "I Have Space" plan.
This plan was also launched in 2015. It is the last mile delivery, helping local stores distribute goods within 2-4 kilometers, so as to obtain more sales.
With the launch of the plan, Amazon has released the entrepreneurial potential of many community stores in India, which now consists of nearly 28000 microenterprises and retail stores, covering more than 420 cities in India.
In addition, Amazon India has also designated targeted plans for the site's sellers to solve the problems of specific groups of sellers, such as the "Karigar Store" for weaving or craftsman sellers, the "Saheli Store" tailored for female entrepreneurs, and the "Launchpad Store" designed for emerging DTC brands.
Amazon India is very concerned about how local small businesses and small sellers expand their consumer groups, not only local customers, but also global customers.
(New media of cross-border e-commerce - Domainnews Riley Huang)Coupang, Wayfair, Wal Mart, Mercado Libre and other platforms settled, brand copywriting planning, whole network promotion, e-commerce training and incubationPlease contact us for other services. No unauthorizedRewriting, reprinting, copying, clipping and editingIn whole or in part.