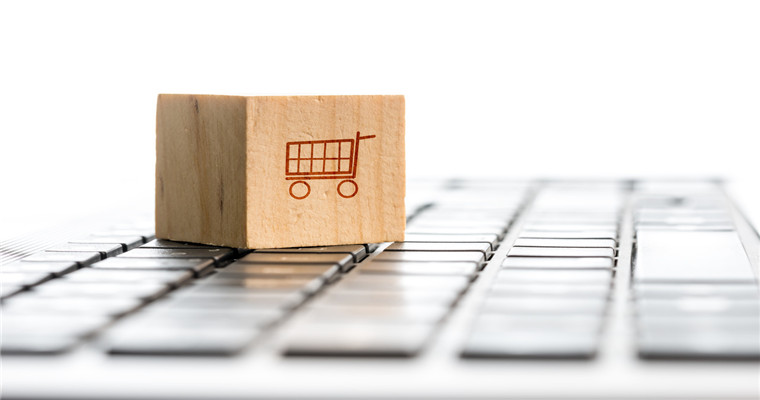 Xgimi (the company "Jimi Technology"), which only makes projectors and projection accessories, achieved a total revenue of 2.644 billion yuan in all channels in the three quarters of this year, a year-on-year increase of 41.65%, and a net profit of 300 million yuan, a year-on-year increase of 74.99%.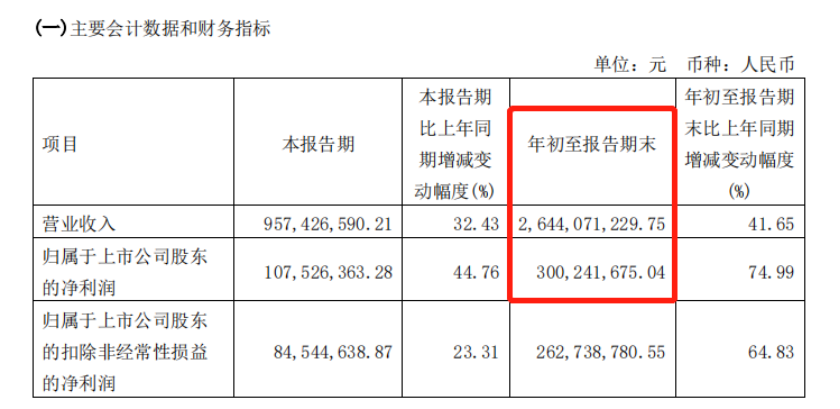 (Source: Financial Report of Jimi Technology in the Third Quarter of 2021)
Of course, the main sales of Jimi Technology come from the domestic market, accounting for more than 90% of the total revenue.

(Source: Prospectus of Jimi Technology)
However, the growth rate of foreign sales is much higher than that of domestic sales.
According to the financial report of the first half of 2021 of the companyOverseas incomeMore than 130 million yuan, although it only accounts for a small part of the total revenue136.51% YoY growthIn contrast, domestic sales growth was only 43.43%.

Considering theAbout half of overseas revenue comes from e-commerce platforms dominated by Amazon(Half of the increase is from offline sales). This 136.51% increase may be affected by the failure of popular listings of peers such as VANKYO, Bomaker, Apeman and VAVA, which led more consumers to choose Xgimi products.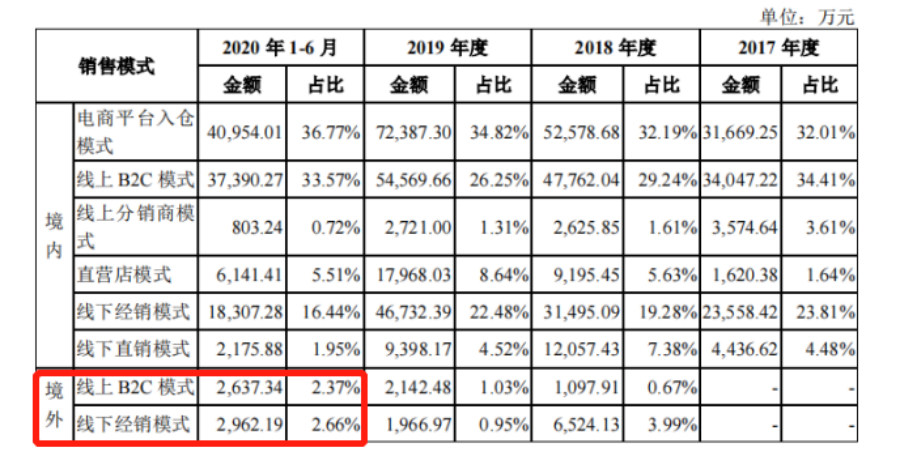 (Source: Prospectus of Jimi Technology)
Seller wizard Seller Sprite data display,On Amazon America, the Xgimi projector, which sells for $1659, has sold 199 pieces in the past 30 days, with a sales volume of $330000, and the rate of leaving comments is 17.59%.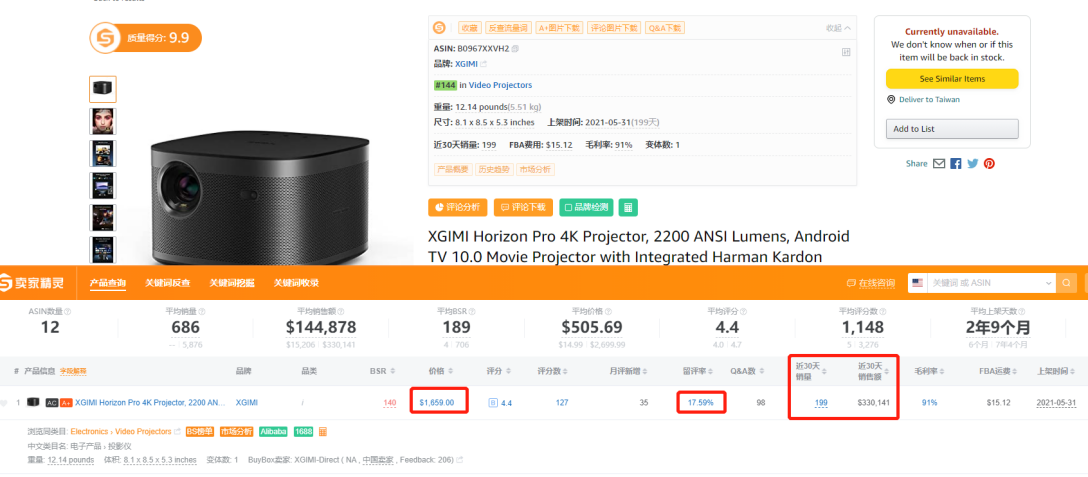 (Source: Seller Sprite)
Global projector scale?
According to the data of Technavio, a third-party market analyst in the United States, the global projector market value will increase by 5.88 billion dollars from 2021 to 2025, with a compound annual growth rate of more than 8%. This is a rapid growth, because the growth rate this year is only 3.59%.

(Source: technavio. com)
among48% growth comes from the Asia Pacific region, mainly China and Japan。
Outside the Asia Pacific region, the main markets of projectors areAmerica, Germany, France, Britain and other countries。
Search "projectors" on Google Trends, and you can see that the demand of consumers is growing recently.
According to the search trend in the past five years, the number of projectors searched in December was the highest in a year.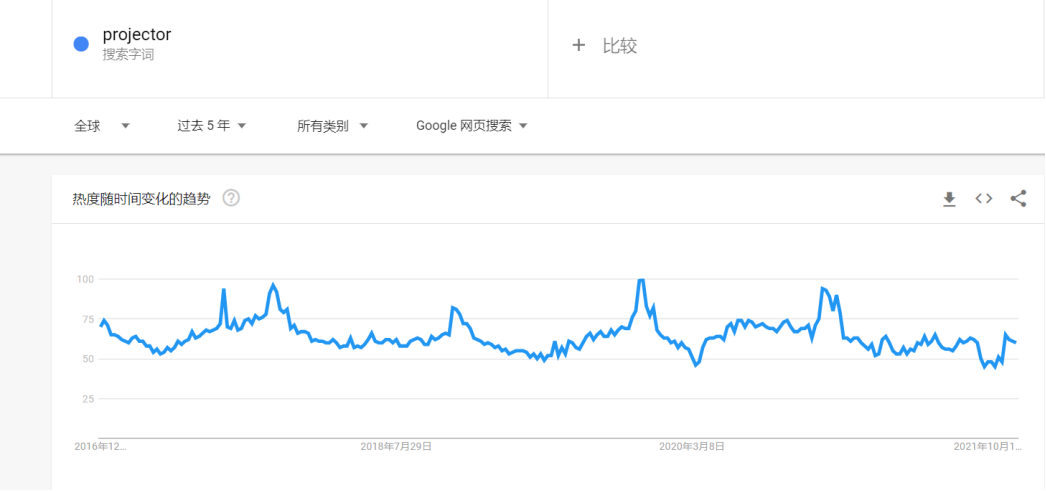 (Source: Google Trends)
In addition, the third quarter of each year is the peak time for the launch of projector products, such as WOWOTO, and VANKYO, which was previously closed product links, will take advantage of this time to launch more new products.
In this way,The peak e-commerce season of projector products is in December。
In fact, there are two trends in the global projector market.
First, developing countries have a large demand for traditional projection equipment, while developed countries need intelligent projection equipment.
The former is mainly to build "smart classrooms" and "smart office places". Developed countries may have completed this step. With the development of the concept of smart home, people are more pursuing intelligent projection equipment, with high requirements for audio and video quality.
Second,The main end customers have changed from B end to C end。
The B end, such as schools and enterprises, and the C end, such as individuals and families.
IDC data shows that in recent years, the proportion of commercial market in China's projection equipment shipments has gradually shrunk, and the proportion of consumer market has become higher and higher, from 40% in 2017 to nearly 80% in the first half of 2020.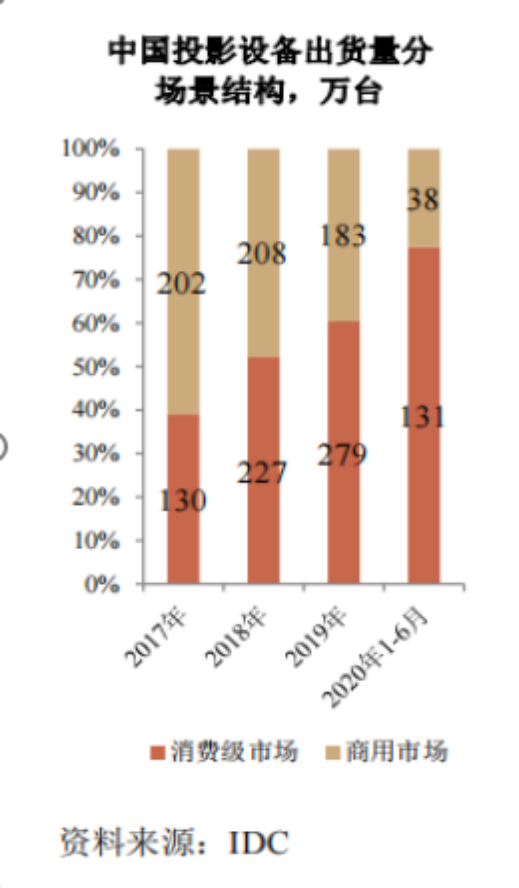 Take Jimi Technology as an example. In the first half of 2020, the sales of commercial scene projectors accounted for 2.28%, and the sales of consumer level scene projectors accounted for 97.72%, which is also a growing trend.

(Source: Prospectus of Jimi Technology)
(New media of cross-border e-commerce - Domainnews Riley Huang)Coupang, Wayfair, Wal Mart, Mercado Libre and other platforms settled, brand copywriting planning, whole network promotion, e-commerce training and incubationPlease contact us for other services. No unauthorizedRewriting, reprinting, copying, clipping and editingIn whole or in part.