Amazon America stands atOn December 14, an announcement was made to announce the launch of a new brand recommendation bonus plan.
The announcement said that through the new brand recommendation bonus plan, brand sellers can improve their advertising efficiency outside Amazon while receiving bonuses.
"When brands direct traffic from non Amazon marketing activities to Amazon products, they can obtainPromotional productssales volumeaverage10% bonus. In addition, the brand will charge the same bonus for any brand products purchased by customers in the next two weeks."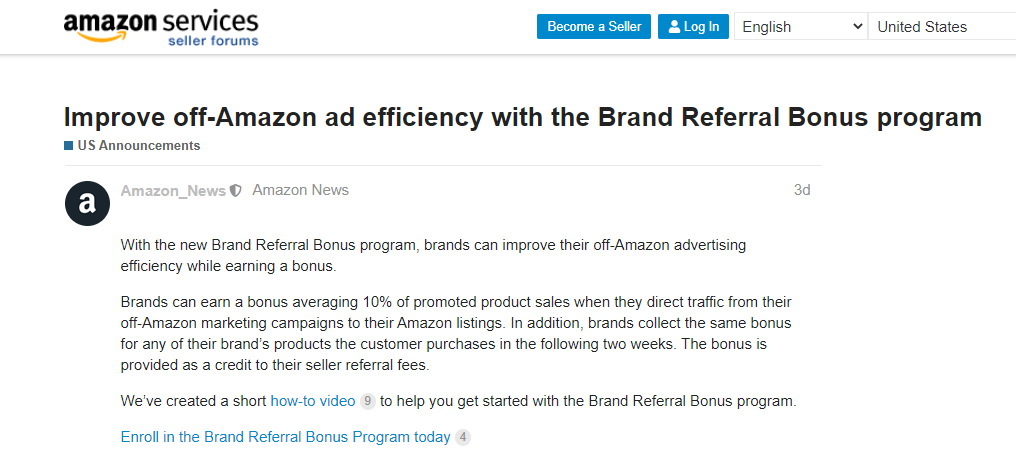 Specifically, after the seller successfully registered for the plan, if the traffic outside the site is introduced to the Amazon site for transaction, Amazon will provide the seller with average product salesA bonus of about 10%. Even if the consumer does not place an order on the spot, Amazon will record the consumer's information. If the consumer purchases the brand's products within two weeks, the seller can also receive a bonus.
According to the different categories and sales of goods sold by the seller, the actual reward rate obtained by the seller may be different. For example, the maximum bonus for Amazon equipment accessories is30%, and the reward rate of electronic product accessories varies from 5% to 10% according to the sales volume. Specific data sellers can also be viewed in the background.
It is understood that the brand recommendation bonus plan is currently limited to sellers at Meiya Station, onlyOnly brand owners can register for this program, and they need to authorize their own brands on Amazon.
However, it should be noted that the bonus obtained through the brand recommendation bonus plan cannot be directly withdrawn, but is used to offset the seller's sales commission. If there is any surplus in the bonus, the commission will be deducted again next month. So, I want to directly learn from AmazonIt is impossible to "pull wool".
According to the analysis of industry personage, currently AmazonofTraffic growth has fallen into a bottleneck, and is facing more and more competitors. In addition to Wal MartTarget, Kroger and other traditional competitors, as well as Facebook, Instagram, TikTok and other social platforms, have also vigorously entered the e-commerce market. In this case, Amazon will encourage sellers to channel for Amazon from outside the site.