followCPSC will know that product recalls are common, and there will be a wave of cases every few days, involving a variety of categories. Recently, another batch of canned candles has been recalled.
The candle being recalled this time is a glass canned candle, which is installed in a decorative glass container with a metal lid. This model has two fragrances, namely frosted forest and vanilla biscuits, with the bottom printed withBrand label.
This product is sold through both offline and online channels, distributed in stores of various sizes in various regions of the United States. The online channels are mainly sold throughCostco e-commerce platform. The sale period is from August 2021 to September 2021, with a price of approximately $17.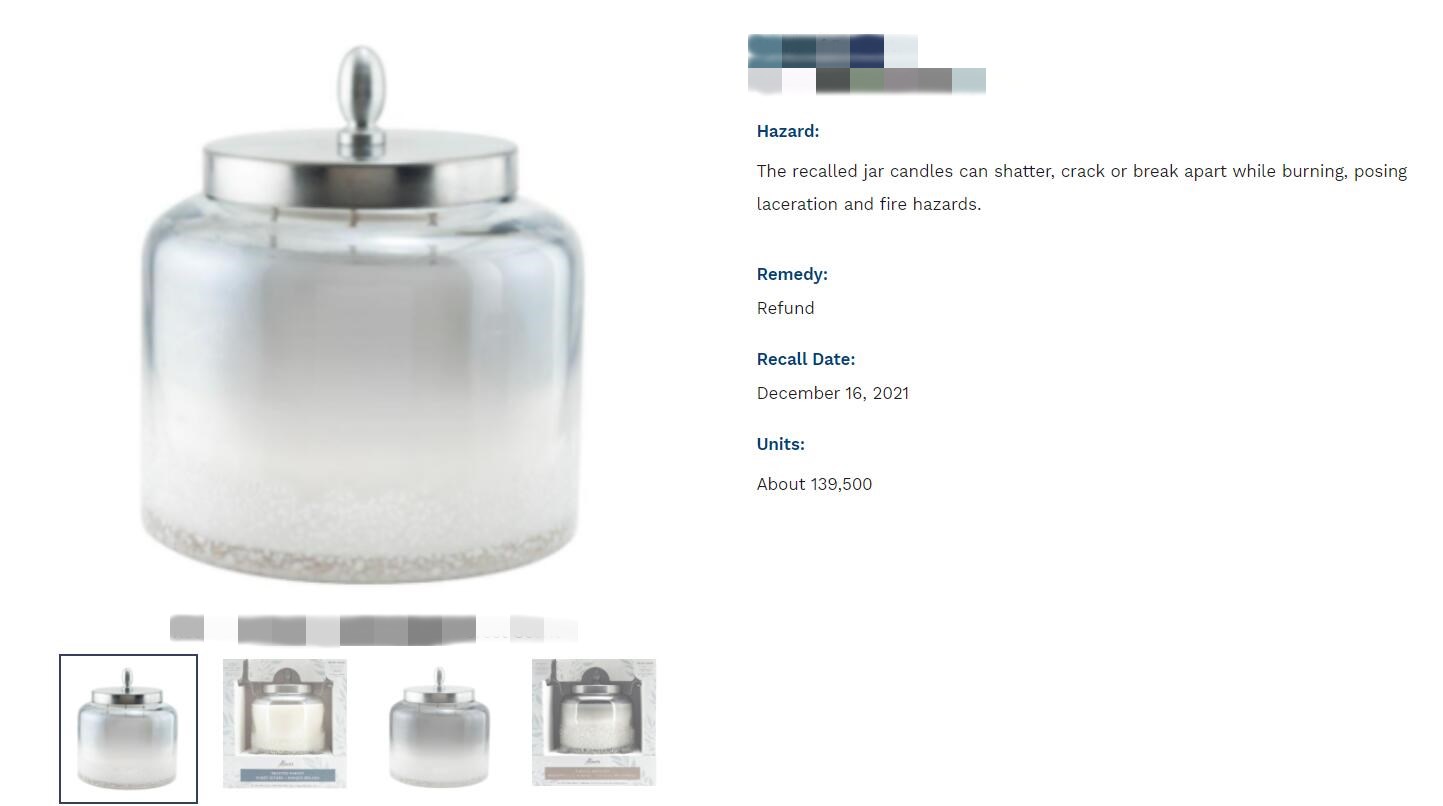 (Image sourceCPSC
The reason for being recalled isCandles inDuring combustionCausing glass jarsBroken or broken,There is a potential fire hazard. Received so far138 reports on broken or broken cans and candles, including 3 cases of injuries caused by broken bottles.
The number of products involved in this recall is139500 pieces,The Consumer Product Safety Commission of the United States recommends that consumers immediately stop using and contact the seller for a full refund.
Due to considerations of delicacy and fashion, old-fashioned candles in the past can no longer keep up with the aesthetic needs of today's society. Candles are often packaged in cans or glass, with various spices or colors added. Lighting one at night is very atmospheric. But sealed glass jars, if the temperature is too high and the glass bottle body is not very strong, are prone to explosion and rupture. Once this situation occurs, there is a risk of injury to consumers.
Compared to other materials, this type of glass jar product carries greater risks. In addition to the high temperature problem in the above cases, cracking and cutting are the most important hidden dangers. If the seller has related types of products, they need to be more attentive in terms of quality. If there is an unexpected report, being recalled not only brings certain losses to the seller, but also irreversible personal injury.
Safety is no small matter, and many hidden risks are easily overlooked. Regardless of the category, sellers must prioritize the quality of their products.