After the Alpha, Beta, Gamma, and Delta mutated viruses, unfortunately we have a new variant Omicron. What is the impact on cross-border people as Christmas holiday approaches? Will it be like before, when demand surges and supply chain prices rise, but logistics are in trouble?
Omicron spread to57 countries, sea freight pricesFear continues to rise
On November 9th, South Africa confirmed its first case of novel variant infection. On the 26th, the World Health Organization (WHO) named the mutant strain (B1.1.529) "Omicron".
Since its discovery, the number of cases of infection with this variant strain has been increasing.WHO Released on the 7thofThe Latest Weekly Epidemiological Report of Coronary PneumoniaDisplay,Currently, there are already57 countries or regions have reported the Omicron strain, with the majority of cases related to travel.
From South Africa toWHO Report on New Variants (November 24th)toOn November 30th, in just a few days, at least 32 countries or regions around the world tightened their entry restrictions on African countries such as South Africa. Among them, sellers are more concerned about the United States,As early asOn November 29, passengers from South Africa, Botswana, Zimbabwe, Namibia and other eight countries were prohibited from entering the country. Even more so, like Japan and Israel, they directly "seal off" and suspend the entry of foreigners.
The emergence of a new strain of the Omicron virus has aroused high global vigilance,The tense situation in shipping will further intensify.
Currently,The freight rates of the Far East to the East have stopped falling and rebounded everyThe FEU freight rate is $10427, an increase of 0.11%; The freight rate for the Far East to West US route remains unchanged at $6730/FEU, maintaining high prices for three consecutive weeks.
Many freight forwarding companies predict that due to the continuous tightening of shipping space,The sea freight for December will continue to rise.Even more freight forwarders boldly estimate,Can recover in one yearPre epidemic levelAll optimistic estimates.
Therefore, some operators expressed helplessly that,The epidemic is really endless, affecting the lives of too many people.
All partiesProvide suggestions only to solve port congestion
Although the Omicron variant virus has once again raised sea freight prices to new heights.
But the main reason for the continuous increase in sea freight prices is still global port congestion, which leads to low efficiency in ship turnover.Shift CompanyalsoWe can only continuously increase sea freight costs to prevent more ships from going to ports.
Among them, the congestion situation in Los Angeles Port and Long Beach Port in the United States is particularly noticeable.
Previously, US President Biden announced that the two largest ports in the United States, Los Angeles Port and Long Beach Port, would be implemented dailyA 24-hour, 7-day work week is implemented to solve the problem of port cargo congestion.
On the other hand, new regulations have been introduced for ships queuing up for unloading at Los Angeles Port and Long Beach Port to ease the situationThe problem of long queues.
New regulationsA queue has been arranged for each shipPit location. requirementContainer ships at Los Angeles Port and Long Beach Port slowed down and dispersed. When waiting for the port berth,Must stop at the designated position.Slow ship speed can reduce fuel consumption and emissions, waiting until the berth is available before arriving at the port.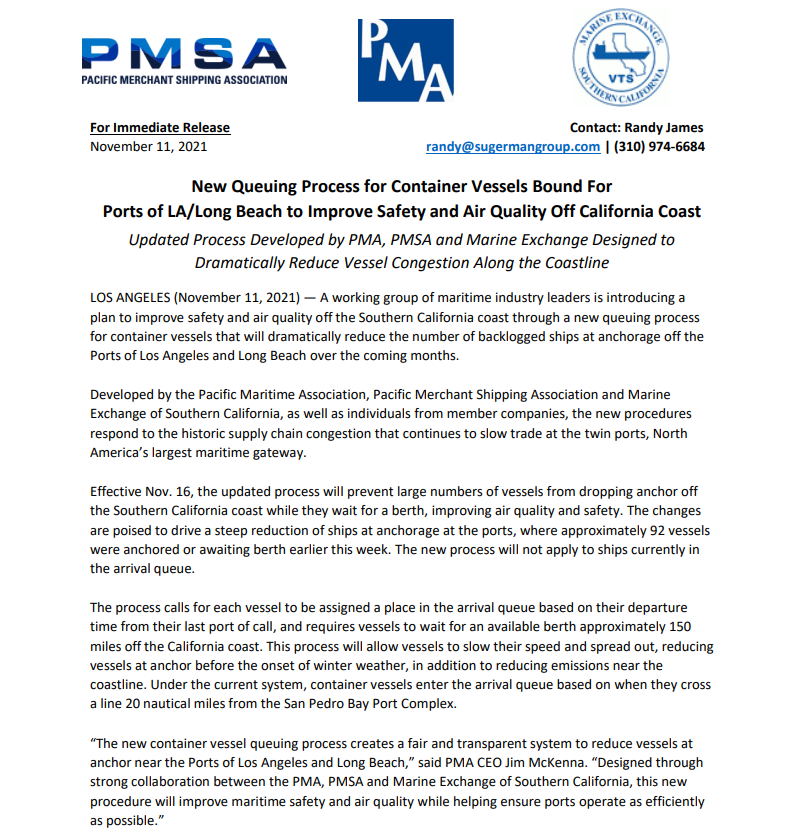 CEO of the Pacific Maritime AssociationJim McKenna stated that the new queuing process is more fair and transparent, which can significantly reduce the number of ships berthing near Los Angeles and Long Beach ports while helping the port operate as efficiently as possible.
However, the latest data shows that36 container ships are moored at the anchorage, with a total of 25 other ships waiting to dock within 40 miles, totaling 61. There are also 32 container ships with an actual arrival time earlier than CTA, totaling 93 waiting vessels. Meanwhile, the average waiting time for ships reached 18.6 days.
Overall, the queuing order has changed, and there has been no substantial change in the number of ships waiting to dock at Los Angeles and Long Beach ports.
alsoFor old cargo at the port,Announced before Los Angeles Port and Long Beach PortA policy has been implementedCharge additional fees to the shipping company.
The policy is to charge shipping companies for containers that are overdue at the portA surcharge of $100 per container, with an additional $100 per container per day until the container leaves the port.
But the policy isNovemberOn the 29th, the third announcement of delayed execution was made. The reason is that the port is reducing the accumulation of goodsobtainGood progress has been made inSince the first announcement of the intention to impose fines on October 25th, the number of container terminals has decreased by 37%.
But in reality, the portIs congestion really easing?
Policy effectiveness,But the port situation is still"on shaky ground"
Although the fine policy has not yet been officially implemented,But it's alsoFor many cargo ship containersThe effect of intimidation has significantly increased the speed at which containers leave the port,letThe accumulation of old goods at the port has decreased by approximately33%.
However, according to the daily operation report of Los Angeles Port, the detention time exceededThe number of containers in 9 days has increased to 23000 in the past three weeks, and the total number of containers on the dock continues to rise.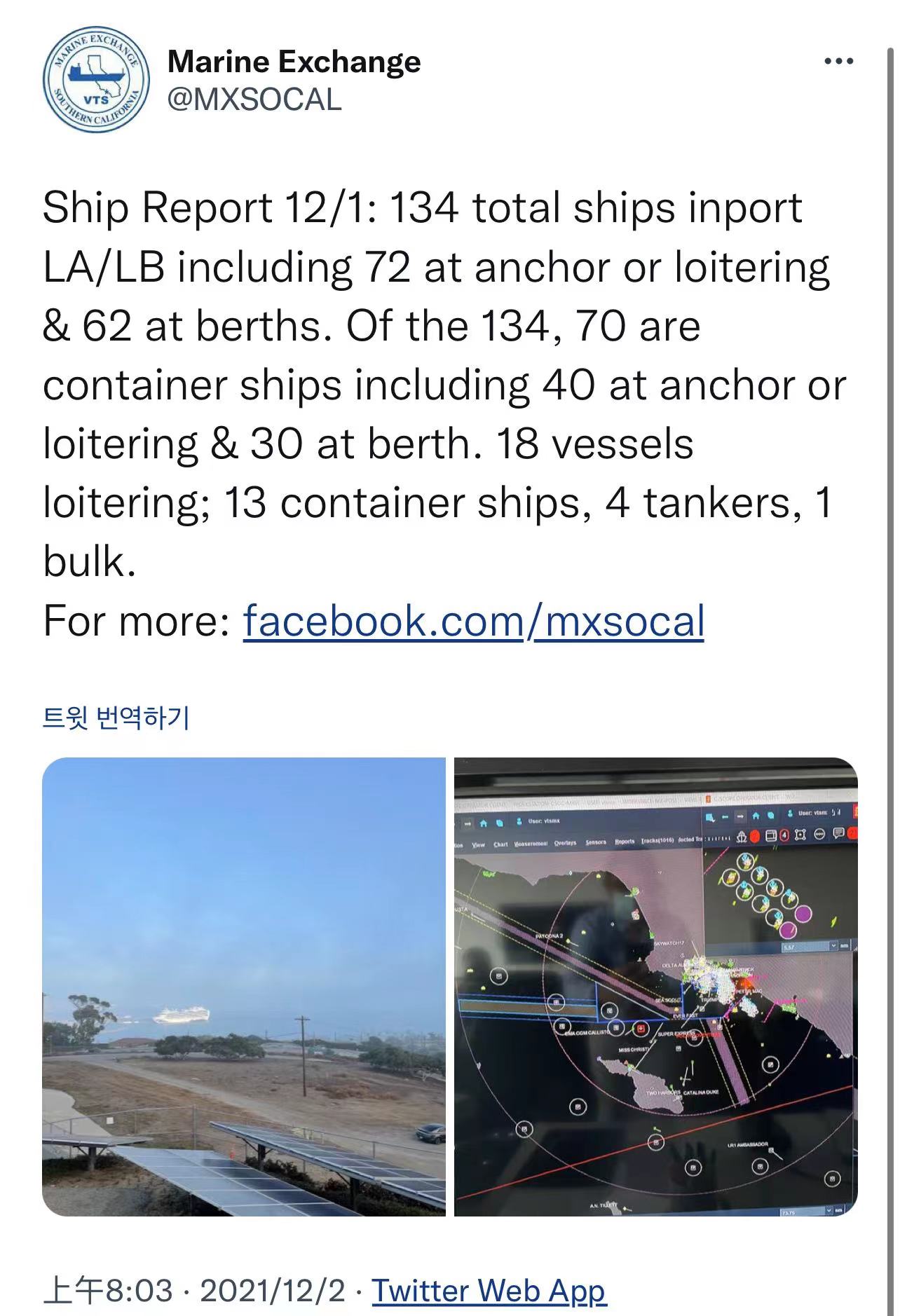 According to the National Retail Federation of the United StatesGlobal Port Tracking Report for November,forecastThe import volume in 2021 will increase by 16.2% compared to 2020.AndCompared to the same period in 2021, the import volume in the first half of 2022 will increase by 2.9%.This also indicates that the port may be blockedOnly in 2022 can we see the "dawn" of relief.
Moreover, there is a shortage of port workers, resulting in slow unloading speed and an increasing accumulation of containers; The welfare system in the United States has also led to a decrease in the motivation of American workers, who would rather receive welfare than work; The containers piled up at the port generate huge detention fees, which also make some shippers give up picking up the goods directlyNowadays, the mutated Omicron epidemic has also made the already restless ports more peacefulAdding insult to injury.
Based on the above reasons, it remains to be discussed when the issue of soaring sea freight prices caused by port congestion can be resolved.
Under port congestionHoliday sales are still expected to increase
There are less than three weeks left until Christmas arrives. However, many Americans may still receive Christmas giftsDrifting on the sea
Despite facingsupply chainQuestionsHigh inflationOmicron variantsWait, butAmerican Retail Federation(NRF remains optimistic that,this yearHoliday retail sales in November and December may beCompared to last yearincrease11.5%,achieve843.4 billion to 859 billion US dollars.
Additionally,CNBCstayDecemberWe also conducted a survey on American consumers at the beginning.The results show that the average American plans to spend on gifts this year$1004,Increase compared to last year13%.Among them,15% plan to increase spending, up from 11% in 2020; 35% plan to reduce expenses, down from 39% last year.
Among those who spend more, one-third say it's because they have more money, and a quarter say it's because they need to buy gifts for more people,16% of people believe that the price is higher.
The survey also found that half of Americans say they will make most or all of their online shopping. Among them,35% of AmericansThe first choice isAmazon;Ranked second isEtsy and other local business websites(7%); thenWal Mart website(5%).
NPD points out,As more and more people get vaccinatedThis year, people should hold more holiday celebrations than last year. This will driveCooking utensils, tablewareBeverageSales.Meanwhile,Women's styling tools, steam ironing machines, oral care productsAnd massage equipment to relieve holiday stressSales should also increase.
However, due to the ongoing pandemic and the emergence ofOmicronConsumers will still pay attention to health and hygiene, therefore,Vacuum cleaners, air purifiers, floor cleaners, deep carpet cleaners, bedding and shower essentials are also expected to enter the peak sales season.
Although the sales transcripts of Heiwu and Wangyi this year are not as good as last year, in any case, the Christmas holiday is still what many sellers are looking forward to, hoping for a miracle.