Toys play a very important role in children's growth process. A good toy product can not only help children pass time, but also help develop intelligence. With the popularity of toy products, the quality and safety of toys are also receiving increasing attention.
Recently, the Consumer Product Safety Commission of the United States announced the recall of a children's projection flashlight. The recall number is22-024, the reason for the recall is that children may remove the projector flashlight and come into contact with the button battery inside, causing a risk of ingestion and suffocation.
This recall involves five models of children's projection flashlights,They have a keychain at one end and a flashlight projector at the other endCan be thrown includingDisney, Pixar, Star Wars, Avengers, andESPNMultiple images within.
The product image is as follows: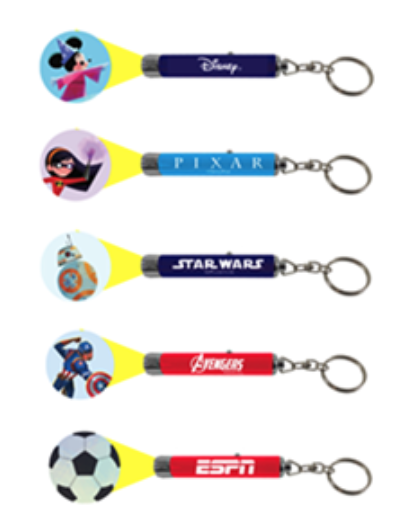 (Image sourceCPSC
These recalled children's projection flashlights serve asPart of the Disney brand care package,insideReturn packagecontainA handbag, silicone wristband, playing cards, ink pen, diary, wall stickers, and a set of postcards. There are four models in the flashlight:Button battery for LR41.
This product is manufactured in China,From February to June 2021,The Starlight Children's Foundation has distributed approximately82500 copies of this care package.So far, the company has received two reports of children removing button batteries from flashlights.In one case, a child needed surgery to remove a button battery that had been accidentally ingested.
Consumers who receive this product should immediately stop using the projection flashlight and keep it away from children.At the same time, the product manufacturer should be contactedHalo returns the product. After the return, Halo will compensate the consumer with a $5 gift card that can be used at major retailers nationwide.
The main consumer group of toys is children, who often lack a certain level of judgment due to their young age. They are prone to accidentally eating small parts in toys due to curiosity or other reasons, thereby causing certain harm to themselves.
Previously, toys were frequently recalled due to the possibility of accidental ingestion and suffocation due to small parts falling off. Once a recall event occurs, it can also cause significant damage to the seller's business. Therefore, sellers in the toy industry must control the quality of their products when producing them, and effectively ensure the personal and property safety of consumers.