03
Some Ideas of Differentiation Strategy
Through the case breakdown in the previous article, we can realize that the differential positioning, whether from the product transformation ability or the difficulty of traffic operation, has twice the result with half the effort. In recent years, we have also created a sales volume of 6 million dollars through differentiated product selection positioning, and formed a complete selection system. Today, we will share some ideas.
1、 User demand channel
In the process of our operation, keyword analysis is a very important work. In keyword analysis, we will divide keywords into many dimensions according to their attributes: product, color, crowd, scene, time, size, etc. Then we will expand more keyword directions through different root attributes and seek traffic depressions. Similarly, for a complex user demand environment, there are user preferences (color, material, size, shape, etc.), gender, age, cultural background, personalized characteristics, etc. User needs are transaction opportunities. When selecting products, we can also carry out product innovation by dividing user needs into different dimensions and then arranging and combining them.
Where can we mine these user data? Let's think about the following questions:
1. Why can domestic e-commerce platforms directly push the products we are considering buying every time? (Information flow data generated by consumers on the Internet)
2. We browse and generate a lot of content every day. How does the e-commerce platform refine our product needs? (Content collection, classification, establishment of attribute tags, refining keywords)
3. What channels do we usually use to obtain relevant information before purchasing products, and then make decisions to purchase? (Search platform, social platform)
We analyze the logic of information retrieval and targeted push through domestic e-commerce platforms, and we can find the biggest source of user demand: search+social interaction. Amazon, as an e-commerce platform, will put a lot of advertisements on Google. However, Google's keyword search traffic is based on websites, not commodities, so the purchase demand is not the most clear search data. In the Amazon ecosystem, the most direct and clear user demand is the customer search term, which is often referred to as the search term. The data center is the ABA brand analysis database.
2、 Disassembly of user requirements
The reason for this is because in the current stock competition, most products are integrated solutions, packages, accessories, variants, price segments, functions, and sizes. The goal is to reach more user traffic, meet more user needs, and form deals. This method belongs to massive test traffic data, and then focuses, which is high in cost and low in efficiency. However, it is batch operation, easy to scale, and suitable for capital players. The opportunity for micro innovation is to locate vertical demand or differentiated demand, that is, to find blue oceans in the red ocean or create new demand.
We can divide the purchase demand of users into some common categories according to our own shopping experience and our experience in the market:
Color: pink/yellow/red/blue/purple/white
Population: children/students/adults/infants/elderly
Material: wood/iron/stainless steel/ceramic/aluminum
Festivals: Easter/Valentine's Day/National Day/Thanksgiving/Christmas
Theme activity: baby birth/birthday/wedding/school start/super
Scene: kitchen/bedroom/living room/toilet/courtyard/farm
· 
3、 User demand search
1. From the first perspective, we start from the color. Because we do household decorations, and users are very particular about color matching, we can use color words to explore the demand for subdivided products.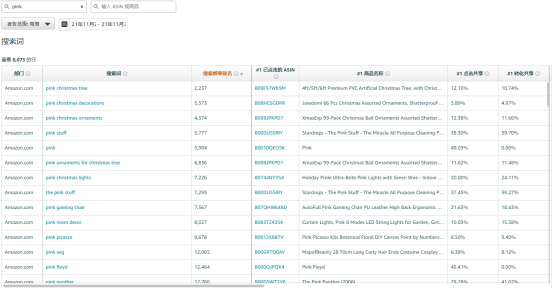 (1)Search through pink, there aresevenMore than 2000 terms are related to this color. These customer search terms are user needs. We can mine a lot of product information from them. Starting from the most familiar decoration root, decor, we found the keyword "pink decor"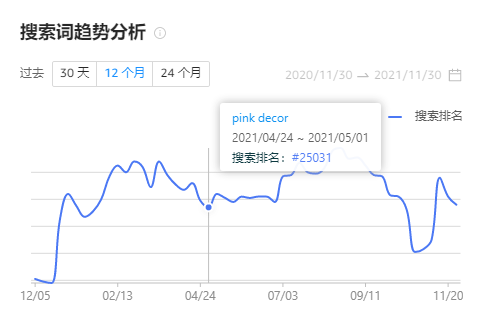 (2)According to the ranking trend analysis of ABA data search frequency, we can see that the search popularity in the 12 months of the year is relatively stable, and it remains around 20000, and the market demand is also relatively large.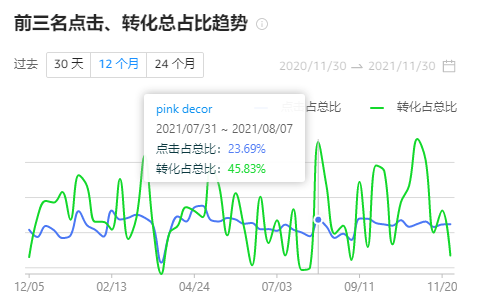 (3)The percentage of clicks and shares of TOP 3 asin in the whole year is less than 25%, which indicates that the competition and monopoly of this word is relatively small, and new products have opportunities to enter.

(4)Through the search results of keywords, it was found that the second product in the ranking was plant flowerpots. My understanding of flowerpots has always been focused on materials and sizes, as well as the number of suits. I did not expect that color could be subdivided.

(5)Through the keyword back check, we can find that more than 50% of the traffic of this ASIN is from pink related keywords, and they are all high-quality words, that is, words, which can further pink pink demand from the sales data.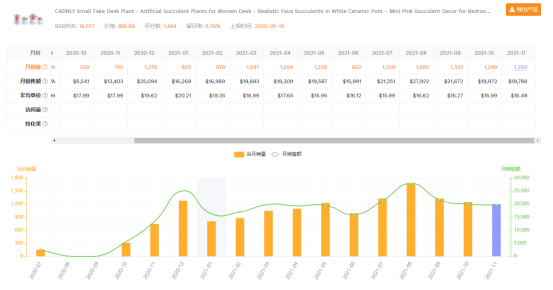 (Data source: seller wizard)
(6)Based on the color dimension, we can also find many subdivided products, such as yellow decor. The change trend of the annual search popularity is basically the same as that of the pink decor.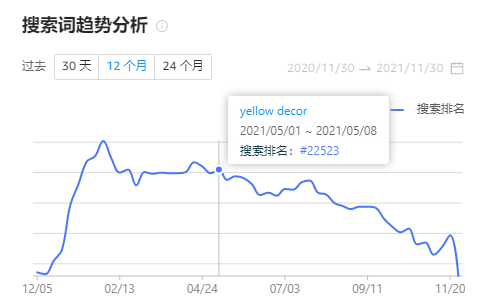 2,From the second perspective, we start from the product itself and find more consumption scenarios through keywords, such as ribbon and ribbon, which are very mainstream products in foreign countries. The demand is very large, but the product is homogeneous, the market competition is fierce, the operation is homogeneous, the profit structure is very stable, and the chances of breakthrough are very small. Then we will explore whether there is an opportunity to cut in through the keyword root.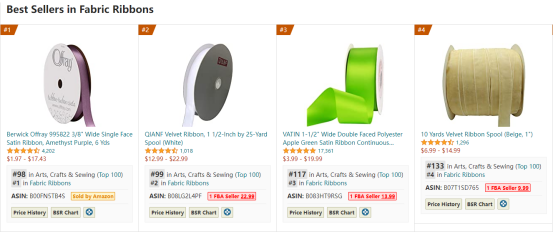 (1)We search ABA database through RIBBON root words, and mine more segmentation requirements through keyword data.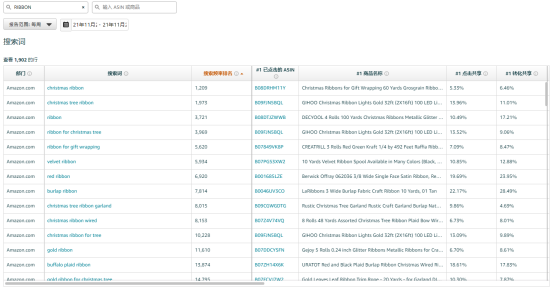 (2) Through ABA search, more than 1800 demand words can be found, which means that there are still many demand segments for this keyword. Next, we need to find words and see the trend. In the process of downloading the keyword data for classification, I found a very interesting imagination that ribbon is collocated with many attribute combination words:
Color attribute: red ribbon/gold ribbon
Material attribute: velvet ribbon/burlap ribbon
Festival attribute: christmas ribbon/thanksgiving ribbon
· 
(3) Because we have many years of experience in B2B trade, and we are very familiar with offline life and culture in the United States, let's start from the point of festival attributes. Based on this point, we will mine all the keywords of festival attributes, and then analyze the trend of keyword changes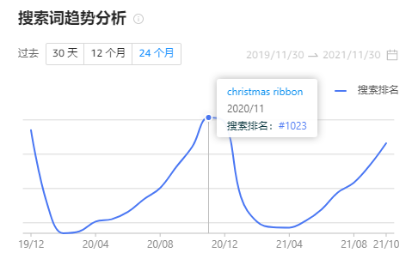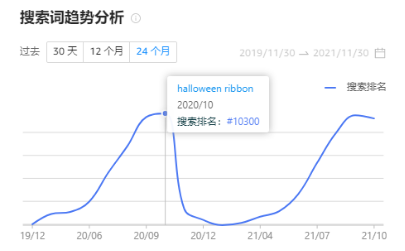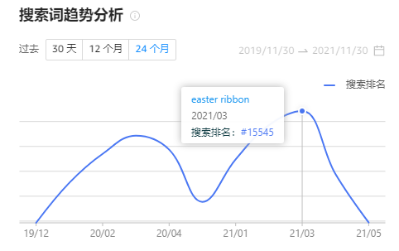 (4) Through the phrase analysis of each festival attribute, we can find that there are several obvious trends in their search popularity:
l Very volatile, with only one peak throughout the year
l Both the growth trend and the decline trend are very fast
l The search heat is very high during the peak period
· 
(5) After understanding this data trend, we can refine several information:
l The search peak of each festival is different, which means that I develop products with the words of each festival attribute. Every month is the peak of traffic
l This kind of keyword changes very quickly, which means that we should control the sales cycle and inventory very carefully and accurately
l If we want to make holiday products, we need to understand the cultural symbols and elements of each festival, find the hot selling elements, and need adequate product research
(6) Understand the sales data of products by analyzing market data:
l What is the peak sales period
l What is the sales volume
l What is the price trend and profit margin
l What are the cultural elements and how to accurately position them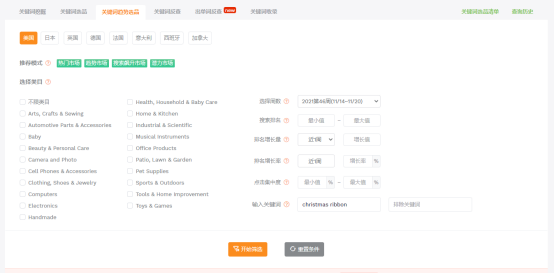 (The screenshot is the seller wizard keyword trend selection function page)
(7)We can use the keyword trend selection tool of the seller wizard to locate the time at the peak time of each keyword search, and analyze the TOP ASIN data at each peak time.

(Data source: seller wizard)
(8)By analyzing TOP 3 ASIN products and top 10 products sorted by keywords during peak hours, we can collect elements: snowman/Santa Claus/snowflake/truck/bell/Christmas knot; Collect material, color, size and other information to refine products.
(9)The last step is to verify the market demand, which can be analyzed and confirmed through the historical data of TOP10 ASIN, sales nodes, sales scale, sales price, etc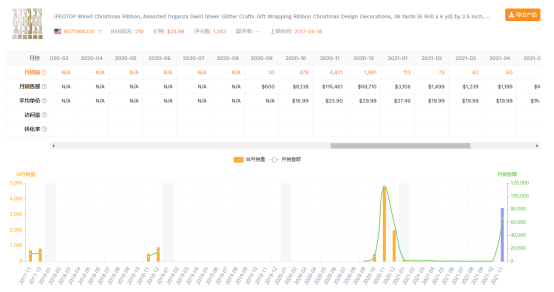 (Data source: seller wizard)
(10) Through historical data, we can clearly find that the price and sales volume of this kind of holiday attribute are both rising at the same time, and the price band and daily products have a very obvious stratification, which is the value difference between centralized traffic demand and decentralized traffic demand. Based on such differentiationA lot of conventional products can reach more subdivided demands through product optimization.
3. Third, from the perspective of life, the American people are full of demand for food, clothing, housing and transportation. The purchase demand is concentrated on various parties, that is, theme activities. We refine all the theme activities and find the demand through keywords.
Foreign mainstream party activities: engagement, wedding, anniversary, birthday, school commencement, graduation, baby birth, Super Bowl, etc. Foreigners are very fond of holding parties. We explore the demand for subdivision through several theme activities.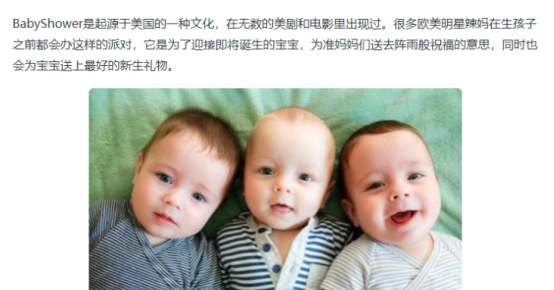 The first one is the baby shower, the baby birth party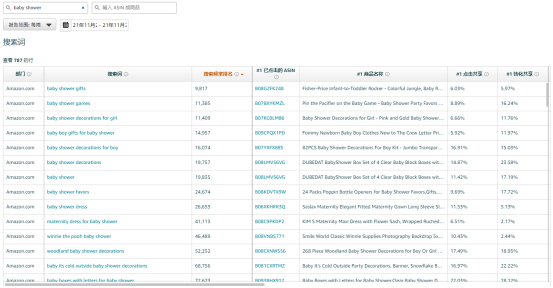 (1)Through the keyword search of the baby show, we found that there are nearly 1000 related terms, which are a lot of product requirements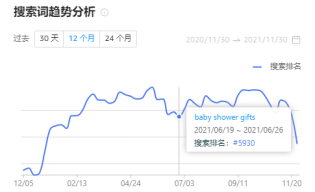 (2)Through the analysis of the search trend of the core word "baby show gifts", we can see that the search trend throughout the year is very stable, so the demand for related products representing this theme activity is relatively stable, which belongs to long-term demand products and is suitable for refined layout.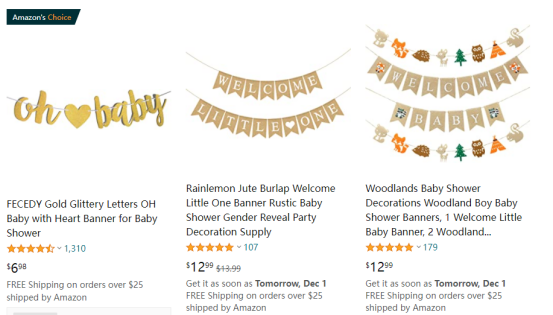 (3)Through the search results, we can see that many highly themed banners and signs are very low-cost product solutions, and the premium ability is very strong.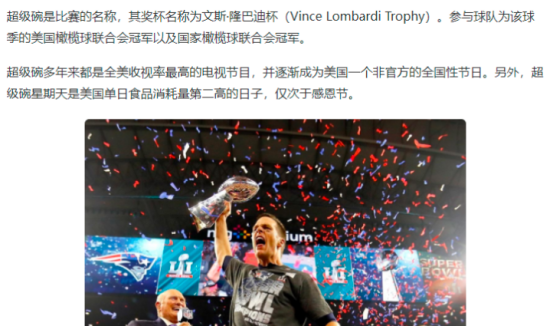 The second one is Super Bowl, this is also the theme activity of national celebration in the United States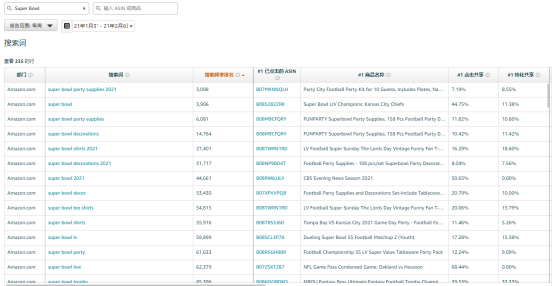 (1)
We can also see that the search is very popular through keyword search, but this activity is a fixed time every year. We need to further verify the search trend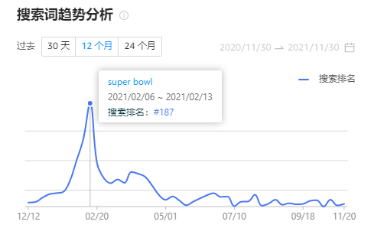 (2)Through the trend change of search terms, we can find that the demand for this thematic product is the peak purchase period 30 days before the competition, so we should research the annual competition time in advance when developing products, and reasonably layout the inventory.<span style="mso-spaceru <footer>The content of the article is created by the author, and the author is responsible for the authenticity, accuracy and legality of the content. Overseadia advocates respecting and protecting intellectual property rights. Without the permission of the author and/or this website, the content of this website may not be copied, reproduced, or used in other ways. If you find that there are copyright issues in the articles on this site, please contact chuhaiyi@baidu.com, and we will verify and deal with them in time. Source of the article: egainnews, this article is the author's independent point of view, and does not represent the position of overseadia.</footer>