According to E-Commerce News, Europe's e-commerce market has always maintained its top position in the world.However, relevant data show that over the past year, the average online consumption amount of Danish shoppers has topped the list of European countries.
As in previous years, Germany and the UK are still the strongest e-commerce markets in Europe. The purchase amount of these two markets is relatively high, the share of e-commerce is high, and the population is large. Therefore, when considering the European market, most cross-border sellers will first think of Germany and the United Kingdom. Data display,In the past year,Germany has62 million consumers bought online, compared with 49 million in the UK.
It is understood that at least95% of customers choose online shopping, and the average annual cost per person is estimated to be 2316 euros. Sweden followed closely, with 96% of the population choosing to shop online, and the average person spent 1932 euros per year.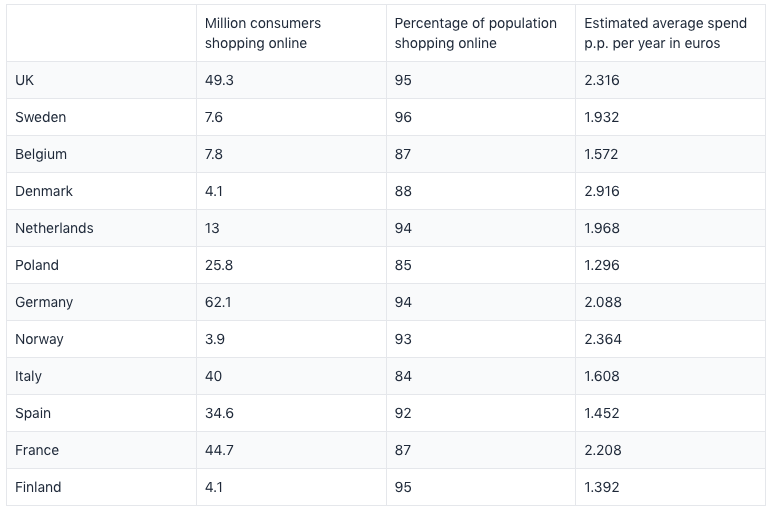 But surprisingly, compared with other countries,althoughDenmark has a small number of consumers who choose online shopping, but the average annual consumption per person reaches2916 euros, ranking first among European countries.
Relevant reports show that the main reasons are small land area and higher transportation efficiency. In addition, the Internet penetration rate in the country is99%, higher than the European average.
In the past year, due to the strict blockade of the epidemic, Danish online consumption behavior has also changed. According to the investigation,Nine out of 10 Danes said that e-commerce had brought great convenience to their lives during the epidemic. At the same time, nearly half of consumers in the country tried new shopping methods, and even 27% of Danish pensioners chose to receive e-commerce packages without contact.
From this point of view, the epidemic has had an impact on consumers in all markets, and the convenience of e-commerce market has been recognized by most consumers. With the easing of the epidemic, the growth rate of the global e-commerce market has declined slightly this year, but the online consumption habits developed by buyers are difficult to return to the pre epidemic.