Ice cream tasteThe "Cat Mountain King" durian, frozen red grouper, and sweet live crabs, all of which are local specialties with Southeast Asian flavor, are becoming the favorite of Chinese consumers.
Recently, Cainiao announced the opening of its first Kuala Lumpur, Malaysia-Charter flight routes in Shenzhen, China. Relying on the digital logistics capabilities of eHub in Kuala Lumpur, Malaysia, this route will deliver Malaysian specialty black thorns, "Cat Mountain King" durian, grouper, live crabs, and fresh shrimp from Kuala Lumpur to Chinese consumers within 4 hours.
The "Cat Mountain King" durian is known as the "Hermes of durians". In order to ensure its taste, Cainiao has prepared unique packaging for each durian, and during the delivery process, it adopts full ice freshness technology to achieve visual temperature control and regulation throughout the entire process. In addition, in order to preserve the fresh taste of shrimp and crabs, Cainiao has prepared a professional full process logistics delivery plan in the early stage of transportation. Control the entire process from crab outflow to container loading.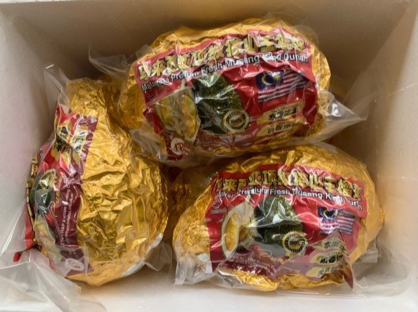 It is reported that the Cainiao Fresh Charter Machine operates weekly3 times, each time carrying 13 tons of cargo. In the event of interruptions in freight and commercial flights, this charter flight greatly improved the stability of Southeast Asia China freight and helped Malaysian companies explore a broader Chinese market. Cainiao also plans to open more direct routes from Australia, Singapore, and Indonesia to China in the near future, to enhance the connectivity and stability of air cargo within the Regional Comprehensive Economic Partnership Agreement (RECEP).
Cainiao Kuala Lumpur, MalaysiaEHub is located next to Kuala Lumpur International Airport, with a logistics and warehousing area of over 100000 square meters, including an air cargo terminal, distribution center, and order fulfillment center. To assist in the export of local goods, three major ports in Malaysia, Klang West Port, Klang North Port, and New Shan Tanjung Parapas Port, all have B2B logistics provided by Cainiao, covering 174 ports in 55 countries.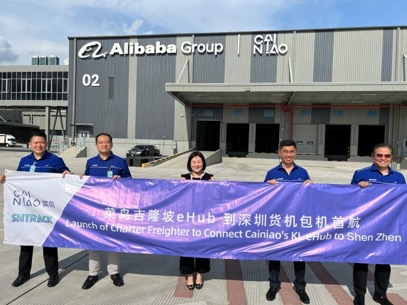 Chinese Ambassador to Malaysia Ouyang Yujing is also a rookieLike eHub. He stated that the establishment of eHub in Kuala Lumpur, Malaysia is another milestone in the cooperation between the two sides in the field of digital economy, jointly promoting the development of Malaysia's digital economy infrastructure and promoting the participation of Malaysian enterprises in the global market.
This year marks the establishment of dialogue relations between China and ASEAN30th anniversary. In the past 30 years, the trade scale between China and ASEAN has expanded 85 times, achieving a historic breakthrough as the largest trading partner of each other. In the first 10 months of this year, the trade volume between China and ASEAN has reached 703.3 billion US dollars, a year-on-year increase of 30%, and will reach a new historical high for the entire year.
The opening of Cainiao Malaysia China Fresh Line marks the first time that Cainiao Kuala Lumpur eHub has achieved comprehensive coverage of Malaysia China import and export two-way charter flights, playing an important role in promoting China ASEAN bilateral trade and regional digital economy development, "Liu Shuohu, Deputy General Manager of Cainiao Export Business Unit, told reporters. We hope to leverage Malaysia's trade hub advantage in Southeast Asia, allowing ASEAN small and medium-sized enterprises to enjoy convenient online trade, fast customs clearance, efficient logistics and warehousing services like large multinational enterprises, unleashing the greater potential of bilateral economic and trade cooperation.
It is reported that this year's doubleDuring the November 11th period, the eWTP Hub, a global logistics hub for Cainiao in Belgium, was officially launched during the Double 11 period. In the past few years, Cainiao has continued to invest and build in international logistics, and will further support the smooth flow of international trade through digital logistics.