Recently,Seaward Home BrandNewme announces millionsdollarAngel round financing, led by the only capital, and followed by Qingying Venture Capital。This round of financing will be used for supply chain R&D and management, brand building and other businesses.
Although many bad things have happened in the cross-border circle this year, some enterprises have still risen to the challenge and gained capital support. According to the data of NetEase, this yearJanuary toNovember 24th,Domestic export cross-border e-commerce17 investment and financing events, total financingexceed7.16 billion yuan, including OnePro, POVISON, Jihai Technology, Wudi Industry, Sensitous Auto Parts, CiderPatPAt, TYMO, Orange Sailing, full volume and full speed, WOOK, Lilysilk, Xikeas well asCUPSHE。
The latest financing involvesNewme,Belongs toShanghai Nimi Network Technology Co., Ltd.andOneProSimilarly, this company is relatively young. Last yearNovemberJust established, team members have beenJD, Tencent, Microsoft and other companiesHe has served forThe co-founder has ten years of experience in Internet and retailandBrand entrepreneurship experience。
At present,NewmeThe products sold mainly include kitchen supplies, bedroom supplies, bathroom supplies, toys, jewelry, etc,Customer unit pricestay30-100US dollars. The target users are European and American markets,CurrentlyofSales channels include independent stationsandTikTok Store,Amazon channel is under preparation.
Stand alone this yearGo online in March. According to Gu Jun, co-founder of Newme, the monthly GMV growth of the website has exceeded 100% month on month since its launch.
as forTikTok,yesNewme is currently the main traffic channel.Newme inTikTokAbout fans on104600, with a single video playing volume of tens of thousands or even 100000.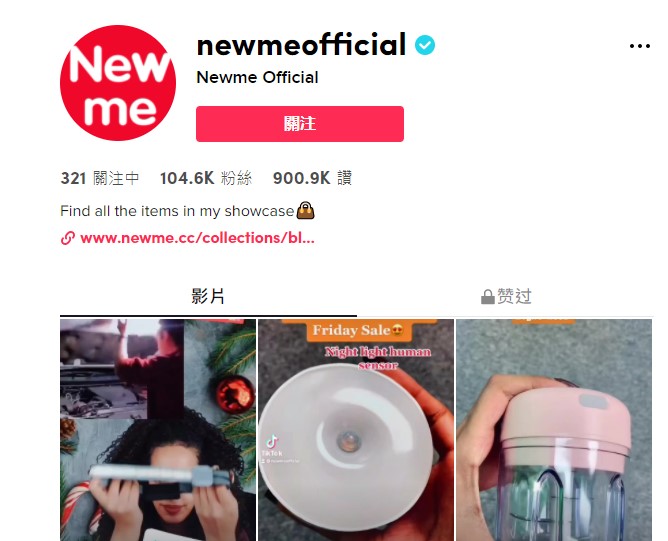 lately,TikTok officially announced that the number of monthly active users in the world exceeded 1 billion. This excited many insiders. It is believed that many sellers have planned this new traffic channel in advance, especially after TikTok gradually opened the live streaming with goods function this year.
Newme said that the new crowd and scene on the TikTok platform will lead to new products. According to the survey of Newme, more than 30% of people have never bought anything on Amazon, which is called "new crowd". "New scene" means that although many goods have been sold on Amazon for a long time, video and live broadcast have reopened a way to interpret goods.
Now many surveys also show that more and more Europeans and Americans willTik Tok is regarded as a platform for finding shopping inspiration, but at present, Tik Tok has not formed a large-scale shopping atmosphere, but a seller who has settled in Tik Tok's UK store said: "The first batch of people who eat crabs will step on the pit and need patience, but I think it is worth betting."