Having achieved great success in the field of short videosTik Tok is also gradually showing its "ambition" in the e-commerce field. After the launch of the shopping cart function, there have been new developments in Tik Tok recently.
According to foreign media reports,TikTok is testing a 'Business Registration'ofNew features.Users and sellers can improve this option by displaying the merchant's product types in their personal profile, such as beauty, clothing, etc.
Social media expertsMatt NavarraDisplayed on social media, currently someTik Tok merchants can access this new "Business Registration" option in Business Settings.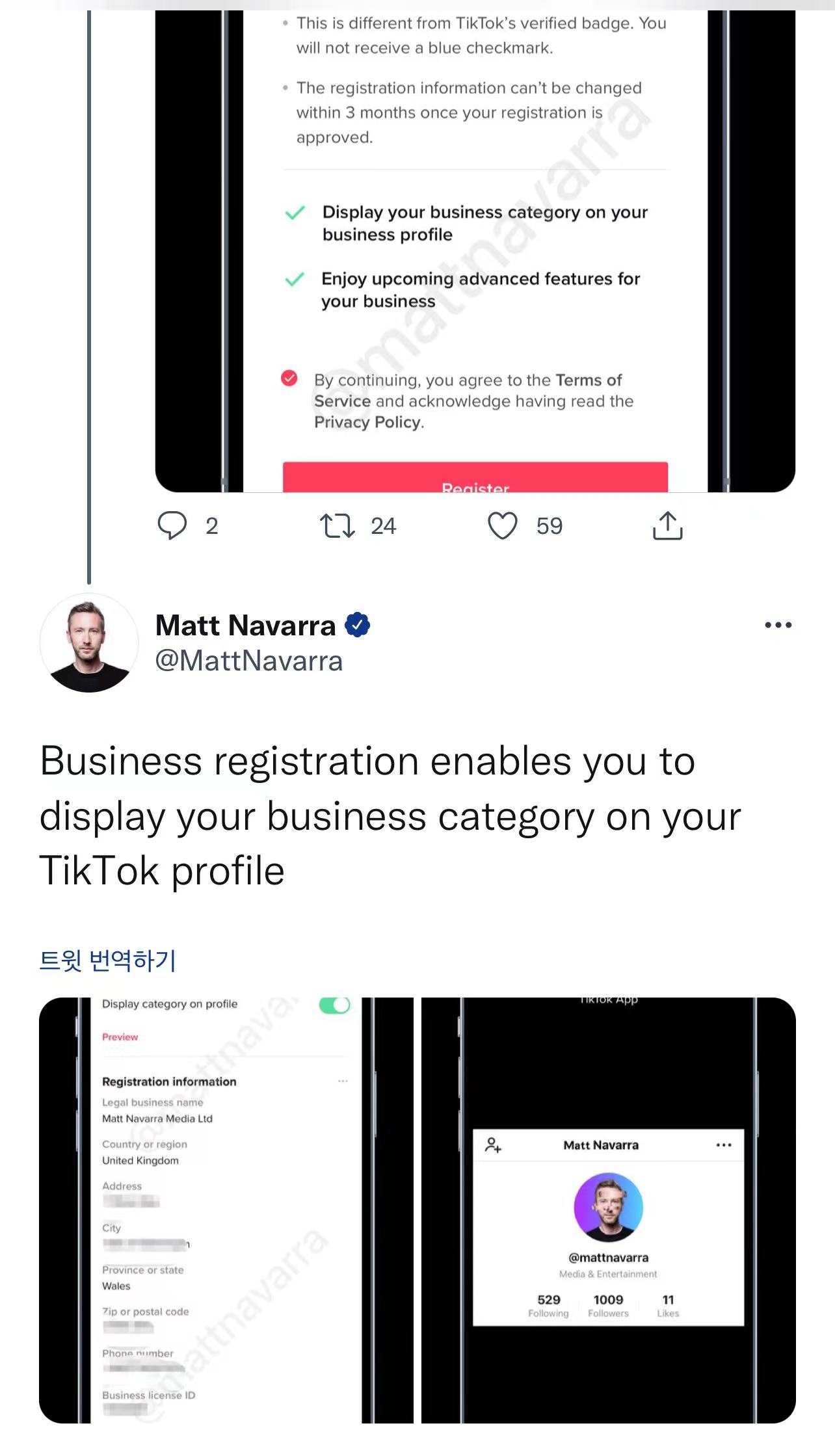 Tik Tok stated that "business registration" and account verification badges are different, and the new feature can provide additional protection and authoritative authentication for merchants' corporate identity.When using this feature, merchants need to provide additional detailed information about the company in order toTik Tok backend precise positioning. Afterwards, the business type of the merchant will be displayed in Tik Tok's personal profile.
This function can collect data from relevant sellers, allowing the backend to conduct more accurate analysis of the data, and then more accurately push short video content that consumers and users like.
At the same time, it helps sellers accurately locate their customer base, increase traffic and account exposure, and thereby increase sales.
Tik Tok believes that commercial registration is not the primary purpose. But during registration, by improving the information and allowing the backend to share the merchant's business categories, and then using big data to accurately push the account to the target user, ultimately achieving the goal of sales.
E-commerce isOne of the markets that Tik Tok will focus on next. Due to the relatively mature revenue systems on YouTube and Instagram. Moreover, short videos have relatively fewer opportunities for advertising. So Tik Tok must continuously optimize and provide different revenue streams for video creators and sellers. This will attract them to continue using Tik Tok.
Tik Tok currently has a total of approximately 1 billion users, and research has shown that Tik Tok is also the preferred social application for the younger generation. On the recently passed Black Friday, Tik Tok was also held for the first time in the UKBlack Friday Activity.Exclusive discounts have attracted many users and consumers.
along withTik Tok's continuous development in e-commerce tools such as live streaming and shopping carts is expected to continue to show a growth trend in 2022.