Recently, EurostatEUROSTATAnnounced online shopping in the EU. It should be noted that the survey results correspond toOnline shopping of consumers in the first quarter of 2020 or 2019.
According to the survey results,In 2020, about 65% of all adults (16-74 years old) in the EU bought/ordered goods or services on the Internet in the 12 months before the survey.Young people aged 25-34 are 2.5 times more likely to use the Internet for shopping (83%) than those aged 65-74 (33%).
With the popularization of the Internet to all ages, online shopping has become more and more popular in the EU. Consumers attach importance to the accessibility of various products anytime and anywhere, and enjoy the additional benefits brought by preferential prices. Activities such as Black Friday and Online Monday are priority points for online shopping.
In all EU regions,The Danish Capital Region has the highest tendency to use e-commerce(91%), followed by Denmark, Central Japan and the Netherlands, Utrecht90%。
In contrast, the four regions of BulgariaThe lowest share in 2020: Severen tsentralen (25%), Yuzhen tsentralen and Yuguiztochen (both 26%), and Severozapaden (27%).
stayIn the survey in 2020, 19% of adults said they had never done online shopping; There are 11 NUTS1 regions in the EU(Region or Federal State)The most common reaction is that they have never made online purchases, including those in every region of Bulgaria and Romania, and those in ItalySud and Isole, Kentriki Ellada of Greece, and Cyprus and Regi ã o Aut ó noma da Madeira of Portugal.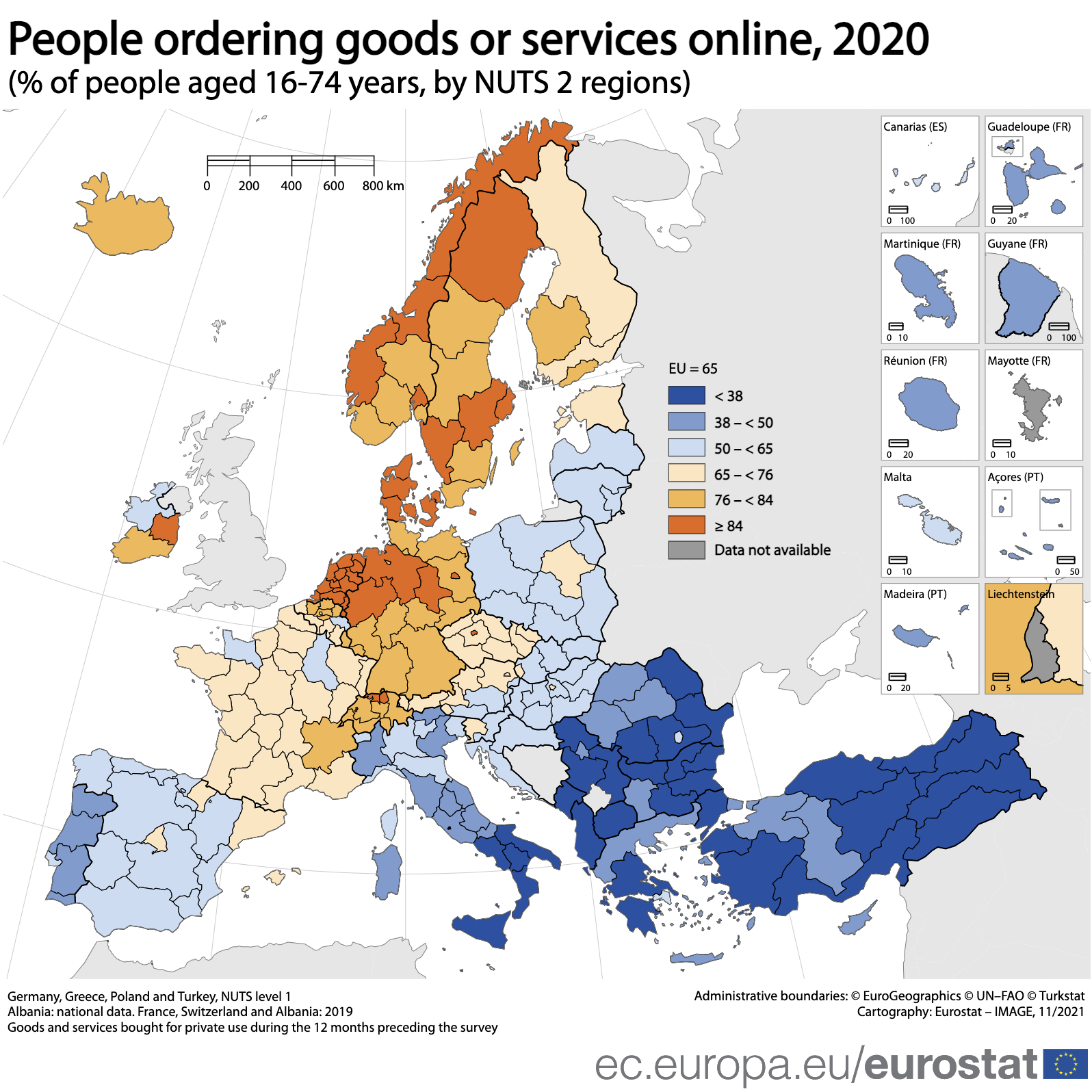 In addition,Consumers also use the Internet for banking.In 2020, 58% of EU adults used online banking in the first three months of the survey. In terms of e-commerce, the Danish capitallargeThe share of online banking in the district is the highest96%。
according toAccording to Finaria's latest data, the revenue of the European e-commerce market is expected to reach 465 billion dollars this year, an increase of 30% compared with that before the epidemic, and is expected to reach 570 billion dollars by 2025.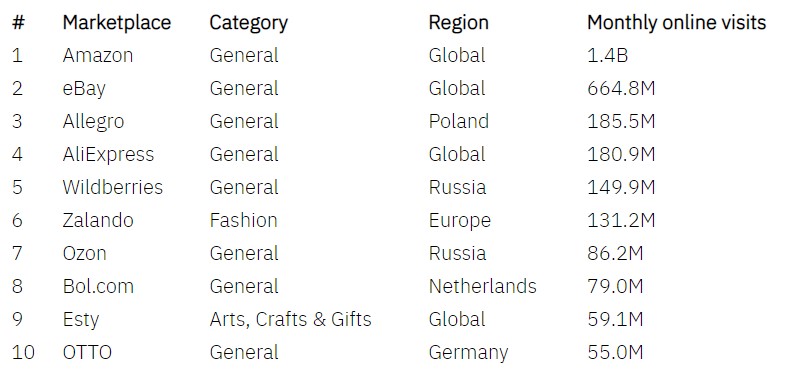 According to SimilarWeb, the top ten e-commerce platforms with monthly online visits include Amazon, eBay, Allegro, AliExpress, Wildberry, Zalando, Ozon, Bol.com, Esty and OTTO.