Recently, Amazon News Center released an impact report on Amazon Canada, which shows that as ofAs of August 31, 2021, the number of sellers on Amazon Canada exceeded 40000, an increase of 14.3% year-on-year.
It is understood that as ofOn August 31, 2021, Amazon Canada sellers sold nearly 110 million products within a year, with an average of 209 products sold per minute. Among them, over 4000 sellers have annual sales exceeding 100000 US dollars (USD), a year-on-year increase of nearly 24%; And nearly 240 sellers have exceeded $1 million in annual sales for the first time, with a year-on-year increase of over 38%.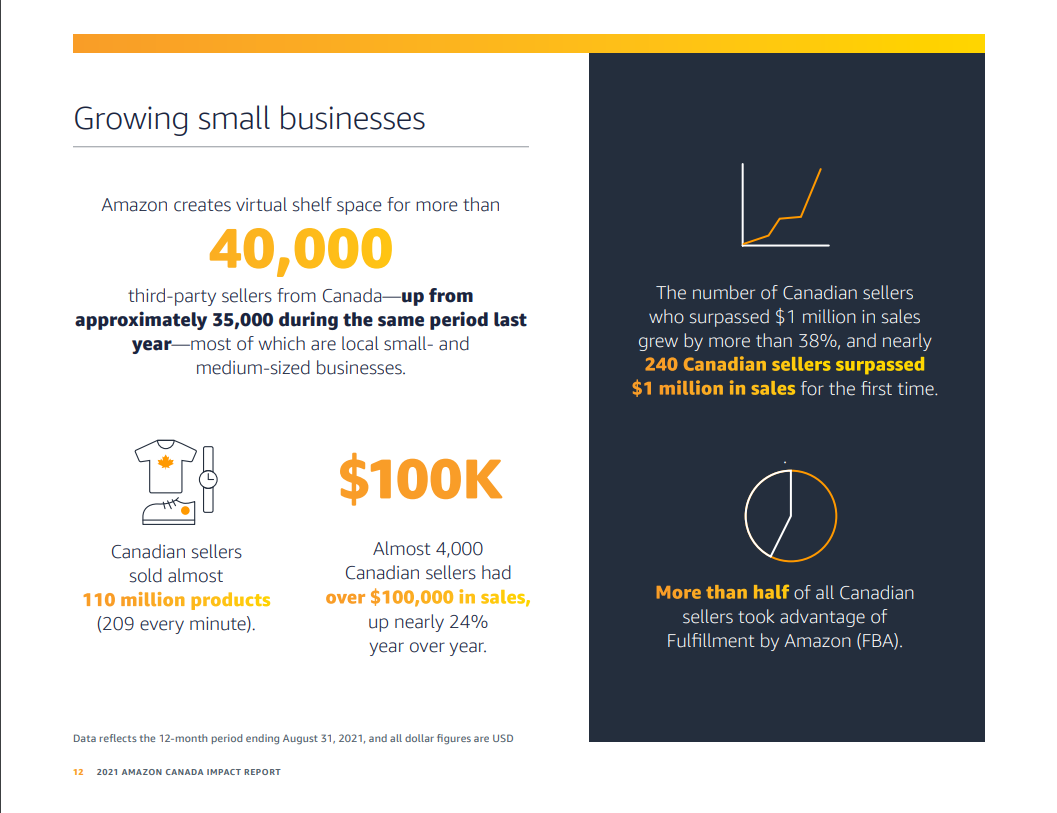 (Image from Amazon)
Amazon Canada Station ManagerMarie Claude Sauv é stated that over the past year, more than 50% of Canadian station sellers have chosen Amazon Distribution Services (FBA) to store inventory in Amazon's rush center, where Amazon is responsible for order sorting, packaging, and transportation.
In addition, the report shows that sinceSince 2003, Amazon Canada has provided virtual shelf space for millions of small and medium-sized enterprises (SMBs) to reach global consumers, create their own brands, and expand their business. Amazon Web Services (AWS) has helped tens of thousands of Canadian startups, customers, and partners enrich their communities and the world.
The report emphasizes that,In 2020, Amazon invested over $700 million and hired over 10000 employees worldwide to protect sellers' stores from scams by criminals and interference from unscrupulous sellers. Amazon stated that its investment has brought the lowest fraud rate in the e-commerce industry and protected sellers from reckless and unproven claims.
Amazon pointed out that Amazon Canada has also launched an intellectual property accelerator(IP Accelerator helps small and medium-sized enterprise sellers obtain trademarks in Amazon stores and the wider market, making it easier and more cost-effective to protect their own brands and address infringement issues.
It is worth noting that Amazon Canada has also announced the opening of a distribution center in Quebec to help sellers cope with the upcoming shopping season.