Data display published by Adobe Analytics,The total online consumption of American consumers on Cyber Monday is$10.7 billion, a decrease of 1.4% from last year, marking the first slowdown since Adobe tracked it in 2012.
Similarly, previouslyAdobeThe released report also shows that this year's sales on the Black Five Online are lower than last year's9 billion US dollarsOnly8.9 billion US dollars. On earlier Thanksgiving Day, consumers spent onlineby5.1 billion US dollars, andThe same period last year remained unchanged.
From the current situation, it seems that the sales performance this year is not as good as last year. according toAdobeAccording to data, during the five days from Thanksgiving to Cyber Monday this year, online retailers in the United States sold valueGoods worth $33.9 billion, a decrease of 1.4% compared to last year.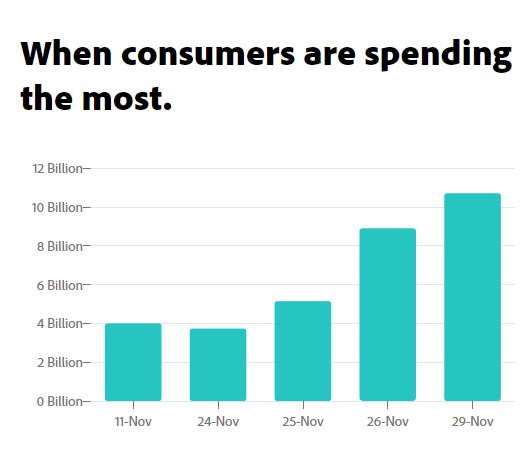 butAdobeIt is pointed out that if the time is extended, the situation will be different,fromFrom November 1st to Cyber Monday, the total sales of online retailers in the United States were $109.8 billion, an increase of 11.9% year-on-yearAmong them, daily sales exceedThere are 22 days for $3 billion, compared to 9 days last year.
The reason for this situation is closely related to the situation this year. This year, both sellers and buyers are concerned about global supply chain issues. For this reason, many e-commerce platforms arePromotions have been launched since October, and some consumers do not plan to wait until time points like Heiwu to make purchases. They start clearing their shopping carts early.
People's concerns about product shortages are not unreasonable.Adobe stated that the out of stock information on retail websites in November this year increased by 169% compared to pre pandemic levels.
Subsequently, the discount intensity has also weakened this year.The discount for electronic products on Internet Monday is12%, compared to 27% in the same period last year;Clothing prices have decreased18%, down from 20% in the same period last year;Home appliances are only discounted about8%, compared to 20% in 2020. Various inflations from fuel to raw materials,Causing some companies to pass on a small portion of these costs to consumers.Adobe stated that,The final price of consumer shopping carts on online Monday has increased year-on-year13.9%,This is also partly due to more shoppers purchasing large items such as furniture.
The price doesn't seem like thatThe "discount" has also dampened some consumers' willingness to purchase. Data shows that in the five days from Thanksgiving to Internet Day, nearly 180 million Americans shop, compared to approximately 186 million in 2020 and 190 million in 2019.
Simply put, this year American consumers purchased much less and earlier, but spent almost the same amount of money due to rising prices.
Next, major sellers will also welcome Christmas holiday sales activities. In addition to the supply chain problem, we are also facing the challenge of COVID-19 mutant strain Omikron.