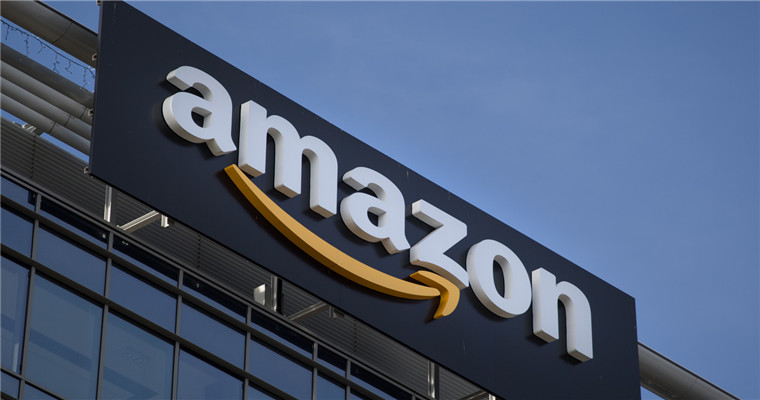 AmazonIn 2020Global APP installationNo. 1 on the list, butIn this year's ranking list, AmazonFall to the fourth place, less thanShopee、SHEINandMeesho。
IShopee、SHEINThe installation volume exceeds that of Amazon
Blue Ocean Yiguan has learned that,AmazonIt has always been in the leading position in the field of e-commerce in the United States, but the latest global APP installation ranking shows that the installation of some new platforms exceeds that of Amazon.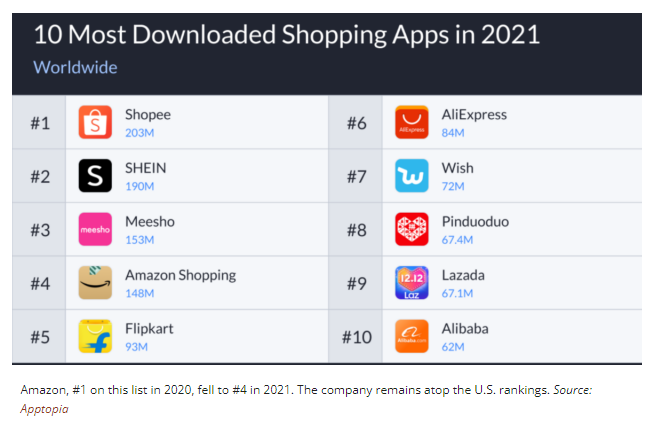 According to the data of Apptopia, Amazon will account for
Ranked 4th.
Last year, Amazon won the first place in the global ranking of APP installations
。
Three e-commerce platforms have surpassed Amazon in global ranking,ShopeeNo. 1,SheinIt ranked second and Meesho ranked third.
1. Shopee, headquartered in Singapore, serves users in Southeast Asia and Latin America, ranking first with 203 million downloads。
2. Shein, headquartered in China, is a leader of "fast fashion", whose influence is growing,Ranked second with 190 million downloads。
3. Meesho, headquartered in India, is a social e-commerce platform focusing on fashion and home products,It has 153 million downloads, more than Amazon。
Why is Amazon inferior to the above platform? The main reason is that these platforms are unique enough in their respective fields, with unique promotions and discounts, so that their users can continue to use these APPs.
IIAmazon still ranks first in the United States
Blueocean Yiguan has learned that although Amazon has lost to the above platforms worldwide, it still has the highest number of downloads among American shopping APPs.According to Apptopia, 2021The number of shopping apps installed in the United States ranked first,Amazon still ranks first。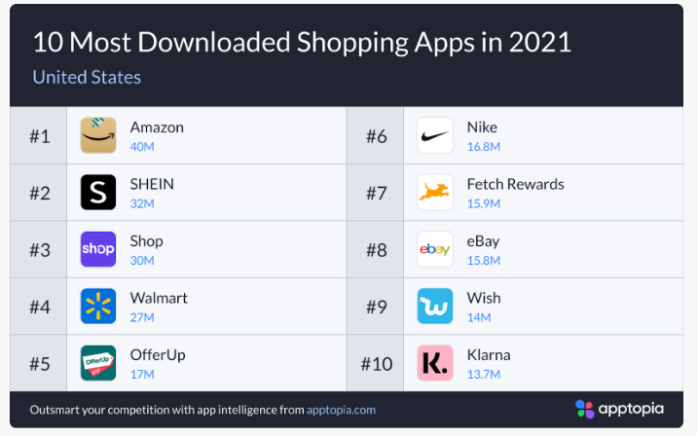 In response to regulators in the United States and other places, Amazon executives have repeatedly said that Amazon's share in the global retail market (including online and offline sales) is very small, which is not enough to constitute a market force for taking radical anti-monopoly actions.
However, according to eMarketer data, a few months ago, Amazon is expected to account for more than 40% of e-commerce sales in the United States in 2021.
AmazonIts business covers e-commerce, cloud computing, digital streaming media, artificial intelligence and other fields, and is still one of the largest companies in the United States. Amazon is involved in many fields, such as Amazon AWS, Amazon Kindle, Amazon Prime, Amazon Echo Spot, and so on.
(Polly ZhangNew media of cross-border e-commerce - Blue Ocean Yiguan website domain news) connects with high-quality resources of cross-border e-commerce.Wal Mart, Coupang、Wayfair 、Mercado Libre and other platforms settled,Brand copywriting planning, network wide promotion, e-commerce training, incubation and other services, please contact us. No unauthorizedRewriting, reprinting, copying, clipping and editingIn whole or in part.