On December 2, Alibaba Global Express launched its business operation service center in Hangzhou. This is the latest measure of the territory support plan launched by AliExpress this year. The plan is to establish a business operation service center from 0-1, focus on cultivating high-quality cross-border businesses in hundreds of industrial belts across the country, and provide one-stop full link solutions for businesses hand in hand. In addition, AliExpress will also carry out talent cultivation for cross-border e-commerce businesses in Hangzhounext yearExpected cultivation45000 cross-border e-commerce operation talents and 15000 cross-border e-commerce operation executives.
Wang Demin, general manager of the national channel of AliExpress, said that Hangzhou, as one of the first batch of cross-border e-commerce comprehensive pilot areas in China, was the first to try and take a place in the national urban pattern with its complete e-commerce industry and information economy. nowadaysWith the rapid development of cross-border e-commerce, Hangzhou still stands at the forefront of development. The post epidemic era is a new outlet for Hangzhou. The development trend of cross-border e-commerce has shifted from flow e-commerce to supply oriented e-commerce. The platform can only help businesses upgrade their industry and supply chain based on the concerns of businesses and the problems that need to be solved most.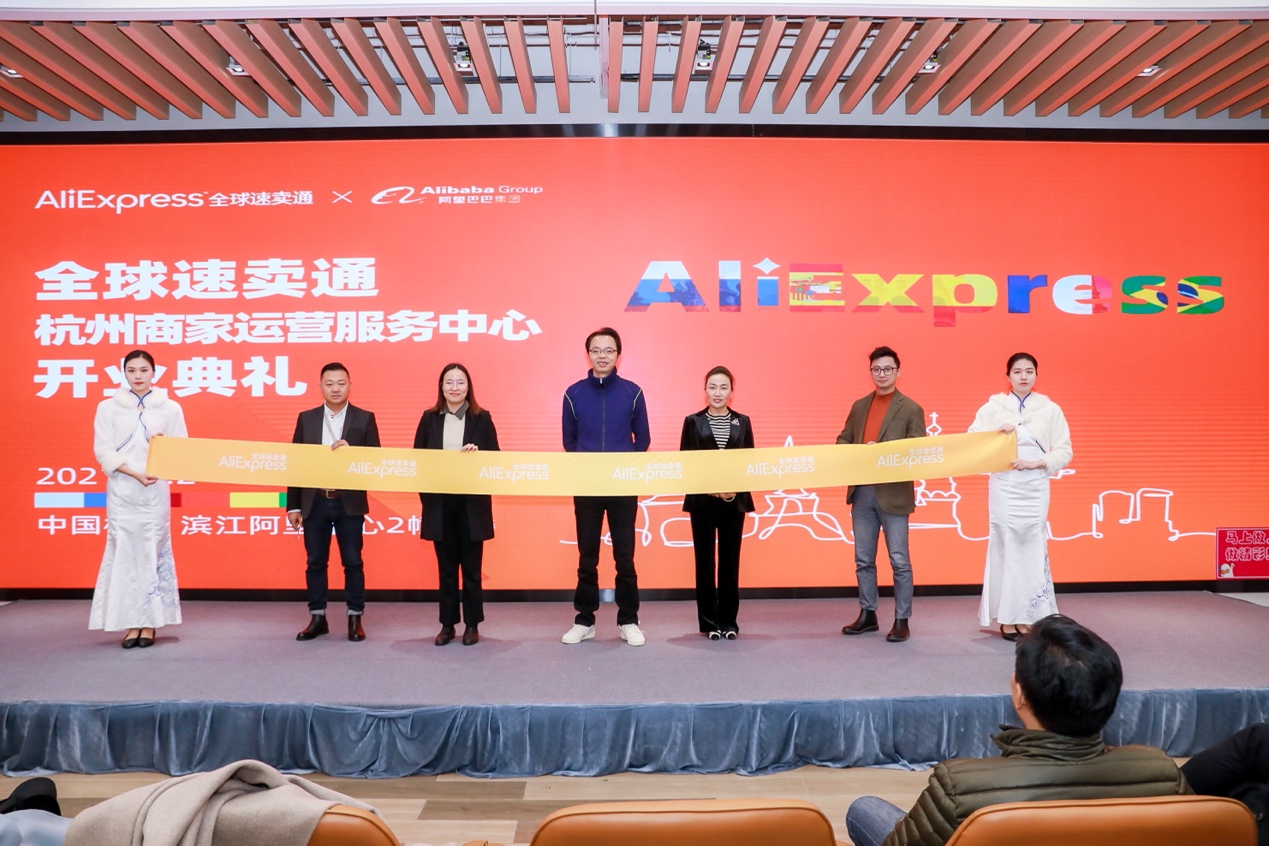 Opening Ceremony of Global Express Hangzhou Merchant Operation Service Center
Global Express was founded inIn 2010, it was the largest cross-border retail e-commerce platform in China. At present, it has opened 18 language sites, covering more than 200 countries and regions around the world. This year, the territory service center opened by AliExpress in the Yangtze River Delta, Pearl River Delta and Bohai Bay is also the first time AliExpress has established a territory channel ground force of more than 100 people. I hope that with the strength of the ground forces, I can go deep into the industry and solve the problems encountered by businesses in transformation, store opening and operation at the first time. In May and October this year, the merchant operation service centers set up by AliExpress in Yiwu and Shenzhen opened one after another.
Local business operation service center is also this yearIn May, the localization deployment of AliExpress after the release of the "G100 Sailing Plan". The plan aims to help Chinese enterprises and Chinese brands give full play to their supply chain advantages, seize the major opportunities of global trade pattern changes and cross-border e-commerce development, build brand minds in overseas markets, expand new markets and new users, and let Made in China "walk from behind the scenes to in front of the stage" in the world market.
At the opening ceremonyIn 2021, the signing ceremony of "G100 Sailing Plan" merchants of Global Express will be held. Delixi, Boss Electric and Xilinmen, the local old brand merchants in Hangzhou, will settle in Express to jointly explore the overseas market, so that more overseas users will be exposed to Chinese brands, which will create stickiness to Chinese brands, and create a global charm from "Made in China" to "Chinese brands".
Wang Demin said at the meeting:"Against the background of the global epidemic, the advantages of China's supply chain have been further highlighted. The number of orders and users of AliExpress platform in major countries such as Spain, France, Russia and Brazil has reached more than triple digit growth. At the same time, AliExpress is a brand rooted in China and an e-commerce system rooted in China. All our growth is closely related to the growth of Chinese businesses and Chinese brands."
The post epidemic era has gradually become normalized, and every cross-border e-commerce practitioner is facing huge challenges from the outside and inside. This is also a historic opportunity moment, a moment when Chinese businesses hold the product premium right in their own hands. The local service center of AliExpress can improve the communication efficiency between businesses and the platform. It will help businesses at different levels to improve from platform selection, language difficulties, logistics and foreign exchange settlement in the later stage, or from basic store opening, explosive product incubation, whole store dynamic marketing, brand building, etc.
"The merchant service center will have a dedicated customer manager to help sort out the problems encountered in the development of enterprises and provide solutions. In addition, the customer manager will also provide a long-term brand growth plan to quickly form brand competitiveness in the short term." Said Wang Yunfeng, CEO of Hangzhou Yida Tools Co., Ltd.
Yida Tools is a professional cross-border e-commerce enterprise integrating hardware tool design, development and marketing. The company attaches great importance to the development of power tool accessories and consumer insight. Wang Yunfeng said that asIn the G100 Sail Away Plan, the new brand side, the platform has given a lot of support to Eltek tools in the early stage, in addition to providing a full set of solutions to the underlying problems such as settlement, introduction to platform play, logistics, finance, etc. Enterprises have gradually realized that brand is a long-term value of intangible assets.