todayWhat we bring isCross border e-commerce sellers——Weng Shiming, President Weng of Shenzhen RUST ExpressThe Big Sale Story of。 As early asAt the beginning of cross-border e-commerce development in 2014, Mr. Weng started his Amazon entrepreneurial journey, and at that time he had become a customer of WorldFirst.
What platform will be the most popular in 2020?
Most of the seller's friends raised their hands and feet and agreed that yes"Mercado Libre". As an e-commerce giant with domestic traffic No. 1 and business scope covering 18 Latin American countries and regions, this platform from Latin America has become a favorite of cross-border e-commerce sellers in the twinkling of an eyea favorite。 In more than a year, how did our cross-border e-commerce sellers operate on the American multi platform? today,WeIt's my honor to talk with Mr. Weng Shiming and Mr. Weng of Russia Express about his trip to America.
In April 2020, Russia Express officially settled in Amtrak. Earlier, they were exploring opportunities in other markets in addition to the deep layout of the Russian market. In 2019, their team specially flew to Latin America to investigate markets such as Mexico and Chile, and visited several e-commerce platforms locally. Finally, they chose to settle in the United States. "It is the largest e-commerce platform in Latin America, with perfect infrastructure and good service experience for both buyers and sellers."
Focusing on service experience is the most important point of President Weng, which is also his choice of Wanlihui(WorldFirst). "When I started my business in 2014, I was already a customer of WorldFirst, which was very reliable, and the customer manager was also very responsible." Based on this, Mr. Weng chose to use WorldFirst to collect money at the first time when he opened a Meikeduo store. "The top rate of thousand three is very affordable, which can save us a lot of money. And now WorldFirst is under the banner of Ants, which is very reliable."
Recent Wanlihui(WorldFirst) launchedNew customers0 rate activity,stillhaveVIP exclusive exchange rate,Help sellers to become cross-border blockbusters at an early date!
Activity time:From now ontoDecember 31, 2021 (Beijing Time)
Active objects:During the event, viaEnrollment on this activity pageUsers who have not been credited to Wanlihui before registration
Exclusive rights of the event:
·Entry gift:
Eligible activity objects who have signed up for participation can enjoy up to0 rate of RMB withdrawal on December 31, 2021;MoreVIP exclusive exchange rate coupon, valid for 90 days。
·Flowing ceremony:
For users who meet the entry conditions, the newly added daily flow during the activity period reachesUS $10000, which can enjoy zero rate of RMB withdrawal as of March 31, 2022. (Limited quota, only the top 400)
Maximum half a year0 rate, changehaveVIP exclusive exchange rate,Action is better than heart beating! Scan the QR code of the poster below to register immediately~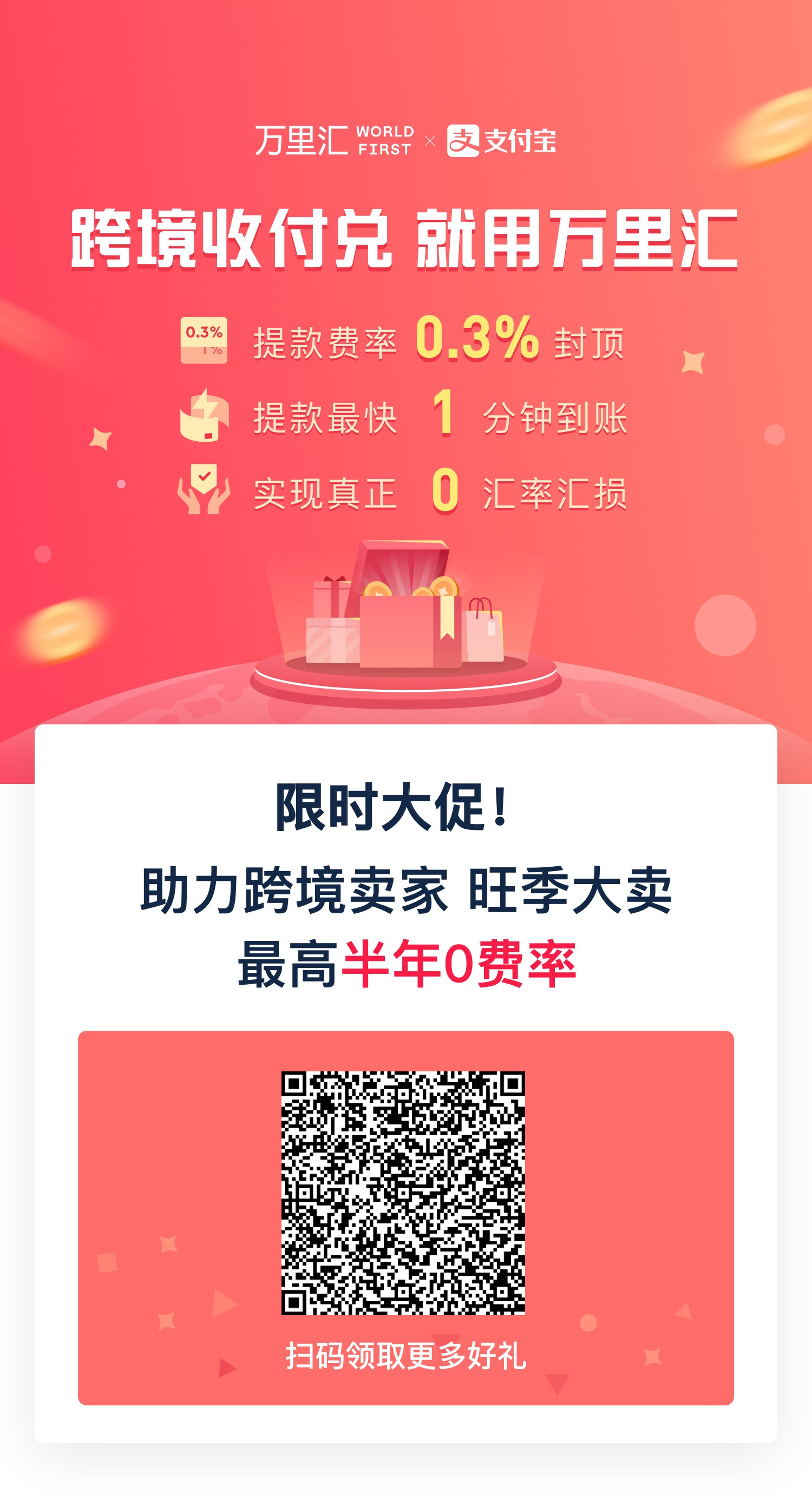 For China's cross-border e-commerce sellers, Meikeduo is a relatively new platform, so when he just settled in Meikeduo, Mr. Weng said frankly that he also encountered some problems, such asAPI and system connection, buyer's after-sales problems, etc., "the customer manager of Meikeduo helped to deal with them in a timely manner, and the platform's responsiveness, R&D capability and service experience were all in place."
Less than half a year after entering the United States, the sales volume of Russian Express has exceeded 10 million,By the end of 2020, it has even become one of the top sellers of Meikeduo. "The most impressive thing is that we participated in Afterdays in the second half of last year, and we took out a product for promotion. At that time, the price was more than 70 dollars, and more than 7000 sets were sold in a day. The daily sales of this product alone was 500000 dollars. We summarized our experience: good products+competitive prices=hot products."
Of course, Weng always has his own experience in product selection. Russian Express has represented many domestic brands,In 2020, the number of brands served will exceed 100, which is developing very well in the Russian market. The Latin American market is a market to be developed, and there are few brands to choose, especially Chinese brands. This is a very good opportunity. They have chosen the path of brand products, which of course also includes some white brand products with a long life line, which is very consistent with the requirements of the American multi platform. After a year of product selection and testing, President Weng will further develop the brand products of 3C, kitchen, fitness and personal beauty care cosmetics
Review the wholeIn 2020, the epidemic situation will have a great impact on cross-border e-commerce. "From the perspective of an industry practitioner, I can see that brand certification, customs clearance efficiency, packet loss rate and other aspects will have a great impact. So at this moment, when we layout the Latin American market, we give priority to the use of overseas warehouses of Amtrak. There are warehouses in Mexico and Chile, which is very convenient, and Amtrak also has traffic support."
For the next development, Mr. Weng also has his own small goals:"Strive to improve GMV and become a top seller of Meike's multi platform"! Mr. Weng also shared a few suggestions for some sellers with a new layout of Meike Multi platform:
1. Insight into the opportunities behind the selection: After more than a year of operation, I deeply found the importance of selection, which is based on the judgment made on the understanding of Latin American people's consumption habits and population proportion; At the same time, you can focus on the big data selection list of Meike's multi platform, learn from the hot selling list of other local e-commerce platforms, and find the right choice for yourself;
2. Participate in more promotional activities: Each site of Meike Multiplatform has a wealth of promotional activities throughout the year. In addition to the first level and second level promotion, there are also various daily activities to participate in, which is an accelerator to improve sales. It is necessary to plan and participate in such activities in advance;
3. Service experience is very important: Meikeduo Platform attaches great importance to the buyer's experience, so we sellers should remember to do a good job in products, pre-sales QA, after-sales, etc!
[If you want to be the same as Mr. Weng, cross-border e-commerce sellers who settle in the United States can choose Wanlihui(WorldFirst)'s "Global Voyage Plan", a green channel for opening stores to enter the United States for free]
Get the cross-border e-commerce white paper for free
Get yourExclusive Business Manager of Wanlihuiservice