EBay announced that,from Starting from January 1, 2022If the delivery address (entered by the buyer at checkout) is located in the Eurozone and Nordic, thenSellers with registered address in the UKThe international cost will increase.
The eurozone includes Austria, Belgium, Cyprus, Estonia, Finland, France, Germany, Greece, Ireland, Italy, Latvia, Lithuania, Luxembourg, Malta, the Netherlands, Portugal, Slovakia, Slovenia, and Spain. Nordic countries refer to Denmark, Iceland, Norway, and Sweden.
This change will take effect on all sales from that date, regardless of when the product is launched, relisted, or renewed. Whether the seller handles international postage on their own or through a global shipping plan(GSP), this will continue to apply.
For corporate sellers, Eurozone and Nordic international fees will vary fromIncrease from 0.5% to 1.05%, excluding value-added tax; As for non commercial sellers (private sellers), their related fees will increase from 0.6% to 1.26%, including a 20% value-added tax.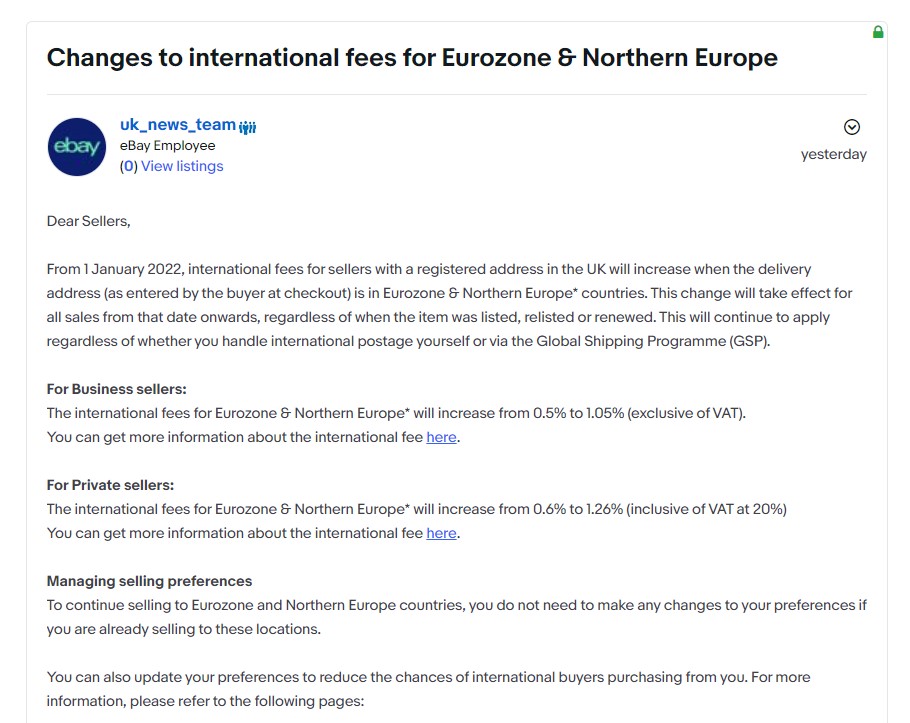 Some sellers currently pay for goods shipped to other countries, such as the United States and Canada1.8%, 2% for shipping to all other countries, and these costs seem to have remained unchanged.
The announcement also emphasizes that if sellers want to continue selling products to the Eurozone and Nordic countries, they do not need to make any changes to their preferences to continue selling products to these regions.
However, sellers can also update their preferences to reduce the likelihood of international buyers purchasing from them. Sellers can go toIn the "Set Buyer Requirements" section, click "Set Buyer Requirements" and then go to "Manage Postage Settings" to edit the countries or regions where you do not ship.
In addition, if the seller wants to useGSP, excluding Eurozone and Nordic countries, can update their "excluded mailing locations" to select countries or regions that do not want to be mailed. It is important to ensure that the 'Also applicable to current list' option is selected and the 'Overwrite postage exclusions for qualified products in my global shipping plan' option is unchecked, then save your preferences.