On December 3rd, Taobao Education"Enterprise Business Trends Conference"Held in Guangzhou. The core issue is——How does the enterpriseLeveraging digital capabilities,Driveconsumer'And'GoodsTwo wheels, bringing new growth to business.
Previously, Tmall hadIn September, a new strategy was released to become a D2C digital service platform. The business methodology of "dual wheel drive" enterprises has also been publicly announced. Through methodology, Tmall is thinking together with businesses,How to achieve long-term user loyalty and what is the next new product? With the help of an indicator system, enterprises can complete self diagnosis and find tools and solutions based on the needs of different business scenarios.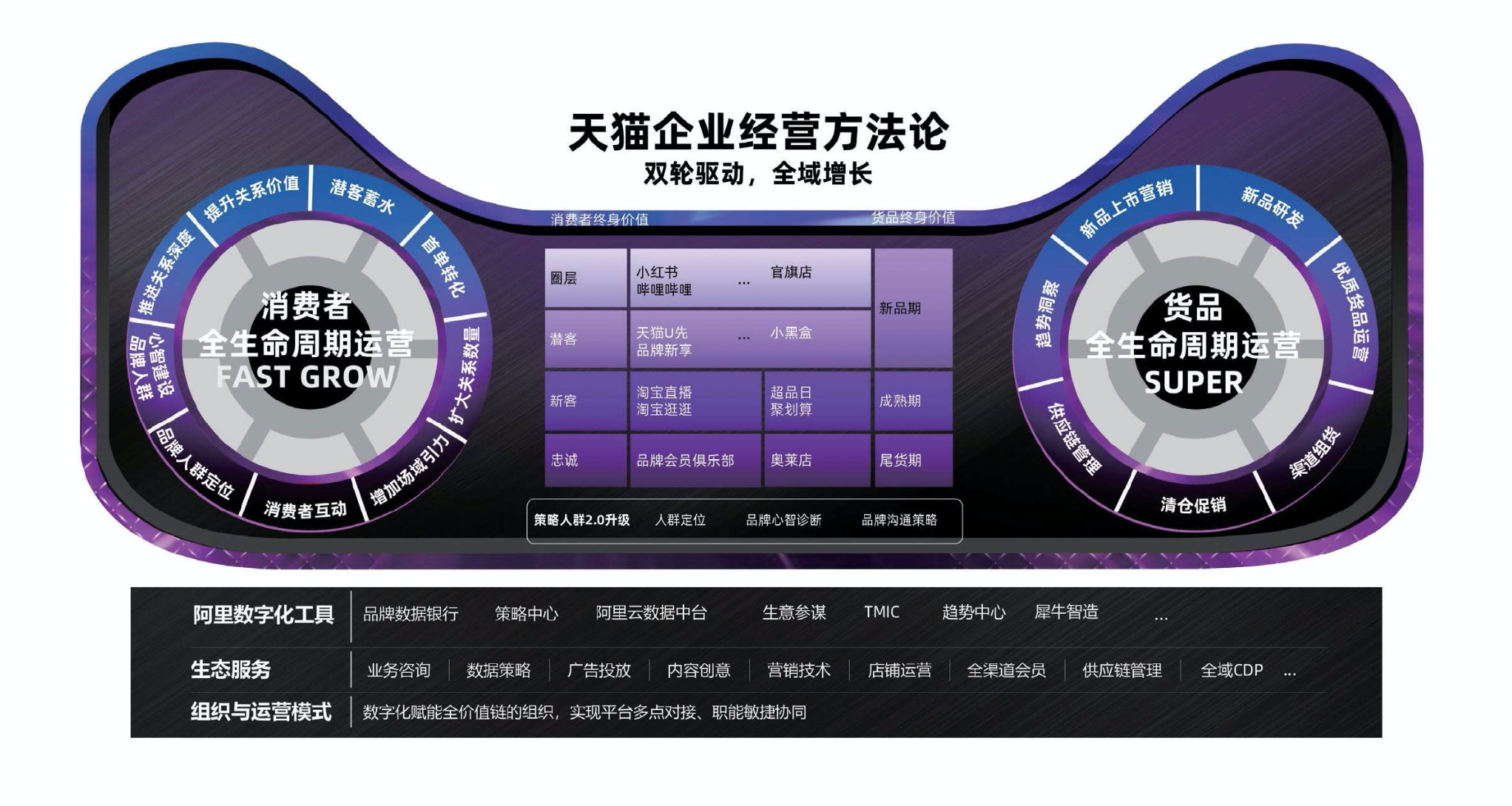 Data display,Last year, there were920000 merchants have applied to join Tmall, and over 20 brands have over ten million members on Tmall. Taobao Tmall has brought trillions of dollars in business growth to brands and merchants for many consecutive years, making it the main battlefield for business growth. According to a research report by Yiou Think Tank titled "Declining Traffic, Rising Brands", during the Double 11 period, merchants' confidence index in various e-commerce platforms (preferred for business operations)Platform) ranking, Tmall withRanked first with a proportion of 73.9%.Behind the selection lies Tmall's ability to combine public and private domains, data insight, members' ability to reach and accumulate knowledge, and new product incubation capabilities
When the traffic dividend of the internetInvolutionThe business world has moved towardscommodityanduserCompetition.Intensive cultivation and meticulous cultivation,To bringChunhua QiushiMethodology is the "farming principle" for digital management of enterprises, while platform infrastructure and product capabilities become the soil and nourishment for brand growth. At the same time, in order to help enterprises and brands better embrace digitalization, Taobao Education has launched Tmall compulsory courses, new brand special training camps, dual wheel drive enterprise management courses, and consulting solutions this year, allowing businesses at different stages of operation to quickly adapt to changes, grasp patterns, and seize opportunities.
Image caption: On site of Taobao Education Enterprise Business Trend Conference
It is understood that this year's Tmall Double11 Co owned485 brands with transaction volume exceeding 100 million yuan.Huang Lei, Vice President of Alibaba Group and General Manager of Taobao EducationRepresents,This year's Tmall course on business methodology research and development for Tmall enterprises is based on the practical experience of these enterprise brands and service providers, and is also a dualThe summary of the 11 growth methods will help businesses better layout next year and sow the future.