The sales share of the beauty market has always been the largest share of total holiday sales. In the discount season, people will not only send perfume and incense candles to their families and friends, but also buy new cosmetics for their cosmetic bagsReplenish and find new lipsticks to use at various parties at the end of the year.
Although sales in the beauty category have decreased during the pandemic. But now people are gradually going out of their homes to resume socializing, and this year's holiday will also see more and more people gathering with family and friends.So these people are ready to spend more on new eye shadow, powder blusher and perfume.
In order to attract consumers to purchase, major beauty retailers have also launched more holiday themed gift sets.
Ulta Chief Operating Officer Kecia Steelman It is expected that the sales of this holiday will more reflect people's desire to dress up more brightly.
NPD GroupstayIn September, a survey was conducted on holiday spending among over 3600 consumers. More than a quarter of American consumers plan to purchase beauty products.thereforeNPD predicts that overall sales of beauty products in the United States will exceed pre pandemic levels this year, with a growth rate of 25% -35% compared to last year.
NPD stated that the fourth quarter is crucial as approximately one-third of sales come from holidays.Moreover, consumers tend to purchase cosmetics online, so in addition to large beauty collection stores such as Sephora, many small and medium-sized sellers also pay attention to the layout of online stores.
Specifically, hairdressing products and perfume have always been in this fieldLeading sheep.From January to September 2021, the sales volume of perfume increased by 63% compared with that of last year; The sales of hairdressing products from January to September increased by 49% compared to last year.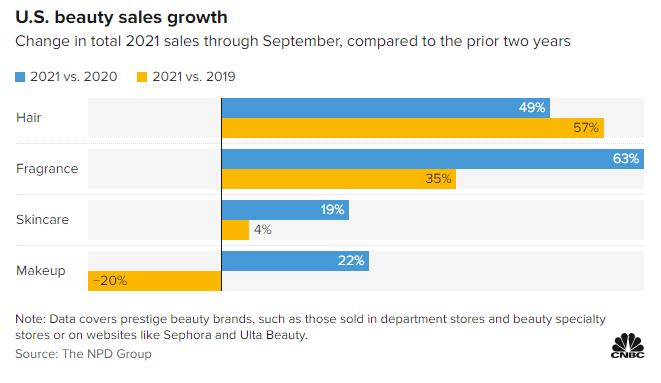 Larissa Jensen, a consultant in the beauty industry at NPD, stated,Due to the fact that products such as hair masks and shampoos can provide consumers with a spa like experience at home, they are expected to also be favored by consumers in the fourth quarter.
On the other hand, the sales of cosmetics have increased this yearFrom January to September, it decreased by 20%, but lipstick sales also showed a slight increase of 19% compared to 2020.In addition, the sales of eye makeup products that cannot be covered by masks, such as eyeliner, mascara and eye shadow, are also optimistic.
According to data surveys and changes in the overall environment, the beauty and makeup market will continue to recover. So in future sales, relevant sellers can also pay timely attention to the dynamics of the market and local policies, adjust product categories in a timely manner, facilitate consumers to provide products in a timely manner when needed, and improve store sales.