A day ago,Consumer Product Safety Commission(CPSC)Announce recallDrive DeVilbiss Healthcare's four bedside armrest risers.
This kind of product is mainly used with the bed. The user inserts the armrest riser under the mattress to facilitate the bedridden people who are not convenient for movement, such as the elderly getting on and off the bed.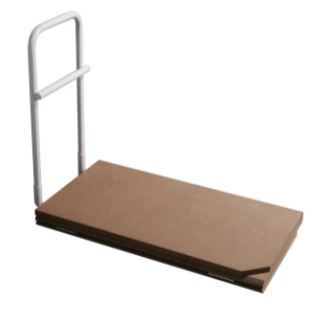 Search on Amazon America"Bed Assist Handles", 191 results pop up; Search "Bed Assist Rail" and 150 results will appear.
Google trends show that in the pastIn the past five years, the search trend of "Bed Assist Rail" in the United States has been relatively stable, but the popularity is not very high.
According to the search results of Amazon and Google trends, the bedside armrest riser is a non seasonal product and not a hot product.
However, this does not mean that it does not have a certain market space. United States Administration on Aging(AoA) pointed out in the Report of the Survey of the Elderly in the United States in 2020,in the U.S.,In 2019, the population aged 65 and above will be 54.1 million,Accounting for the total population16%,that isexceedHasOne in seven Americans,reachIn 2024, this proportion is expected to reach 21.6%.
With the growth of the number of elderly people, their demand for products including bedside armrest risers, adult diapers, crutches and so on will also increase. But at the same time, it should be noted that,"Rejuvenation" does not only mean that some elderly people's mentality will become childish, but also means that their bodies will become vulnerable and need more care.
The reason why this product is recalled is that when it is connected to the bed, the user may be trapped between the armrest riser and the side of the mattress. This will cause serious danger of pinching and suffocation. This kind of recall usually happens to baby products. In fact, when manufacturing products for the elderly, we also need to pay attention to the problem of preventing pinching and suffocation.
It is understood that,From October 2007 to December 2021,Drive DeVilbiss Healthcare sold about 496100 handrails on Amazon and Wal Mart for $30 to $80.
Sadly,at presentDrive DeVilbiss Healthcare has received two reports of clip death with the armrest riser.The two deaths occurred inIn February 2011 and February 2015, a 93 year old woman in California and a 92 year old man in an assisted living facility in Canada were involved.
Xiao Bian searched other brands of bedside armrest risers on Amazon America Station and found that many users also mentioned this problem, that is, the armrest risers may jam the head or limbs.
For the elderly, there is a need for a wake-up aid. However, how to improve and upgrade this may require sellers to play their own small universe.