Amazon backend crashes, what's going on!
Since the early morning, there have been a lot of feedback from sellers:
Can't log in to the backend and prompt for incorrect password? Is this normal?
——Is there a problem with the Amazon backend again? Even the link cannot modify the price.
——Silent, the backstage collapsed and I thought my account was blocked!
——Today's flash sale is useless, it hurts!
——At zero o'clock, the flash killing click did not go in, but it displayed an error. It was not easy to refresh and successfully increased the quantity, but the progress bar continued to run as before without increasing the quantity
All of this is due to the widespread failure of Amazon cloud services.
Tuesday morning Pacific Standard Time9: 37. The Amazon network service status page shows that due to issues with the cloud server, most of the internet content is loading slowly or malfunctioning.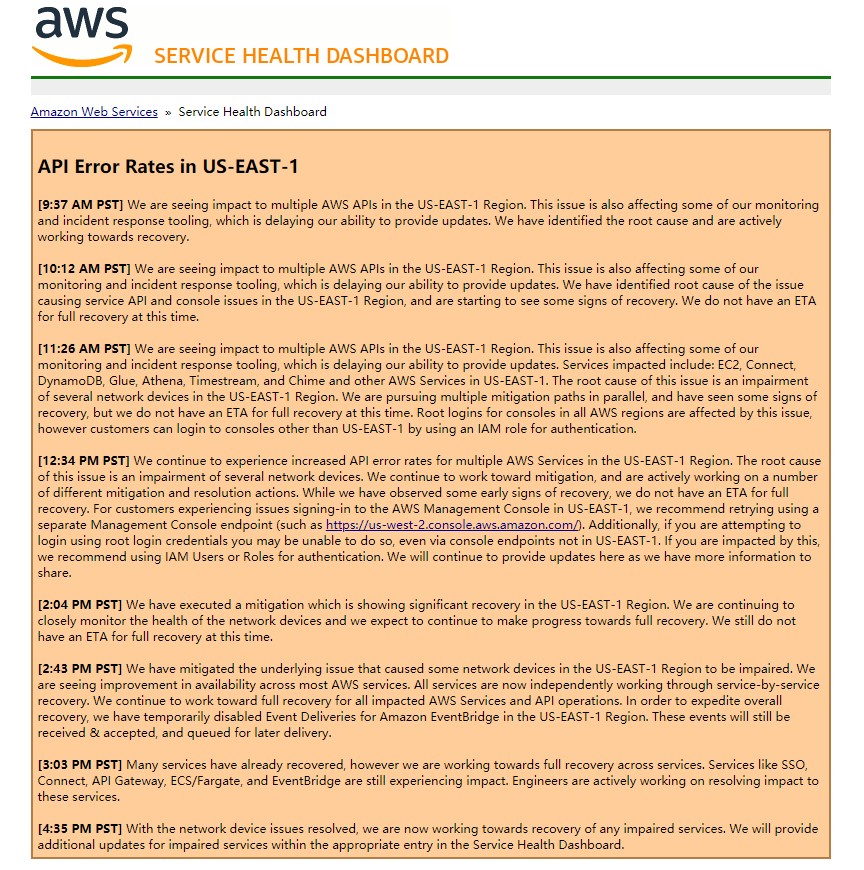 This causes the seller center to be unable to access normally. In addition, delivery has also become a problem.
Warehouse and delivery workers, as well as AmazonThe Flex service driver stated that they are unable to access the Flex or AtoZ applications and therefore cannot scan packages or access delivery routes.
Due to the inability to work normally, many warehouse and delivery workers are instructed to wait in the lounge until the problem is resolved. Amazon Driver Samuel from Washington State·Cassirez stated that his delivery facility has been "at a standstill" since 8am Pacific Standard Time.
At present, it is the peak holiday sales season, and Amazon's sudden arrival is really causing sellers a lot of pain. However, fortunately, the duration of the network malfunction was not very long, and in the afternoonAround 3 o'clock, Amazon updated the notification, stating that many services have been restored and are currently working to achieve a complete recovery of network services.
DowndetectorThe data shows that during this period, the network monitoring station reportedMore than 20000 complaints against Amazon and over 11000 complaints against the company's cloud computing department's Amazon network services. Here we goafternoon1:45The number of complaints against cloud services has been reduced by half, and there are alsoReduced by two-thirds.
However, in any case, this has caused certain losses to the seller, such as the inability to adjust advertisements and delivery delays. In fact, at the end of last year, Amazon also experienced a backend crash due to network interruption issues. I hope this does not become Amazon's holiday practice.