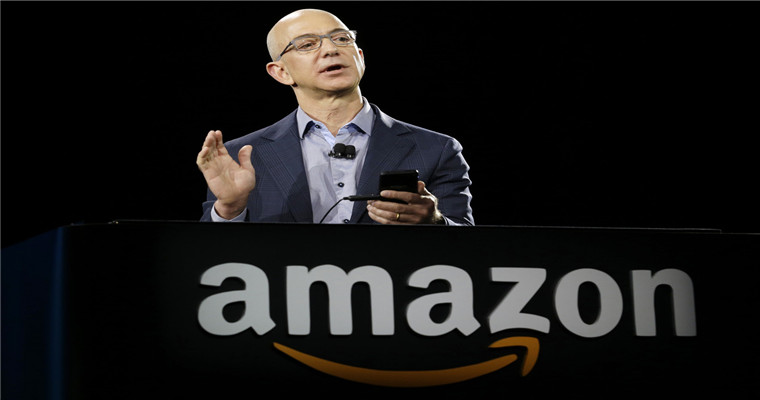 The Amazon platform policy has been tightened. In recent monthsThe product listing is removed due to UPC problemsThe number of sellers is not small.
Recently, a seller reported that he had operated several popular products for many years, and suddenly received the prompt of "repairing goods" in the background.
In the prompt message, Amazon saidThe global trade item code of the seller's ASIN does not match the brand related to the ASIN, and the seller is required to reply before the expiration, otherwise the product will be removed。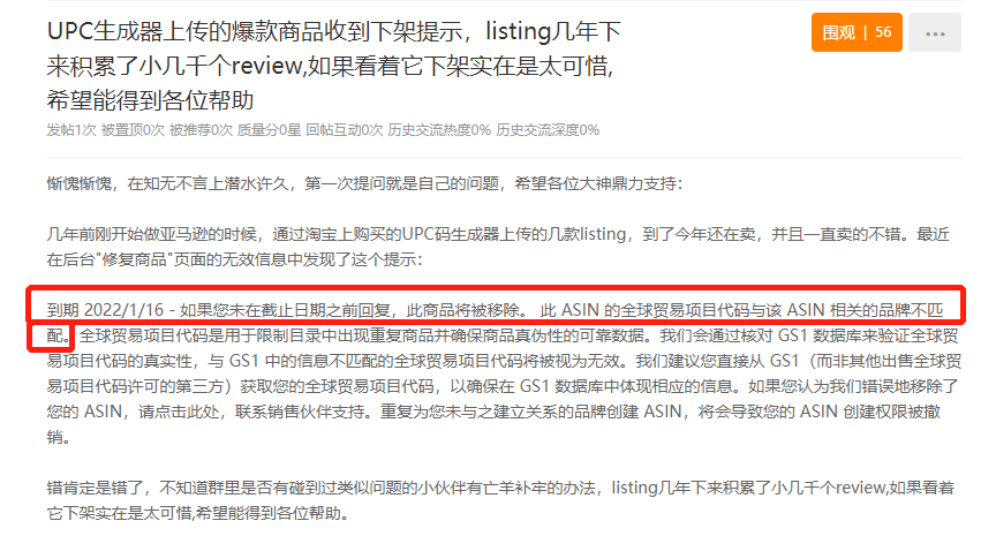 According to the seller's feedback, the listing of these products was created and uploaded several years ago. At that timeUPC code generator purchased from Taobao, there has been no problem for several years, and they have been selling very wellAccumulated thousands of buyer reviews, is already a valuable listing.
Another seller, John, said that the products that went on sale in the United States a few years ago were suddenly removed from the shelves. Amazon gave the reason that "the UPC/EAN code you used was not provided by GS1".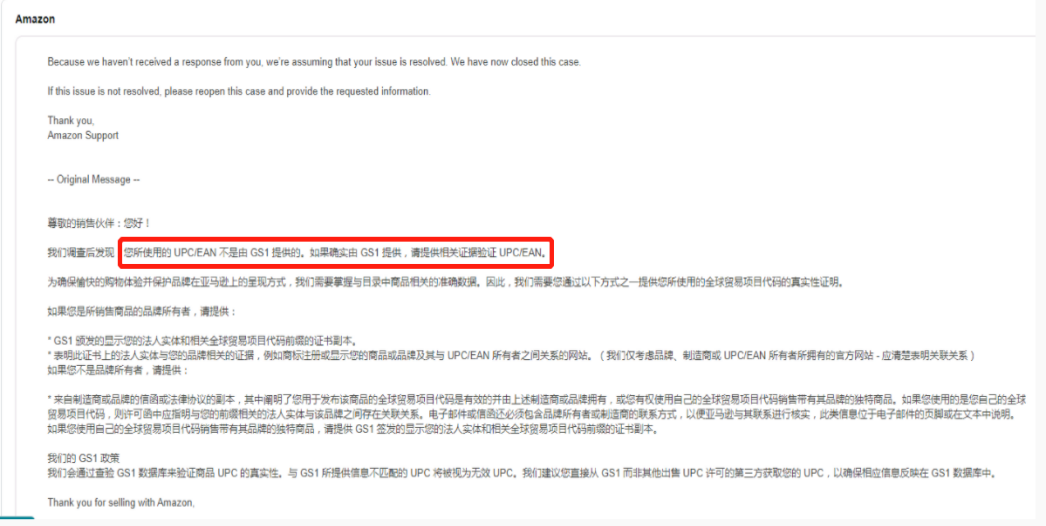 (Source: provided by the seller, screenshot of Amazon notification email)
It is understood that John's UPC code was also bought on Taobao. There is no way to provide evidence to verify his UPC/EAN code, so the product link cannot be restored.
There are also sellers who have made a product for 15 years. Amazon also said that they would take the product off the shelf as soon as it was off the shelf, regardless of how the product sold before or whether it was a blockbuster.
With the increasing number of goods on the platform, Amazon will only be more and more strict in the compliance management of sellers' goods, including UPC.
As early as last April, Amazon issued an announcement requestingThe unique product identifier is required for most productsIs what we mentioned above"Global Trade Item Code", also known as global trade commodity number, English abbreviationGTIN。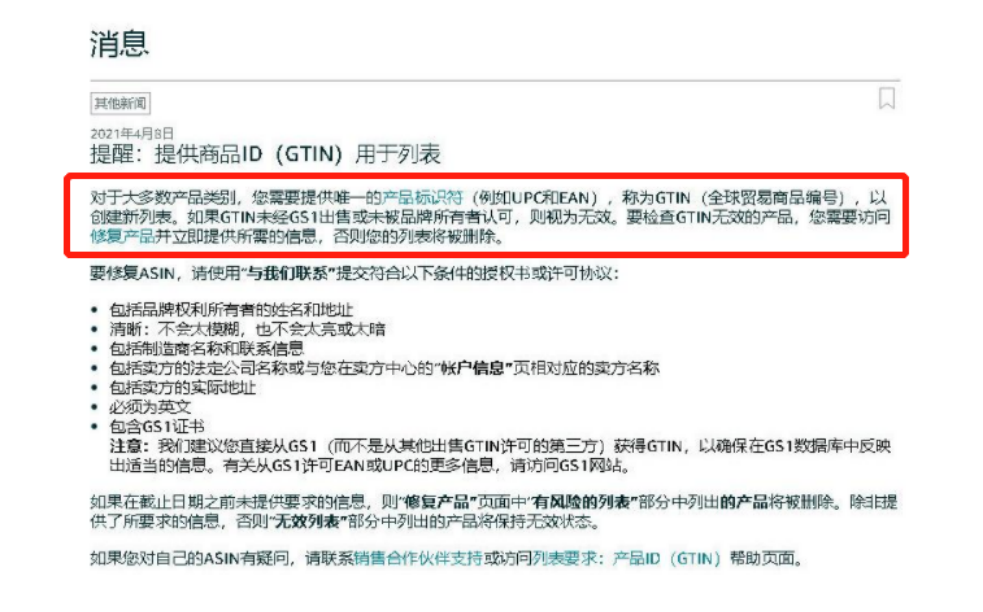 Here, GTIN codes are divided into UPC codes, EAN codes, ISBN codes, etc. UPC codes are mainly used in the United States and Canada, and are also used by most Amazon sellers. Therefore, GTIN codes can be used to refer to UPC codes for general sellers.
In short, Amazon's announcement stipulates that the seller needs to provide a GTIN code when creating a new product listing, and it must be GS1 certified or authorized by the brand owner, otherwise it is invalid.
It should be noted that,If Amazon detects that the GTIN code is invalid, the created listing will also be removed。
After being removed, the seller can find the "Fix your product" link in the background, view the GTIN invalid products, and submit files as required, including GS1 certificate, name and address of the brand owner, manufacturer name and contact information, seller enterprise name and address, to repair the ASIN.
Most sellers purchase UPC codes from third-party channels? Is it reliable?
Sellers should know that GS1 is a non-profit organization that sets up barcode standards for the global supply chain, and it is also the only legal UPC code manufacturer in the world.
let me put it another way,The UPC code purchased from the official website of GS1 is the most formalNo problem. The disadvantage is that it is expensive. If you buy a single UPC code, it costs $30.
The Frontline of Cross border E-commerce learned that most Amazon sellers now purchase UPC codes from third-party channels, which are relatively cheap, such as TaobaoThird party service provider SnapUPC。
Some sellers believe that there is no problem in purchasing UPC codes from Taobao, which has been done for several years.
However, these sellers may just be lucky and haven't been discovered by Amazon for the time being. With the improvement of Amazon's system sensitivity in recent years and the large-scale retrieval of UPC codes, it is easy for sellers to have problems with UPC codes obtained from third-party "informal channels" such as Taobao.
First, inUploading product listingWhenSystem errorThe UPC cannot be used at all.
Secondly, using the UPC code purchased from Taobao, listing can be successfully put on the market. As a result, it thundered after a period of operation,It was removed after Amazon found that it was not compliant, and the listing that it had spent time and energy to build was destroyed immediately。
A seller has encountered this situation. Last year, when the sales volume of a product reached more than 500000 dollars, he suddenly received a notice from Amazon that "the ASIN GTIN code does not match the ASIN brand, and the listing will be removed".
in fact,Many UPC codes purchased from Taobao or other unknown channels have been registered, used or used by many sellers。
A seller posted a conversation with a Taobao UPC code store. The other party said that they were selling generic codes, while the seller directly purchased private codes from the GS1 official website, which should mean this.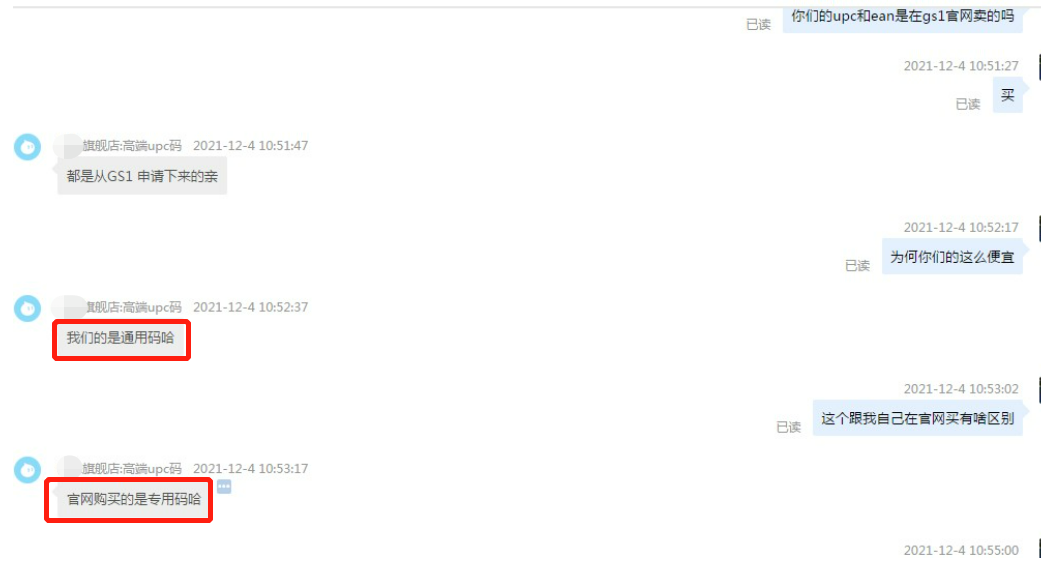 Each product should correspond to a UPC code. It must be wrong to reuse it. If it does not conform to the regulations, problems will occur.
Some sellers even said frankly that the UPC codes provided by Taobao stores are obtained from informal channels, without official certification, which has great potential risks.
It should also be noted that,UPC codes purchased from third-party channels such as Taobao, which can be divided into two types:,One is that certificates are provided, and the other is that certificates cannot be providedThe latter are mostly unscrupulous UPC merchants who directly generate a large number of UPC codes with special tools and then sell them to Amazon sellers at "affordable prices".
Of course, some Amazon sellers will also purchase UPC generators themselves to operate and obtain UPC codes themselves. There is no certificate and it is easy to repeat. The UPC may not be recognized and used, and the listing may be removed later, which is also very risky.
How to avoid pitfalls when obtaining UPC codes?
The safest one is to buy it on the official website of GS1. The initial cost may be high, but the UPC code is at least safe to use.
Secondly, you can purchase from Barcodestamp, a designated supplier of Amazon.
If you want to buy from Taobao or other third-party channels,Be sure to ask the shopkeeper for the certificate, those who cannot provide certificates will be directly screened out. In addition,After getting the certificate, you should also log in to the GS1 official website to verifyConfirm that the UPC code is authenticated by GS1.
Amazon actually checks the GS1 database to verify whether the UPC code of the seller's product matches and is compliant.
Another "once and for all" approach is to sellComplete the brand registration in Amazon, so that you can apply for UPC code exemption (GTIN exemption), and then upload the product listing without UPC code.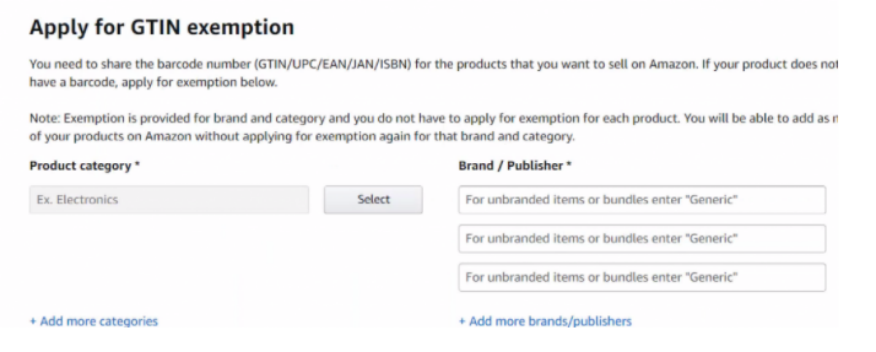 (New media of cross-border e-commerce - Domainnews Riley Huang)Coupang, Wayfair, Wal Mart, Mercado Libre and other platforms settled, brand copywriting planning, whole network promotion, e-commerce training and incubationPlease contact us for other services. No unauthorizedRewriting, reprinting, copying, clipping and editingIn whole or in part.