It is reported that,On December 13th,A shipcapacity5551 TEUContainer shipOn the southwest coast of Bioco Island in Equatorial GuineaThe Gulf of Guinea, 38 nautical miles away, was attacked,according tosecurityConsulting firmsReport from Dryad GlobalWeigh,The initial report stated that there wereSix crew members were missing, but later changed to a maximum of nine.
according toThe data of VesselsValue,This container ship is highly likely to beDecember 12thFrom Kribi in Cameroon to BeninofCotonou harborContainer shipTONSBERG.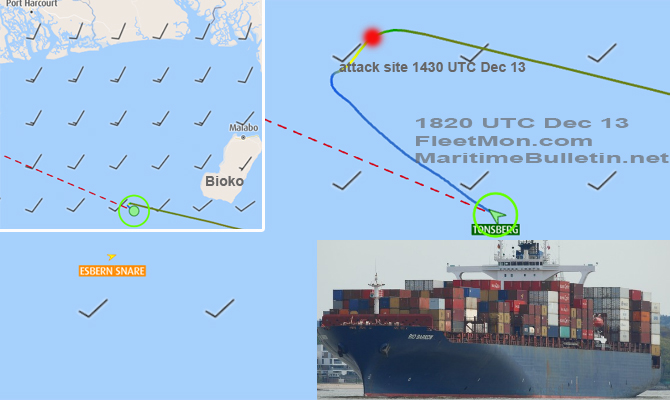 It is understood that this container ship,Built inIn 2001,suspensionLiberian flagServing routes from East Asia to West Africa, it has previously connected to several major domestic seaports such as Shanghai, Ningbo, Shekou, and Nansha Port.
As ofOn December 13th UTC time, the ship was floating at the attack site,Nearby watersA helicopter from a Danish naval ship was the first to assist the crew, and the pilot saw a speedboat heading north towards Nigeria upon arrival, andnearbyofDenmarknavyFrigateAlso went to the scene of the attack for rescue.
December 14thhaveupdateMessageThe crew is composed of Polish, Ukrainian, and Filipino nationalities, and the number of kidnapped sailors is not yet clear, most likely being6 people, but also mentioned 9 people.
It is understood that at leastOne crew member who fled the kidnapping was injured in the attack.Currently,Danish frigateThe doctors on EsBern Snare are treating the injured crew on board the ship.
Container ships sailing at sea face many unsettling factors. We hope that the relevant crew members can escape the danger and return safely. In addition, if the container ship is hijacked and attacked, logistics and transportation will also be affected to some extent.
At present, it is the peak season and the shipment volume of goods is high. I would like to remind freight forwarders and sellers who have recently sailed to Shanghai, Ningbo, Shekou, and Nansha Port to pay attention to the shipping dynamics of container ships, understand the freight situation and delay situation, and communicate with customers in a timely manner to reduce logistics delay losses.