According to consulting firmsAccording to surveys by Brick Meets Click and Mercatus, online grocery sales in the United States continued to show an upward trend in November, reaching $8.6 billion after reaching $8.1 billion in October.Thanks to the increase in the active consumer base,The sales in November increased by 6% compared to the same period last year.
According to the company's survey results,Nearly 69 million American households are expected to purchase groceries through online channels in November, an increase of 15% from November 2020. The survey also found that over one-third of monthly active users are between the ages of 30 and 44, and this group also accounts for more than half of the monthly active population growth in the past year.
In addition,The average online grocery order amount in the United States in November was $71.12, slightly higher than the $70.65 in October. The US Bureau of Labor Statistics also mentioned in its monthly Consumer Price Index report that there was a certain increase in the prices of goods sold online and offline channels in November.
From the perspective of delivery method, the per capita order consumption for delivery orders is$86.30, self pickup orders are $83.44, and per capita order consumption for delivery to home orders is $42.03. At present, the consumption of goods delivered to home is lower than before the epidemic.
Meanwhile,In November, self pickup and delivery orders accounted for 81% of the total expenditure on online grocery orders, up from 73% a year ago. In the past 12 months, the overall sales of door-to-door delivery services have decreased by 27%.
Additionally,In November, the average monthly active user placed 2.68 online grocery orders, a decrease of 5% compared to the same period in 2020. According to investigators, except for the stable frequency of orders in large markets, the order volume in other types of markets has decreased.
According to the data of the consulting company, Wal Mart andLarge retailers such as Target have seen the largest audience growth in the past year. Since November last year, there have been approximately 13 million new active users per month, while traditional grocery stores have added approximately 4 million monthly active users.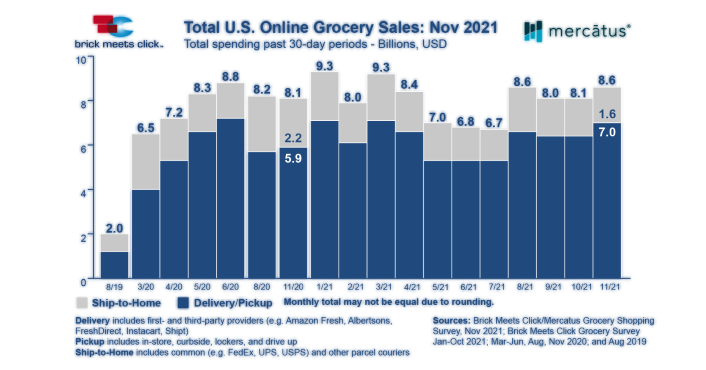 Regarding this,Sylvain Perrier, President of Mercatus, stated that,In the constantly changing online grocery market, it is important to understand the influencing factors of consumer shopping attitudes. Understanding what consumers value and providing customized shopping experiences can highlight the unique appeal of the store and increase revenue.