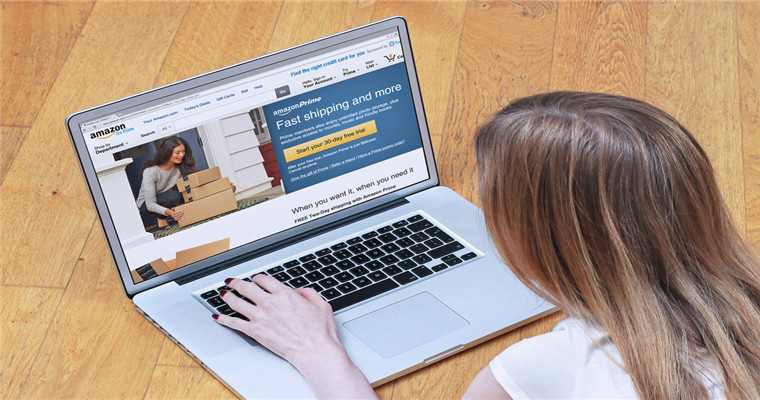 Most keyword research users think that addingAmazonThe keywords of the website will appear in the search.But in many cases, too specific or too competitive keywords will not appear inAmazon SearchMedium, this may damageConversion rate。
So, after the seller finds the keyword he wants, the next step is toAmazonAdd specific negative keywords on the.
So, what isNegative keywordsWhat about?
1、 Amazon advertising negative keywordsAnd examples
Blue Ocean Yiguan has learned that,Under the search with negative keywords, there will be no seller's advertisement.
If the seller conducts on AmazonPPCPay per click activities should use negative keywords to avoid wasting money. It may not be enough to just run the keywords related to the product. The seller also needs to determine which words are most likely to make the promotion effect of the advertisement worse.
Negative keywords can help sellers optimize their positioning. Determining the correct targeting keywords is the key to the success of the advertising campaign. Neil Patel shared a useful example (see the figure below), which explains why some targeting keywords are more effective.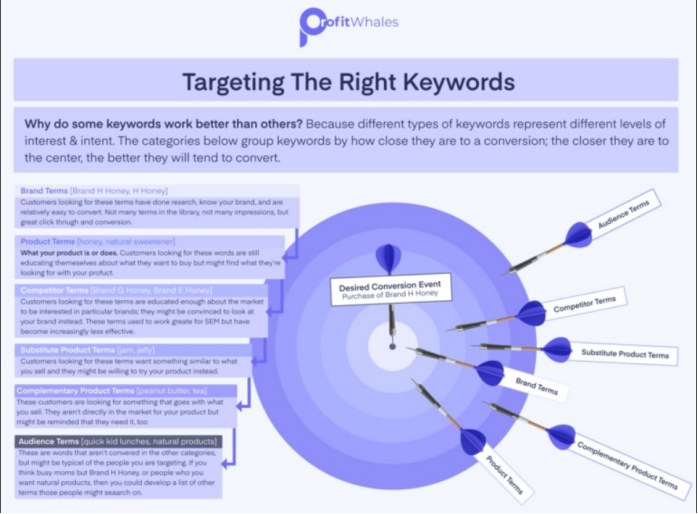 Let's analyze an example of negative keywords.
Suppose the seller sells fluorescent lamps and bids for the keyword "lamp". Advertisements may appear in any search including "lamp". If the customer searches for "LED lamp", the seller's advertisement may also appear in the search because it contains the keyword "lamp". But not all consumers searching for "lamp" are particularly fond of fluorescent lamps.
In this case, shoppers may accidentally click on the seller's advertisement.probablyThe seller's fluorescent lamp has not been sold, but the seller still needs to pay for the click. Therefore, if the seller does not want the advertisement to appear in the "keyword search of other types of lamps", negative keywords can be used to prevent this situation.
Semrush released an example of relevant positioning: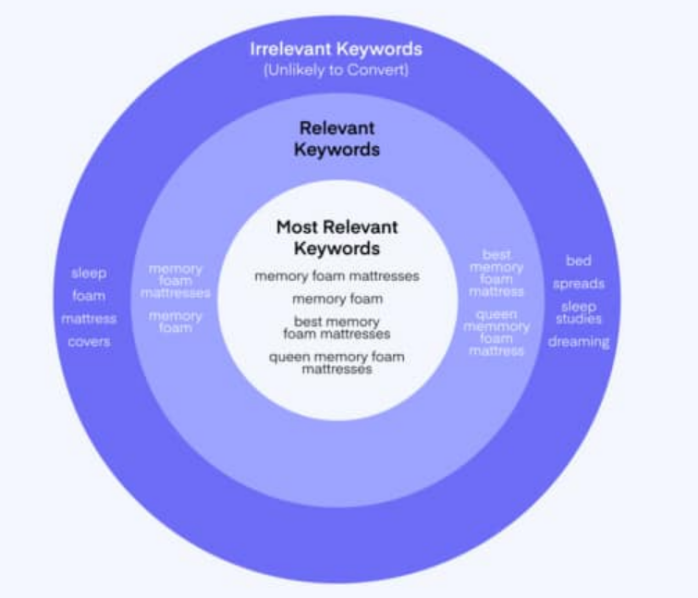 IIAmazonnegativeKeywords vs general keywords
1. To fully understand what negative words are, it is important to compare them with relevant positive words. For example, the seller should remember the following details about the positive keyword:
(1) When the seller includes positive words and phrases in the listing description, Amazon will display the seller's listing to the searcher every time the customer uses them.
(2) The types of positive keywords are broad match, phrase match, and exact match.
(3) Including positive keywords in advertisements can be said to be a way to make products appear in search results.
2. This is not the case for negative keywords on Amazon. As follows:
(1) When Amazon customers' search terms contain negative keywords, do not display the seller's products.
(2) The positive keyword is available in all types, while the negative keyword has two types: phrase match and exact match.
(3) Negative keywords will prevent ads from appearing in search.
Blueocean Yiguan learned that in order to optimize Amazon keyword research, it is very important to define the "keyword based search type" that target users perform. It is best to take advantage of these differences to improve Amazon's ranking.
3、 Negative keyword type
As mentioned earlier, there are two types of negative keywords:
1.phrase match
Can block ads "in searches containing specified phrases"Display. This is a set of words that appear in the specified sequence, which may contain complex values and misspellings.
For better understanding, here is an example of negative keywords. If the seller takes "kids corduroy jacket" as the negative phrase, the following is the phrase that will or will not display the advertisement: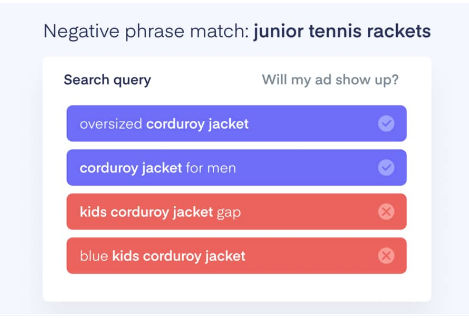 2. Exact matching
For example, if "kids corduroy jack" is not a definite word, then misspelled phrases like "kids corduroy jack" will not appear in search results.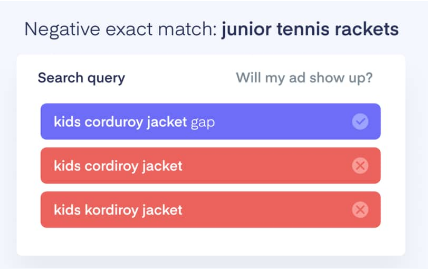 (Polly ZhangNew media of cross-border e-commerce - Blue Ocean Yiguan website domain news) connects with high-quality resources of cross-border e-commerce.Wal Mart, Coupang、Wayfair 、Mercado Libre and other platforms settled,Brand copywriting planning, network wide promotion, e-commerce training, incubation and other services, please contact us. No unauthorizedRewriting, reprinting, copying, clipping and editingIn whole or in part.