The distribution mode seems to be in
Cross border e-commerce disdain chain
The lowest end of the.
The operators dislike the "old routine" and "learning nothing" of the distribution company, and the operators from the distribution company will be regarded as "low technical content" by the boutique operators.
When investment institutions see distribution companies, it is basically the same
"Walk around".
Because, even if the total sales of a distribution store is very high, the value of each store will not be very high if it is allocated to a single store.
At the same time, many subsidiaries hold stores, leading to the dispersion of their total equity; In addition, SKUs are widely distributed in Shanghai, resulting in a lack of product moat.
However, there are exceptions. Boulevard, a big seller in Amazon UK, has recently gained nearly
20 million yuan
Financing, about 18948600 yuan (2200000 pounds).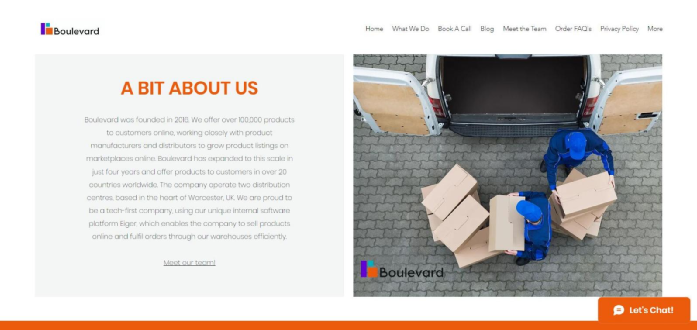 (The figure is: Boulevard service project webpage)
Boulevard, founded in 2016, is a member of the
Top 500 stores.
More than
150000 products
。 The annual sales volume is about 6 million pounds (about 51456600 yuan).
The annual sales volume is about 50 million yuan, which is not large compared with the first-line big sellers in Shenzhen who sell several billion yuan annually, but it is a typical seller in terms of 150,000 SKU.
It is such a distribution company that has been "unusually" favored by the capital and has obtained ten million yuan level financing. It is estimated that Boulevard has great potential, and its sales will reach
100 million pounds.
● What is the magic of Boulevard's distribution mode?
● With the same data system, why is the "human efficiency" of many distribution sellers low?
●
spread
There are data systems for big sales, but
The heart is very different.
01
170000 people manage 150000 SKUs,
Complete price adjustment within 10 minutes
According to Boulevard, the supply chain system Eiger, which was independently developed by Boulevard, has won the favor of the investors.
The system can monitor the inventory, automatically adjust the price, and simplify the details in the operation. With this system, Boulevard can
Price adjustment for 150000 SKUs within 10 minutes
Test the popularity of different products and monitor their inventory levels.
Before Boulevard, the team had only 27 people. With the help of Eiger system
Management of 150000 SKUs by 27 people
The super human effect of.
More than 20 people can manage more than 100000 SKUs. Boulevard's ability can completely "spill over".
Therefore, it not only acts as a seller, but also provides services for other sellers, such as data services and market analysis related to online sales.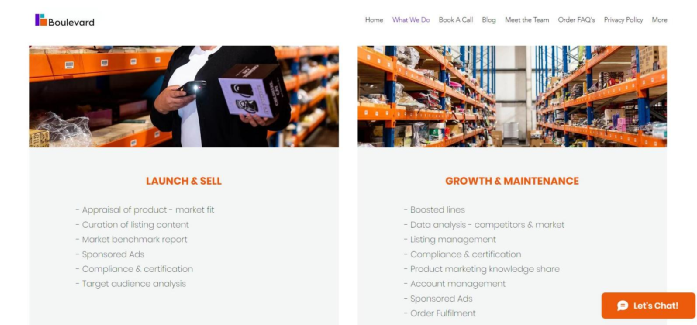 (The figure shows an introduction to Boulevard service project)
In other words, Boulevard is no longer a simple "seller type enterprise", but also a "data service type enterprise". Through its technology, it has built a
Self formed "platform"
, to serve other sellers, and the sellers of each platform they cooperate with and serve will use their own data
Boulevard,
Make its data system more powerful.
It seems that investment companies are also interested, not only in their ability to sell goods, but also in their ability to provide ecological services for Amazon, eBay and other platform sellers based on their own data systems.  
Boulevard is far from alone in selling goods favored by capital.
For example, Hour Loop is also a large seller of goods. It has achieved high human efficiency through intelligent data management systems and won the favor of the market.
On January 11, 2022, as
"Resale type"
The big seller's Hour Loop was successfully listed on NASDAQ, and its market value reached
US $234 million
。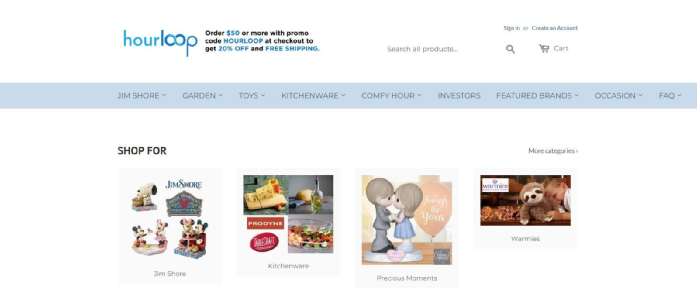 (The picture is: Hour Loop independent station)
Why is Hour Loop called a "scalping" seller? Because its sales mode is very simple, that is, purchase products from brands and wholesalers, and then purchase products on Amazon
resale
, to
"Middlemen earn price difference"
To make profits.
According to the website domain news of Blue Ocean Yiguan, in the year ending June 30, 2021, the sales of Hour Loop on Amazon will reach 49 million dollars (about 312 million yuan). Only in the first half of 2021
800000 products were sold.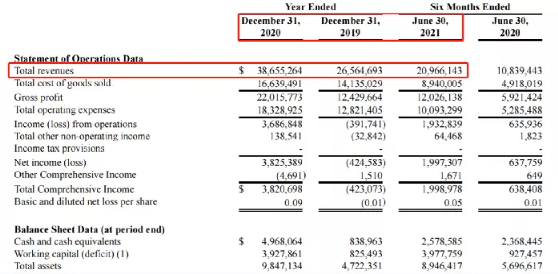 (Source: Hour Loop Prospectus)
This means that the Hour Loop is also a "road of opening up and opening up". If the selection is wrong, even if there is no stock, it will also suffer heavy losses.  
However, in the process of large-scale distribution, the Hour Loop did not tread too many holes, but expanded rapidly and continuously increased the number of suppliers. Up to now
There are 226 suppliers in total,
product
SKU reached
100000
。 And plans to
Expand suppliers to 2000
。
The large distribution mode of Hour Loop has not suffered the major setback of "hard to return" like traditional sellers, but has become better and better. All this stems from the strong "selection" ability of its founder (and team), which is based on the data system it builds.
Sam Lai, founder of Hour Loop, is a former Amazon software engineer,
Having worked in Amazon for 7 years,
The operation rules and preferences of the platform are clear.
The system developed by Hour Loop is dedicated to collecting a large amount of commodity data every day, comparing historical sales, and predicting market trends.
Deposited years of seller data,
It's the success of Hour Loop
Important resources
。
Through the analysis of these data, Hour Loop has a strong selection ability
Forward looking,
The reaction to the market
Extremely sensitive
。
In addition, the founder is "familiar with" Amazon's "preferences", and the products developed by him are quite popular with the platform mechanism. Once most products are launched, they can get good traffic.
Based on the independently developed system, Hour Loop rejects the "extensive" mode of opening up and closing up, but restricts itself to a certain extent,
Do "fine paving",
Although its categories also cover home furnishing, garden decoration, toys, kitchen supplies, clothing, and electronic products, there is a basic focus:
"Daily home+life consumption (play)"
Two directions.
Among them, toys are an important category, accounting for almost 20%.
These toys are purchased from well-known brands, including Barbie, Hasbro Gaming, Mega, Mattel Games, GUND, Hoyle, Polly Pocket, etc.
Compared with the blind distribution of goods by some sellers, fine distribution is easier to make a deep product portfolio, and at the same time, it is more dependent on the selection ability.
02
The sellers of 1500 stores,
Support transformation with data technology
In fact, the application of data technology by domestic cross-border big sellers is also changing with each passing day.
Take Yibai Network as an example. By the first half of 2020, its products
The number of SKUs reached 335800,
Meanwhile, the number of newly developed products per month
More than 12000
。
By 2020, the total number of stores on all platforms of eBay
More than 1500,
He is a typical big seller.
In order to manage a large number of stores and SKUs, and ensure the speed of new product development, E-hundred Network has been constantly upgrading the technical system, forcing itself into a "technical house".
On December 7, 2020 alone, Yibai Network adjusted
16.21 million listing prices
, Average
More than 1100 price adjustments per second
。
With the support of data technology, Yibai Network has achieved high human efficiency.
In the first half of 2020, the revenue of Yibai Network is about 2.009 billion yuan, and the number of employees is 2480.
per capita
Annual sales up to
1620500 yuan
。
It is worth mentioning that, by comparing the data precipitated from the system, E-hundred Network adjusted its main categories in 2020 to
61.33% gross margin
In the industry, it is "unique".
In terms of main categories, Yibai Network will focus on home gardening in 2020,
Revenue: 1.04 billion yuan
, accounting for up to
24.43%
。
On the contrary, 3C products, as the main category of Shenzhen big sellers, performed mediocrely and did not have a very impressive performance.
According to Yibai Network, its product development direction in 2020 mainly focuses on
Slow iteration, large market, low competition and high gross profit
These four elements are the judgment criteria. Products with unqualified gross profit margin will be eliminated. Products with excessive competition, such as 3C products, will not be developed preferentially.
Under these principles, home gardening products stand out.
If the iteration speed of 3C products is changing with each passing day, then home gardening products can be called "turtle speed". The result of slow iteration is a hot product
The life cycle is long and the innovation cost is low.
Of course, there are also some shortcomings, such as low repurchase rate. After consumers buy a vase, it is unlikely that they will replace it within a year or two, and even some products have been used for five or six years or more.
The large market and low competition indicate that Yibai Network mainly focuses on blue ocean products. The benefits are self-evident, but there are also barriers. Taking home gardening products as an example, the value of large furniture products is relatively high, and it requires a lot of money to stock up.
In addition, large products mean to bid farewell to the convenience of "light and small products". It is not easy for ordinary sellers to prepare large goods in advance, incur high logistics costs and storage costs.
<section style="margin: 0pt 8px 25px; outline: 0px; max-width: 100%; color: rgb(51, 51, 51); letter-spacing: 0.544px; text-align: justify; text-indent: 0pt; font-size: 10.5pt; font-family: 微软雅黑; break-before: auto; break-after: auto; word-break: normal; direction: ltr; line-height: 1.75em; overflow-wra <footer>The content of the article is created by the author, and the author is responsible for the authenticity, accuracy and legality of the content. Overseadia advocates respecting and protecting intellectual property rights. Without the permission of the author and/or this website, the content of this website may not be copied, reproduced, or used in other ways. If you find that there are copyright issues in the articles on this site, please contact chuhaiyi@baidu.com, and we will verify and deal with them in time. Source of the article: egainnews, this article is the author's independent point of view, and does not represent the position of overseadia.</footer>