There is a saying that has always been regarded as a classic by many people: excellent people are not terrifying, what is terrifying is that excellent people work harder than you. At the end of the year, many sellers have started to take stock of their performance and are preparing to wait for the holiday after the final battle of Christmas.
However, at this time, two big sellers frequently took action: Anke announced that it had invested in a new company to expand its product direction; Tongtuo expressed its intention to become an angel investor, establish funds, invest in and incubate cross-border e-commerce team projects.
Anke invests $5 million in a new company to expand its product direction
Anke's achievements in the research and development field have always been admired by other sellers, and now it has made new moves to track technology development in the new product field.
Recently, Anke announced that its wholly-owned subsidiaryCharging Leading Limited (hereinafter referred to as "Charging Leading") and Anker Innovations Limited (hereinafter referred to as "Anker HK") intend to use a total of no more thanInvest 5 million US dollars (approximately 32 million yuan) in Beijing Zero Infinite Technology Co., Ltd. (referred to as "Zero Infinite") with its own funds.
The announcement states that the purpose of this investment is toExpand the business layout of Anke, further expand new product directions, track technology development in new product fields, and improve the overall quality of the company's investment projects, enhancing the company's overall competitiveness.After the completion of this investment, Anke will hold a total of zero and unlimited shares through its wholly-owned subsidiaries5.0635% equity.
What kind of company is Zero Zero Infinity and why is it favored by Anke?
According to the announcement,Zero Infinity's main business is the research and application of artificial intelligence, the research and development, production, and sales of drones, as well as the research and development of drone related technologies and technical services.
Through further investigation, the editor found that zero zero infinity is not actually simple.
Firstly, its two founders are both PhD students in computer science from Stanford University, and its chairman, Wang Mengqiu, has also served as a former directorFacebook core employees, as well as AhLi Yun's data scientist.
Secondly, it brings together talents from top universities and research institutions both domestically and internationally.Zero Zero Infinity wrote in a company profile on a recruitment website:Existing employeesAbout 150 people, includingThe proportion of R&D personnel exceeds70%. The core R&D team comes from top domestic and international universities and research institutions such as Stanford University, Carnegie Mellon University, Massachusetts Institute of Technology, Columbia University, Tsinghua University, Zhejiang University, Chinese Academy of Sciences, etc. In addition, two-thirds of the Zero team holds a master's degree or above, with most graduates from prestigious universities both domestically and internationally. The main members have relevant experience in well-known enterprises.
Thirdly, zero and zero are infiniteIn November 2018, it was recognized as a national high-tech enterprise.Current valid patents being applied for120 pieces, including 53 authorized patents.
Fourthly, we have established a global partnership with AppleOnApple retail stores in over 30 countries sell the Hover Camera Passport, a portable drone launched infinitely.
Fifth, unlimited investors includeFamous investment institutions such as IDG, Jinshajiang Venture Capital, Zhenge Fund, and Zhemin Investment have completed a total of $50 million in financing, and a new round of financing is currently underway.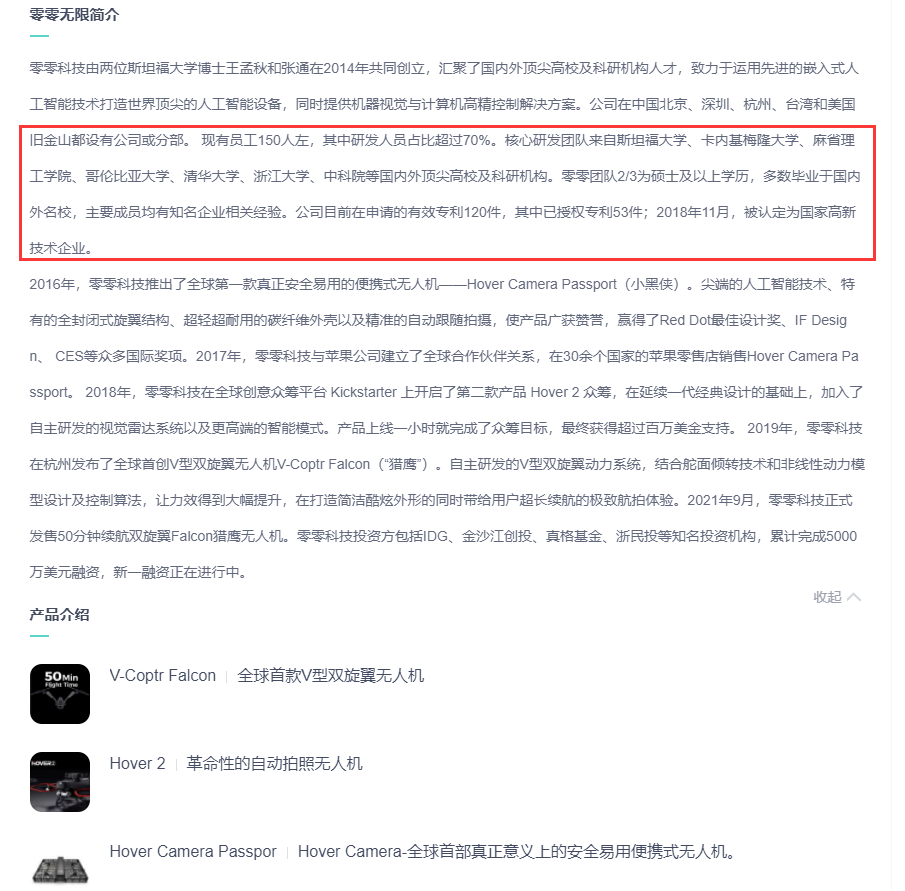 Drones are already in the Red Sea market, and DJI has always held the top spot. For many years, many companies that want to gain a share in this market have ended upAngry departure,But zero zero is infiniteIn six years, I have gnawed a piece of meat from this market that is approaching saturation, which shows its strength.
Currently, Anke's productsThe cable mainly includes three major series: charging, wireless audio, and intelligent innovation. this yearIn March, Anke announced an increase of 40 million yuan in capital to Shenzhen Zhiyan Technology Co., Ltd., starting to layout the home furnishings category. nowadaysJoining Zero Zero Infinite again undoubtedly adds strong new assistance to the diversified product line layout of Anke.
Tongtuo sets up an investment fund to empower vertical cross-border e-commerce teams
Like Anke, Tongtuo also focuses on investment, but unlike Anke, Tongtuo specializes in enterprises in the cross-border e-commerce industry.
Recently, Tongtuo announced that they will become angel investors and establish a cross-border e-commerce equity investment fund, focusing on investment and incubation of cross-border e-commerce team projects.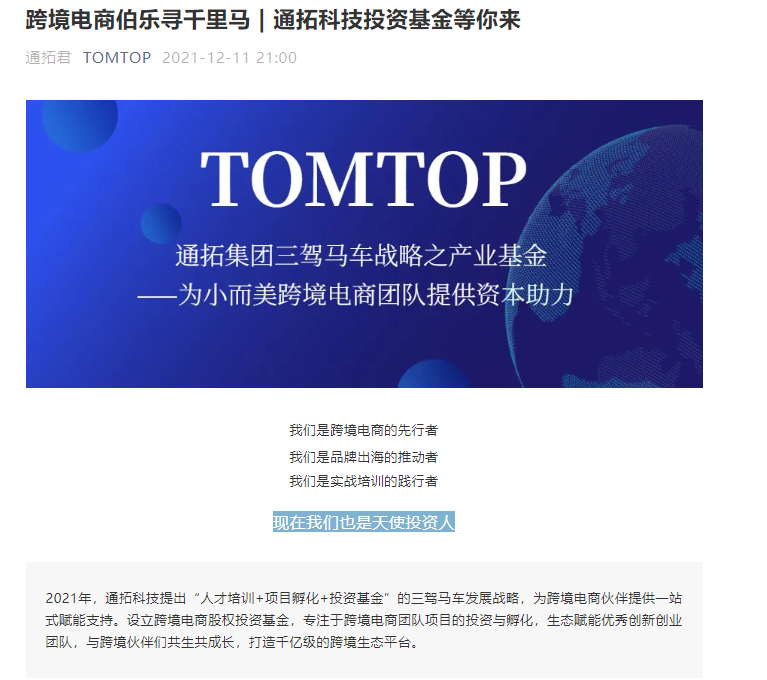 Projects that receive investment will receive support from four aspects:1、 Financial assistance,Including:Abundant financial support; Can purchase services, acquire shares or convert shares into bonds; Independently invest, with funds invested together.IIGroup empowerment,Including:18 years of sales leading the way; Multiple empowerment support; Brand planning, supply chain development and management, logistics warehousing, and talent support.IIIMarketing promotionIncluding:110 million+professional marketing resources to assist; Smart guidance from big data and precise marketing. fourSupply chain dockingFor example:one8 years of cross-border production capacity opening, and sharing of high-quality supply chain resources upstream and downstream.
Of course, in order to obtain investment, the team also needs to meet certain conditions.One is the innovation and entrepreneurship teamA small and beautiful cross-border e-commerce operation team for vertical categories; Cross border platform business has been opened and is operating normally(Amazon and Walmart are the best); Sales revenue of 2 to 5 million RMB per month, and per capita team output of 1 million RMB per month; The profit potential is high, and all operational indicators are good.SecondlyPotential celebrity productsHigh quality and core competitiveness; High user satisfaction and good reputation; Large market potential; Can quickly respond and adjust according to market and consumer needs.
If one of the above conditions is met, it is sufficient.
This year's Amazon account suspension wave has also affected Tongtuo. Previously, its parent companyST HuadingAnnouncements have been released stating that multiple brands of Tongtuo have been suspended from sales by Amazon, their funds have been frozen, and the total number of closed stores has been banned54, suspected of freezing funds of 41.43 million yuan.
Under the wave of blockbusters, many big sellers are looking for new ways out, and Tongtuo is no exception. Not long ago, it announced the creation ofThe "Tongtuo Cross border E-Academy" has launched a one-stop cross-border incubation and training service, and now has established funds to invest in other cross-border e-commerce projects, which is also a way to diversify risks. At the same time, the development strategy of "talent training, project incubation, and investment funds" in the three carriages also indicates that Tongtuo is trying to take the path of diversified business development.
Write at the end:
Not long ago, LEGO announced that the LEGO Smart Great Health Western Industrial Park project has made new progress. The project is divided into two phases. In the first phase, it is planned to invest in the construction of intelligent factories for linear drive products and establish cross-border e-commerce operation centers and research and development centers. In the second phase, it is planned to invest in the construction of research and development centers and manufacturing centers for smart health products and will introduceMore than 50 overseas warehouse service enterprises of LEGO have improved their supply chain layout. The construction of the project helps to promote the long-term and sustainable development of Yuege.
The shopping mall is like a battlefield, and the unstable and rapidly changing business environment since the epidemic, as well as the sudden wave of blockades, have further strengthened sellers' sense of crisis. Especially some of them are big sellers, actively developing their main business while also seeking new development directions. Like Anke, its main business performance is evident in the industry, but it is still developing its agency operations business. The development strategy of Tongtuo's three carriages is also the same. And music is focused on polishing one's main business.
Every fluctuation is an industry reshuffle, and when a new industry pattern is formed, those who stand at the peak are often those who are not satisfied with the current situation, actively respond and seek change.