Buy Box refers to the purchase box that appears in the upper right corner of Amazon's product page. If the consumer clicks on "Add to Cart", the page will automatically jump to the store that has a Buy Box. And Amazon will choose a seller to occupy the Buy Box position in every product. Once you have the location of the Buy Box, you also have traffic and attention.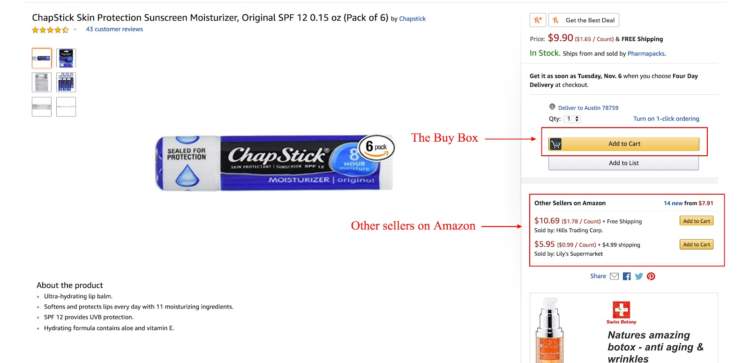 According to the latest reports from foreign media, Amazon has82% of sales are generated by Buy Box. Especially for sales from mobile devices, this proportion has increased to 90%.
Due toBuy Box is not offered to a single seller, and each product typically has more than one suitable seller. So Amazon uses a series of data and algorithms to allocate the location of Buy Boxes.
According to Amazon's prompts, the editor summarized several points to obtainKey elements of Buy Box:
oneapplyAmazon RepricerSet the best price to winOpportunity for Buy Box.Providing the lowest price for merchants does not necessarily mean winningBuy Box. According to Amazon's calculations, businesses need to offer competitive prices without reducing profit margins in order to have a better chance of qualifying for Buy Box.

twoGuaranteed Perfect Order Percentage(POP).This includes ensuring inventory updates and always having inventory;97% of orders arrive within the established transportation period; Only 95% of packages have sent valid tracking codes; Minimize delivery time as much as possible (ideally within the range of 0 to 2 days); Reduce the ratio of defective orders to the maximum (less than 1%); The cancellation rate of orders before shipment is less than 2.5%.
threeapplyFBA.Amazon is more inclined to reward sellers who entrust logistics to Amazon.
4. Improve product ratings.Amazon places great importance on validated product reviews, so products with higher ratings are more likely to receiveBuy Box qualifications. If the seller with the highest product rating receives a Buy Box 70% of the time in a day, while the seller with the lowest ranking can own it for the remaining 30% of the day.
The conditions for obtaining Buy Box are relatively complex, but if you qualify for Buy Box, the exposure of the store and products will be greatly improved. So sellers usually do a good job in store management and after-sales service, accumulate good reputation for the store, and greatly improve the chances of obtaining Buy Box.