Three State E-commerce RechargeIPO.
Shenzhen Sanzhou E-commerce Co., LtdLast yearAfter the IPO was accepted in July and the review was suspended in September, recent financial updates have once again impacted the IPO.
Three states e-commerce was established inIn 2008,Currently, it is a comprehensive company engaged in cross-border e-commerce retail and cross-border e-commerce logistics.During the reporting period, the company's retail business was mainly divided into interests and hobbies, home life, tool accessories, fashion trends, digital technology, etc5 major categories.

Three states export cross-border e-commerce retail businessMainly throughMore than 20 major overseas third-party e-commerce platforms, including eBay, Amazon, AliExpress, Wish, Lazada Shopee, etc., sell in B2C mode, covering consumers in over 200 countries, with Europe accounting for the highest proportion.
Its operations sell nearly a hundred sub categories of goods, itemsPreviously on saleThere are approximately 580000 SKUs, with sales from overseas third-party e-commerce platforms accounting for over 99.99%.From the data in the prospectus, it can be seen that Amazon andEBay's sales share ranks among the top.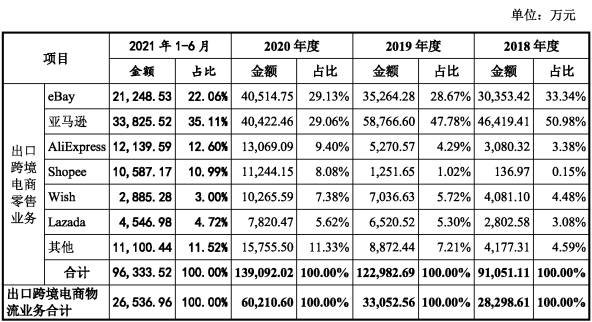 In terms of warehousing mode, the three states are based on a self built warehousing and logistics system, relying on domestic self operated warehouses to establish a comprehensive warehousing and logistics system, seamlessly connecting with global logistics partners. The company's domestic warehouses are located in Huizhou, Guangdong and Yiwu, Zhejiang.
In 2018, 2019, and 2020, from January to June 2021, the company achieved commodity sales revenue of approximately 910 million yuan, 1.23 billion yuan, 1.39 billion yuan, and 960 million yuan, respectively. The logistics and warehousing revenue was 280 million yuan, 330 million yuan, 600 million yuan, and 270 million yuan, respectively. The annual compound growth rates of commodity sales revenue and logistics and warehousing revenue from 2018 to 2020 were 23.60% and 45.87%, respectively.
The company also focuses on product innovation,Mainly relying on independent development and supplemented by cooperative development.In terms of independent development, on the one hand, the company takes business as the starting point and confirms the annual business development goals based on the company's strategic plan at the beginning of each year. On the other hand, the companyThe IT department and data team will also propose research and development content that needs to be improved and tackled from a technical perspective based on historical research and development situations, in order to achieve technological innovation.
As ofIn June 2021, the company had a total of 950 employees, including 155 IT and data technology personnel. In the future, the company will continue to cultivate talents and fully guarantee its technological innovation capabilities.
From the perspective of the success path of major companies, independent innovation is a key link, and sellers should also put more effort into brand building.