Benchmarking Shopify, Amazon layout independent station
According to Bloomberg24thReport, AmazonInsiders said that,Amazon is developing aandShopify similar products,This will help the sellerEstablish an independent online store.
In this regard,Tobi L ü tke, CEO of ShopifyIn response, Amazon is a worthy competitor,Shopify is ready for this competition。
Amazon andShopifyThe dispute over the independence station seems to be imminent. In fact, as early asIn 2015, Amazon once ceded its independent station business toShopify。
Sellers who have been overseas for a long time may know that Amazon once operated a service called"Webstore"。 This business mainly helps SMEs to establish their own online retail stores. Bang&Olufsen, Fruit of the Loom, Lacoste and other 80000 companies were its customers.
However, at that timeAmazon executivesIt is believed that,The service of the Webstore is not very good, and its sales volume is similar to that of AmazonshoppingwebsiteSales onbe inferior by comparison。At the same time, the competition in this market is becoming increasingly fierce, includingNew technology companies, such as Shopify and Bigcommerce, have obtained strong venture capital investment, started to improve their product lines and compete for customers.
two hundred and one5 years, AmazonannounceClose the online shop building serviceWebstore。More Than This,Amazon willRecommended toShopify,And publicly announced that this Canadian company is the preferred partner of its overseas online stores,And use$1 million to sell its website building division to Shopify.In exchange,Shopify agrees to provide Amazon Pay to merchants。
A business that was once not favored by Amazon has developed rapidly. OneFormer Amazon executiveexpress:"Shopify makes us look like fools。"
Strong development momentum, Shopify challenges Amazon's position
ShopifyThe rise of Amazon has seen opportunities.
ShopifyThe development in recent years is obvious to all. according toAccording to MarketplacePulse, the number of Shopify merchants reached 1.749 million in the fourth quarter of last year.
Not only businesses but also consumers have increased accordingly. this yearIn September, Similarweb data showed that Shopify's monthly average independent visitors exceeded Amazon for the first time in the second quarter of this year. In the three months ended June, Shopify's monthly average independent visitors reached 1.16 billion, while Amazon's was 1.1 billion.
ShopifyAs it became hot, its income increased accordingly.In 2020,ShopifyTotal annual income isUS $2929.5 billion, an increase of 86% over 2019. Among them, the revenue from subscription solutions increased by 41% to 908.8 million dollars; The revenue of merchant solutions increased by 116% to USD 2.007 billion. In addition, GMV reached US $119.6 billion, an increase of 96% over 2019.
According to the latest data, the third quarter of this yearShopify's revenue was $1.124 billion, up 46.5% year on year. The net profit was 1.148 billion US dollars, compared with 191 million US dollars in the same period of last year, with a year-on-year growth of 501%, and it maintained profitability for six consecutive quarters.
During the whole period of "Black Five Networks",Shopify's sales reached 6.3 billion US dollars, an increase of 23% over the global sales of 5.1 billion US dollars in 2020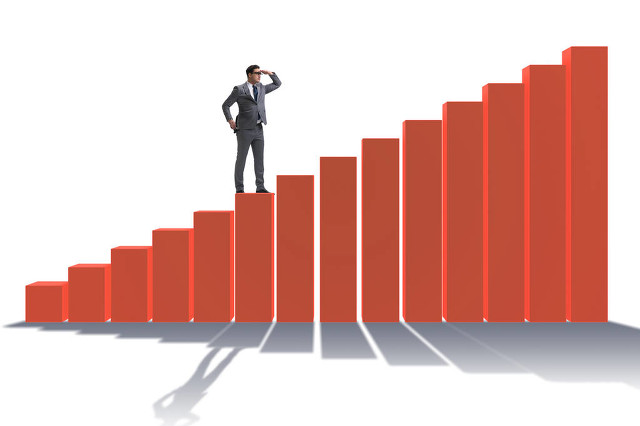 Shopify's growth also brings challenges to Amazon. From 2015 to 2020, Shopify's CAGR reached 70.2%, while Amazon's CAGR in the same period was only 29.3%. Not only that, Shopify's share price has soared by 4460% in the past five years, while Amazon has only risen by nearly 400%.
As far as Amazon is concerned, it has been pursuing"Customerssupreme"The attitude of ignoring the seller's feelings has been criticized. andShopify's services focus onsellHome forsellerProvide technologies and templates for building online stores, and manage omni channel marketing, sales, payment, logistics and other services. For sellers, they are relatively free and can build their own brands.
Shopify frequently presents new functions to catch up with Amazon
However,Shopify's $182 billion market value is still less than one tenth of Amazon's $1.86 trillion market value。 thereforeShopifyWant to catch up with AmazonofAmbitionIt's not just drawing cakes.
Before the holiday, AmazonPrimeMembers launched aSend a GiftFunction, that is, to allowPrimeMembers can also buy gifts for family or friends without receiving address.
andShopifyTwo days ago in the United States"Quietly" launched a "gift shop(Gift Shop)"It can also be said to directly benchmark Amazon.
Users can send gifts directly via SMS, email or social media. Users through similar"sweet treats"、"gift under $50"And other tags, browse the selected gifts, andShopifySelect from the relevant merchant product list. After the consumer selects, the system will prompt them to enter the relevant information of the recipient and sender, and provide customized links. The consumer then sends the link to the gift recipient.
The system will not charge any fee to the consumer until the recipient accepts the gift and enters his/her own information. In addition, the recipient will be provided with some detailed information about the seller of the product.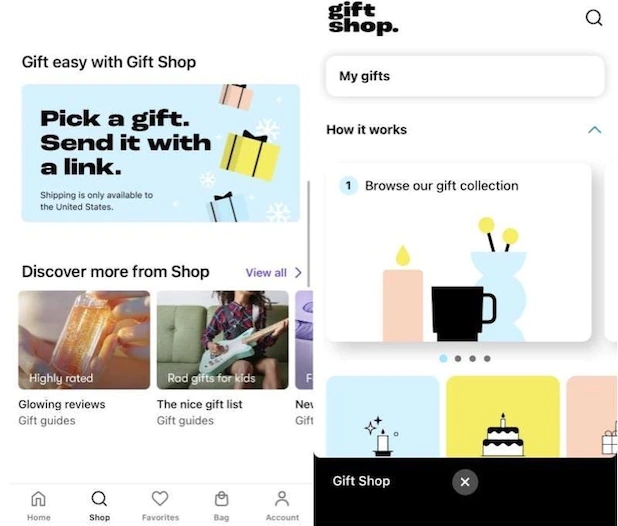 Gift ShopThe function not only guarantees the safety of consumers' money, but also prevents them from causing unnecessary losses because the recipient does not accept gifts. At the same time, it can also allow businesses of related products to get more exposure as much as possible.
andGift ShopNeitherShopifyin order to"Evolution".ShopifyAt present, a new search function is being tested, which allows consumers to display related products of multiple businesses at the same time when searching for products.However, many businesses said that such a search function may cause quarrels among competing brands and harm the interests of businesses.
Because the algorithm used for the search results, it is necessary to decide which indicators will affect the ranking. It is also likely that the display ranking of search results will be determined by the amount paid.
Therefore, many sellers participating in the test worry that this search function will eventually become"The victory of capital".
Amazon is "in danger", and many platforms want a piece of the cake
More thanShopify, evenSHEIN、TikTokMore and more platforms like AmazonThe "cake" is eyeing.In particular, Amazon's move to seal its name has led many sellers to go to small and medium-sized e-commerce platforms such as independent stations with higher freedom and less platform constraints.
according toOnlineCasinoMaxi.deData,SHEINThe combined downloads of Google App Store and Apple Store in the world are aboutone thousand seven hundred and fifty-two10000 times, more than twice the total number of Amazon applications downloaded. alsoSHEINThe revenue oftwo thousand and sixteenOfforty100 million yuan totwo thousand and twentyThe year is approachingone hundredRMB100mn This growth rate also makes many enterprise sellers have high hopes for it.
In addition, in the eyes of some senior cross-border e-commerce people,TikTokThe e-commerce of"Potential stocks".according toTikTokThe latest data released shows that the number of monthly active users in the world has exceededtenAnd launchedTikTok ShoppingIt integrates marketing and advertising functions. The various product promotion functions included can bring great traffic and exposure to merchants.
ShopifyAndTikTokYeah"Strong and strong cooperation", constantly deepening linkage.
In the third quarter of this year,ShopifyandTikTokCo developed a feature that allows shoppers to purchase products directly from social apps, and alsoShopifyThe merchant provides product links, which can be found inTikTokThe product is marked in the post of.TikTokUsers can directly purchase from the store or click theTikTokThe tags in the video can be purchased in the store of the merchant.
This way has increased the channels for businesses to expose their goods and stores,It can also provide consumers withThe usage scenario and dynamic details of the product will be decided later. It provides a more favorable trading environment for both the buyer and the seller.
In the Chinese market, JD has also accelerated its overseas layout and closed downJoyBuy, forShopifyThe seller launched"One stop shopping platform"JDSourcing。
In addition to investing in cross-border e-commerce platforms, we also actively build our own logistics system to expand global business. According to public data, JD's global sales businesstwo thousand and twentyAnnual sales increased year on year251%。 Among them,two thousand and twentyJingdong ThailandGMVYear on year growth170%, registered userfive hundred and tenten thousand, the number of orders increased year on year82%。
Although, the Amazon market has been gradually"Rising stars" encroach. If no change is made, it is hard to guarantee whether Amazon willstillyes"One branch stands alone". However, on the whole, Amazon's position in the global e-commerce giant is still relatively stable, plusShopify、SHEIN、TikTokThe development of e-commerce and other platforms is a good thing for sellers to have more choices and layout ideas.