Recently, Zhiou restartedIPO, submission of listing materials, and disclosure of prospectus. In fact, as early as June this year, Zhiou's IPO was accepted by the Shenzhen Stock Exchange, with plans to raise nearly 1.5 billion yuan to strengthen research and development. However, in September, due to the expiration of financial information, Zhiou's IPO was forced to be suspended.
Half year revenue3.2 billion, Zhiou Restarts IPO
As a cross-border blockbuster in central China, Zhiou has always been calm and low-key, and this restartIPO, which announced the revenue situation from 2018 to the first half of 2021, with impressive data. During this period,To EuropeThe revenue is respectivelyfifteen9 billion 500 millionYuantwenty-three2.6 billion yuanthirty-nine point seven100 million yuanandthree200 million yuan,The compound annual growth rate from 2018 to 2020 is 57.80%.

Among them,Overseas onlineB2CThe platform isTo EuropeOur main sales channelsIncludingAmazonCdiscount, ManoMano, eBay, etcOverseas e-commerce platforms.
According to the data, during the reporting period,To EuropeOnlineThe sales revenue achieved through B2C channels is 150.6 billion yuantwenty200 million yuanthirty-two900 million yuanandtwenty-six3.4 billion yuanThe proportions of the main business income accounted for are94.46%, 86.99%, 82.93%, and 82.35%.
Among them, throughAmazonB2CPlatform implementedsales revenuestayTo EuropeMain business incomeHigh proportion,The proportions are respectively89.32%, 81.13%, 71.80%, and 69.31%.
The sales markets for Zhiou products mainly includeEurope, North America, JapanOther countries and regions. It is in theSubsidiaries in Germany, the United States, and Japan mainly rely on overseas e-commerce platforms,Selling products to consumersAmong themEurope and America are the main sales markets for products to Europe.
along withAmazonOnline platforms such as Cdiscount, ManoManoMano, and eBay are gradually developing into mature global open e-commerce platformsTo Europe,IftheseIf there is a significant change in the business model, business strategy, or business stability of e-commerce platforms, it maymeetingrightTheThe company's operating performance has had an adverse impact.
Previously, to EuropeDuring the A-share listing, it received support from Anke Innovation. Anke once stated that Zhiou, as a domestic cross-border seller, is one of the largest Amazon sellers in the home furnishings category. Anke is optimistic about Zhiou's future development and growth potential.
As a cross-border blockbuster, the resumption of the IPO by Zhiou has also attracted the attention of sellers in the industry.
Selling well in Europe and America, with products occupying the top of Amazon's list
Most cross-border sellers in China are located in Shenzhen, while Zhiou is located in the central region of Zhengzhou, becoming a representative of successful cases in the central cross-border circle.
To EuropeMainly engaged in the research and development, design, and sales of self owned home products, including furniture, home furnishings, courtyards, pets, and other categories,Under the bannerSONGMICS, VASAGLE, and FEANDREA, the three major private brands.
amongSONGMICSbrandFor home furnishings categoryThe business categories mainly include storage, utensils, and decoration;VASAGLE is a furniture categoryIncluding living and office furniture, such as TV cabinets, dining tables, office chairs, etc;FEANDREA is a pet home categoryFor example, cat climbing racks, dog kennels, pet mats, etc.
In the sales data for the first six months of this year,The furniture series occupies the overall position50.59%, with home furnishings accounting for 30.68%.During the reporting period, the total proportion of revenue from the four major series of furniture, home furnishings, courtyards, and pets exceeded98%, sales have also shown a continuous increase, becoming the main source of revenue and profit for the company.The furniture series and home furnishing series are the company's main product categories.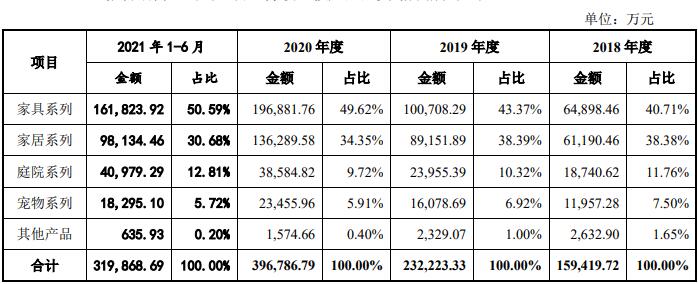 In terms of business model, Zhiou is divided into onlineB2C model and cross-border export B2B model, with online B2C model accounting for over 80% of sales. Online sales are mainly conducted through well-known e-commerce platforms such as Amazon, ManoManoMano, Cdiscount, and eBay, with products selling well in Europe and America,Among them, Europe accounts for approximately60%, with North America accounting for approximately 39%.
According to the data in the prospectus,The Amazon platform accounts for a significant portion of overall online sales69.31%,Multiple products have consistently ranked at the top of Amazon's best-selling list and have received numerous seller honors and awards from the platform. such asAwarded in 2017Amazon omnipotent seller"Title, awarded in 2019"Amazon's Most Popular Brand Seller of the Year"SONGMICS and VASAGLE were selected simultaneously"Amazon Global Opening Top 100 Chinese Export Cross border Brands".
Zhiou attaches great importance to product research and development, adoptingThere are two modes: "independent research and development" and "cooperative development". Based on big data analysis of current trends and user preferences, clarify market direction and gaps in products and functions. Since 2020, multiple products designed by the company have successively won the China Design and Intelligent Manufacturing Award, Contemporary Good Design Award, A 'Design Award, and German Red Dot Design Award.As ofAs of June 30, 2021, the company has 314 patented technologies and 42 copyrights.
Good market reputation and brand image have not only earned Zhiou the favor of consumers, but also won praise from multiple sources and recognition and recommendation from multiple industry media magazines.
Based on the overall market directionAccording to Statista's data, the sales revenue of furniture e-commerce channels in the United States will reach $61.212 billion in 2025, and in Europe it will reach $51.964 billion. In the long run, e-commerce channels will become a new growth point in the global furniture market.
However, against the backdrop of cross-border e-commerce turmoil this year, sellers are facing many uncertain risks.
Half a year sales fee1.264 billion yuan, increasing research and development investment
From the data released by Zhiou, it can be seen that Zhiou's expenditure on various expenses has remained stable, with some expenses increasing, and its operating performance showing a high-speed growth trend.
Data display,In the first half of 2021,The total sales expenses to Europe amount to1.264 billion yuanThe sales expense rate is39.49%. As Zhiou continues to expand its business scale, its sales expenses have correspondingly increased, butOverall, the sales expense ratio is showing a downward trend.
According to the data, the current sales expenses of Zhiou mainly includeTransportation fees, e-commerce platform transaction fees, advertising fees, employee compensation, warehousing feesEtc.In the first half of 2021, these expenses were RMB 560 million, RMB 440 million, RMB 70.9562 million, RMB 45.9933 million, and RMB 100 million respectively, including share-based payment expensesOccupying a total of sales expenses for each period during its reporting periodOver 95%.
Overall, the transportation cost rate to Europe has slightly increased compared to last year0.65 percentage points, due to the expansion of inventory scale and the impact of the epidemic, storage costs in North America have been affected, resulting in an increase in storage costs.
inventoryIn terms of inventory, ZhiouConsisting of inventory goods, in transit inventory, and shipped goods. At the end of each reporting period,hisThe book values of inventory are respectively175 millionYuantwo53 millionYuaneight5 billion 900 millionYuanhenine2 billion 200 millionThe proportions of yuan to the total assets are41.58%38.68%, 47.83%, and 34.54%.
It is worth noting that,Zhiou's research and development expenses in the first half of this year reached11.5735 million yuanAmong the many R&D elements invested, ZhiouEmphasis has been placed on increasing investment in R&D human resourcesThis further confirms the previous statement by Zhang Liuming, the brand director of Zhiou, regarding Zhiou's shaping of craftsmanship spirit.
However, in the overall environment of cross-border e-commerce in the past two years, Zhiou also faces uncertain risks in terms of business, technology, accounting, internal control, etc., such as platform adjustments to business models, business strategies, or third-party seller policies and rates.
With multiple e-commerce platforms upgrading their control over third-party sellers, many sellers are feeling frustrated. In previous interviews, Zhang Liuming stated that Zhiou welcomes compliance and has always maintained a rigorous attitude towards compliance, which is beneficial for the healthy development of the entire industry.
After being suspended, Zhiou reopenedIPO will also accelerate its capitalization process. After the smooth listing, it will also have an important and positive impact on driving the development of cross-border e-commerce in the entire central region.