This year's holiday shopping season, millions of people are shopping on e-commerce platforms, followed by a surge in online fraud. According to foreign media reports, as early as last week, some email scams attempted to lure consumers into handing over their personal data information. Recently, there has been a new outbreak of online fraud.
according toExpress.co.ukIt is reported that some scammers have recently borrowed the official name of Amazon toUsers of platforms such as Gmail and OutlookEngage in fraud.Many Amazon users have received emails fromThe email from 'Amazon' threatens that their account is about to be suspended.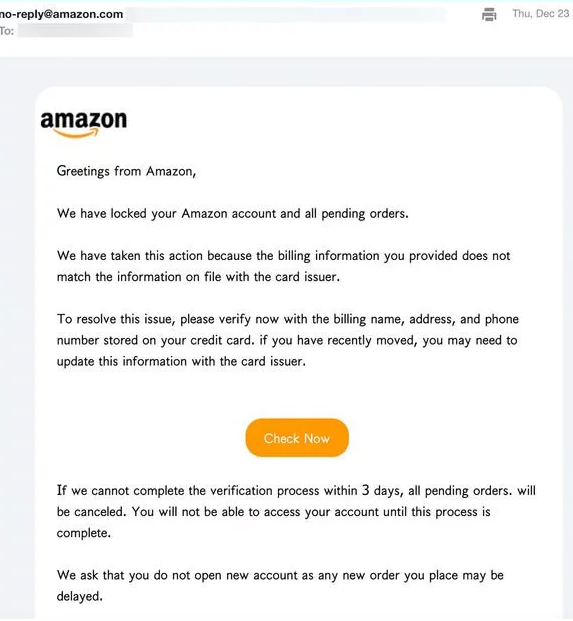 The email content shows that your Amazon account and all transactions will be suspended. The reason for taking this action is that there is an issue with the billing information you provided. To solve this problem, you need to click on the link to update the relevant information of your account.
After opening this link, it will redirect to a website similar to the Amazon page. If personal information is entered on this website, it will cause information leakage and threaten account security.Express.co.ukIt has been confirmed that the email is fraudulent information,Despite emailIt looks likeIt was sent by Amazon, but it's easy to tell if the real address matchesAmazonNot relevant.
AmazonalsoOn its security pageexpress:If you receive an email claiming to be from Amazon but looking suspicious, it may be a phishing email
"In these emailsContains a link to a link that looks likeAmazon. com website, but itNotLegal website. The website will require you to provide an Amazon username and password, or try installing unnecessary software on your computer. If you receive such a message,Please do notOpen any attachment or click on any link,It should be done immediatelyDelete it.
With the increasing number of online shoppers, there are also more and more fraudulent activities targeting e-commerce platforms, according to cybersecurity companiesProofpoint stated that there have been ten times more fraudulent activities discovered this year than last year. Both sellers and consumers of e-commerce platforms must improve their own awareness of prevention. Don't trust external links and protect your information security.