Today, Amazon UK released a new announcement, hoping that sellers can actively share their learning experience on Amazon Forum.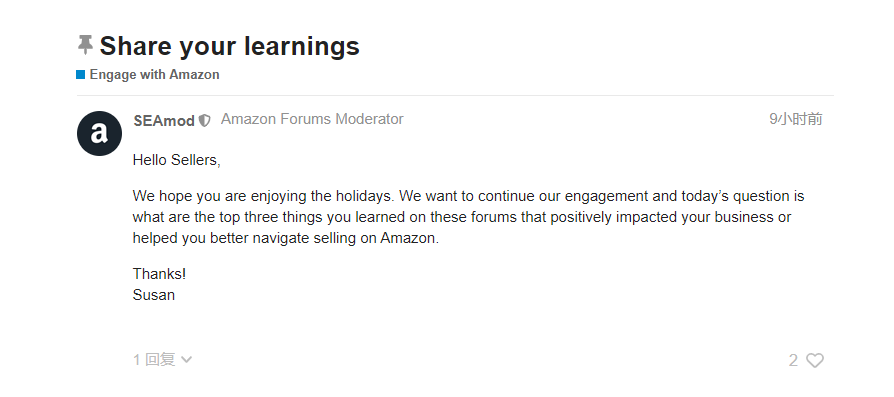 Amazon said that while the sellers enjoyed the vacation, it hoped that the sellers could share their learning experience on the forum, which mainly included two aspects: having a positive impact on the seller's business or helping the sellers better sell on Amazon.
Subsequently, the sellers responded to the forum one after another, expressing some of their sales experience.
sellerA: 1. Eliminate negative emotions in the sales process: Don't be the victim, accuser and complainer. Keep an objective attitude and constantly strengthen professional skills.
2. Deeply study the seller's college knowledge, regularly read the content of the forum, actively seek help on the forum, and ignore negative emotions such as criticism and ridicule in the forum.
3. Understand the cost and profit margin of your products, and then price them accordingly.
sellerB: 1. Take precautions. Sellers should always have a sales plan and take corresponding protective measures for some emergencies, even if the event has not yet occurred.
2. Keep learning new knowledge about Amazon's policies and rules. To ensure that their development direction is consistent with Amazon, so as to maintain the normal operation of the seller's business.
3. Try new things with an open mind and learn from mistakes. We are human beings, not everyone can know all the answers. New sellers are bound to make the same mistakes as experienced sellers. Don't be discouraged or ashamed. The most important thing is to avoid mistakes again.
sellerC: 1. Know your own sales cost
2. Amazon Forum is a good place because it talks about the problems that the seller has in the sales process and how to deal with them.
3. Amazon is an e-commerce platform, not suitable for sentimentality. The seller should not mix personal emotions in the sales process.
Of course, there are also some sellers who are dissatisfied with some of Amazon's work and hope that other sellers will pay attention to it.
sellerD: 1. Never trust Amazon. They will lie to you and hide the truth. Recently, Amazon removed the "expected delivery date" from all transportation services of Buy Shipping in an attempt to prevent sellers from understanding how the system works.
2. People working for Amazon, including those who are responsible for supporting, guiding and helping the seller, lack understanding of the actual operation mode of Amazon.
3. Amazon's technological capabilities are not as strong as they claim.