Many luxury New Year items have also been launched in advance, such as the Manhattan shoulder bag from Saint Laurent and the KochCoach Year of the Tiger Special Edition Tote Bag, as well as the Jiangshi Danton Woodland Type mechanical watch that needs to be booked offline.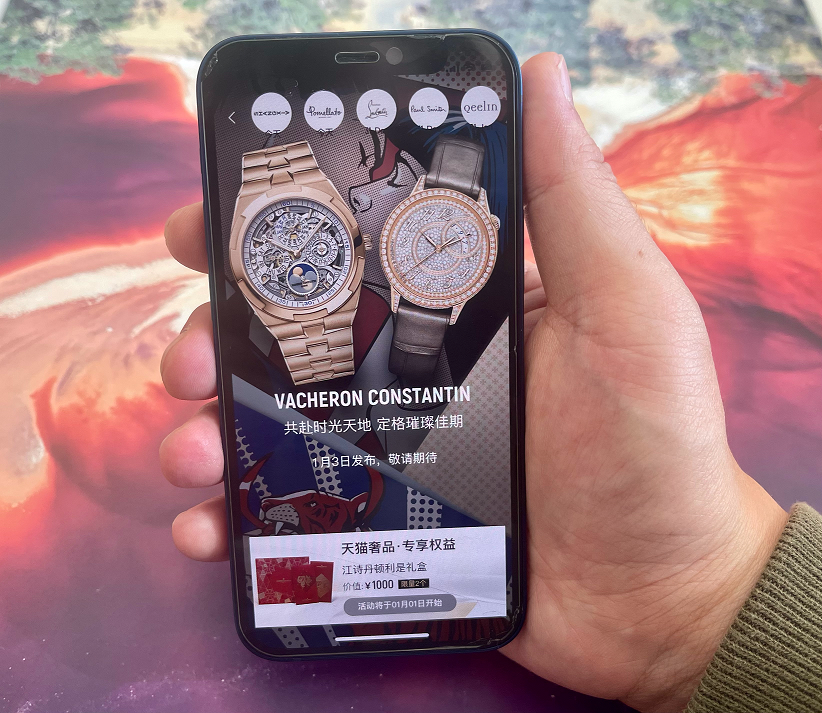 For luxury brands, the Chinese market is becoming increasingly important, and online channels have become a new engine of growth. Launching new products and limited edition products on Tmall has become a common practice for brands. According to Tmall, in the past year, luxury brands have released on average on Tmall every monthMore than 30000 new products, many of which are global first-time and limited edition.
Launching new products on e-commerce platforms is one of the important ways for luxury goods to capture emerging audiences. Bain Consulting report shows that emerging consumers growing in the digital era are driving the growth of China's luxury goods market, and these people are also the most important active users of Tmall.
Tmall is an important platform to establish connections with young consumers in the 'digital age'. Antonio Carriero, Chief Digital and Technology Officer of Breitling, a high-end watch brand, recently told the media that Tmall is not only an e-commerce sales channel, but also a way to reach emerging consumers and enhance brand awareness in the Chinese market.
According to a research report on the Chinese luxury goods market released by Bain,The global luxury goods market shrank by 23% in 2020, but luxury goods consumption in China bucked the trend and rose by 48%. It is expected that China will become the world's largest luxury goods market by 2025, and Tmall will continue to lead the growth of the luxury online market.
Since last year, Tmall has ushered in a wave of luxury goods entering, and currently hasMore than 200 luxury brands have officially settled in, and it is also the only e-commerce platform in China that brings together the five global luxury giants LVMH, Kaiyun Group, Chanel, Herm è s, and Lifestyle Group.
Data shows that in the past year, the sales of jewelry, women's clothing, shoes, and other categories on Tmall luxury goods have shown a significant increaseThree digit growth.
Embracing online also brings significant performance growth to brands. Taking Lifeng Group as an exampleIn the fiscal year 2021, the annual net profit increased by nearly 40% year-on-year, with online retail sales accounting for 21%. This is inseparable from the previous establishment of 11 brand flagship stores by Baobao Tianmao. Li Feng Group once stated in its financial report that Tmall is an important driving force for its post pandemic performance recovery.
Tmall is not only a new engine for luxury brands to achieve growth in China, but also an important partner for digital innovation.Charles Leung, CEO of FRED, a jewelry brand under LVMH, once told the media that Tmall is not just an e-commerce sales channel, but more like a digital content platform, which is very helpful for the brand to reach new customer groups.
It is understood that,Tmall utilizes platform digital technology to equip luxury brand official flagship stores withAR trial installation, 3D display, online exhibition, customized services, voice message cards, etc., allowing brands to communicate with online consumers in a more user-friendly and youthful way.