Recently

Deloitte has released

The 2021 "Technology Empowering Asia Pacific Digital Trade" report,

adopt

Interpreting the future development trend of cross-border e-commerce through "big data+popular market analysis". WorldFirst received the freshly produced report as soon as possible. Next,

We

Just sort out the key points for everyone

~Full of dry goods, slowly look down~
Global buy buy buy buy buy
Strong demand for overseas consumption
According to United Nations data,In the third quarter of 2021, global commodity trade exceeded $5.6 trillion, reaching a historic high. Among them, cross-border e-commerce is taking advantage of this opportunity to take off. According to statistics from the General Administration of Customs of China, the import and export of cross-border e-commerce in China increased by 20% in the first three quarters of this year; Last year, its scale reached 1.7 trillion yuan, with exports accounting for two-thirds, an increase of 40%.
On the consumer side,The demand for "overseas e-commerce" is strong, and the popularity of cross-border e-commerce is not decreasing. The future trends are as follows:
The normalization of epidemic prevention has made consumers pay more attention to health and safety, and tend to alleviate strong consumer demand through e-commerce channels. However, the massive selection range, cost-effective products, and simple shopping processes of e-commerce have deepened consumers' online shopping preferences.
Due to the lack of optimism in the short-term release of cross-border travel, higher quality overseas shopping is expected to become a new consumer lifestyle globally.
In the post pandemic era, consumer confidence will gradually rebound with economic recovery, and the formed digital habits will be difficult to reverse, which will bring vigorous opportunities to the field of digital consumption.
Asia-Pacific'Micro multinational enterprises' are full of vitality
RECP Future Expectations
Deloitte Report ForecastAsia'sMicro multinational enterprises will take a crucial leap of their own. Dear cross-border e-commerce sellers, are you talking about it~
What isMicro multinational enterprises?
According to Deloitte, many countries in the Asia Pacific regionA survey of over 600 cross-border e-commerce enterprises shows that 85% of them are small and micro enterprises with a scale of less than 100 people, even with only one or two people, yet they can sell and purchase in more than three overseas markets. 3C, home furnishings, beauty, clothing, etc. are its top selling goods exported globally. The European and American markets are the mainstream markets they bring goods to today, but Southeast Asia is recognized by them as the fastest growing tomorrow's market.
According to the joint launch of Zhejiang University and Ant Research InstituteThe RCEP Digital Trade Cross border Payment Service Index indicates that if payment activity is measured by the number of payment transactions, it is far ahead of the growth of sellers and transaction amounts,thisExplain that we are cross-border e-commerce sellersGradually emergingThe trend of fragmented and small orders also confirms the rise of cross-border e-commerce sellers in Asia.
Each Asia Pacific market has its own focus
The future of independent stations is eye-catching
Since our cross-border e-commerce development momentum is not small, which platforms do we sell on? North America and Europe are the largest import and export destinations for cross-border e-commerce in mature markets in the Asia Pacific region, thereforeAmazonandEBAy is more popular; The Southeast Asian market ranks firmly in the top three sales markets in Asia Pacific countries.
Don't put eggs in one basket,This is everyone's business experience.
(Favorite third-party platform in mature markets)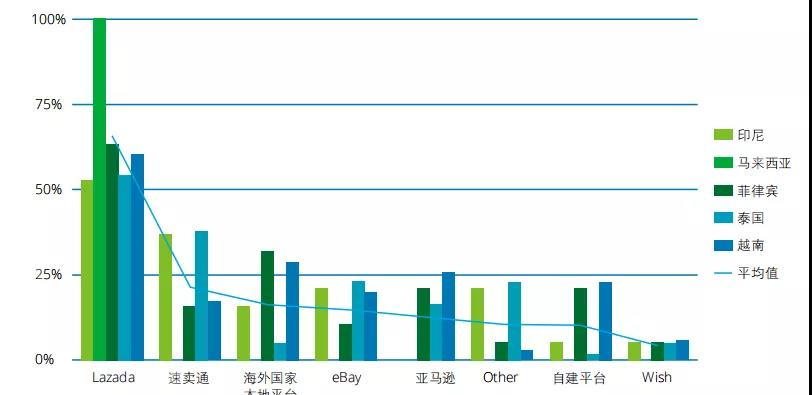 (Favorite third-party platform in developing markets)
It is worth mentioning that,Since the beginning of this year, there has been a significant change: 30% of enterprises have established their own exclusive independent foreign trade websites, and 70% of enterprises also hope to build their own independent websites (independent websites). Compared to relying on e-commerce platforms before,The rise of self built independent websites is a symbol of the awakening of independent brand awareness among cross-border e-commerce sellers,Not only can it avoid accessing third-party e-commerce platformsThe "entry fee" avoids being constrained by the rules of the big platform, and can also face consumers more directly, making "fans" more loyal to the brand, giving them more initiative in promoting innovation in the future, and making digital trade data more secure.

(Intention to establish independent stations in mature markets)
(Intention to establish independent stations in developing markets)
The key sales areas and advantages of the Asian market also vary.
Top three cross-border sales areas in various countries:

Advantages of cross-border e-commerce in Asia Pacific countries:
Singapore's Internationalized Financial and Shipping Center Connecting Southeast Asia
China's platformization development leads cross-border trade
South Korea's strategy promotes the development of cross-border e-commerce advantages
Japan's Strong Logistics Technology Protects Cross border Trade
Malaysia's continued digital penetration promotes cross-border trade growth
Indonesia's demographic dividend continues to unleash market potential
Philippines' Electronic Payment Rate Constrains Online Trade
See here,Xiaowan knows that sellers who are eager to learn and study would like to know more specific information. If you are full of dry goods, you can go thereWanlihui Dry Goods SectionDownload it!
Can sell the goods and receive the money back
Digital Technology Assists Cross border Collection
Digital technology helps cross-border payments with zero threshold, low cost, and high efficiency.
Report DisplayWanlihui, the fastest growing cross-border payment tool among sellers of cross-border e-commerce in China, Japan, and South Korea(The market share of WorldFirst exceeds 40%. It can be seen that in our cross-border e-commerce seller's management treasure box, WorldFirst's assistance is also significant, haha~

(The Most Popular Electronic Payment Platform)
Compared to the past, the overall payment cycle should be at least1-2 months, WorldFirst not only canFastestReceived within 1 minuteHelp us cross-border e-commerce sellers, friendsRelieve pressure on capital turnover; Can also pay directly with one click1688 Cross border Treasure, convenient for everyone to purchase on 1688~
"In the digital age, technology has given small and micro enterprises the opportunity to grow into micro multinational enterprises, allowing them to sit on the train of global digital trade with zero entry barriers, and even sit at the same table as those multinational corporations! "
Wanlihui(Fan Jian, the head of WorldFirst China, candidly stated: We provide various services such as online business loans and US dollar loans to cross-border merchants who are busy with the Christmas peak season. In their most valued annual battle, we use the power of technology to help them 'raise funds' and alleviate the financial pressure of their concentrated demand for stocking and shipping. Soon, with the coming into effect of the RCEP agreement next year, China's micro multinational enterprises will also face greater challenges
During the voyage,WeWe are well aware that all cross-border e-commerce sellers need more policy and technical support to help them achieve faster, more convenient, and safer cross-border transactionsPayment and redemption. Sellers who want to charge and learn,You can click belowRead the original text,go toWanlihui Dry Goods SectionGet free bulk dry goods Oh~