Aromatic candles are frequently criticized FearIt is related to the surge of COVID-19 cases
Well known candle brand Yankee candle(Yankee Candle) has been praised repeatedly, but recently, the public praise has met with Waterloo. Amazon is full of bad reviews in the United States.
The following are recent(November to December):
"-- I bought it before,The fragrance will fill the whole room,butNow this one has almost no smell.
——There is no smell unless you bury your face in a glass container. After burning for 8 hours, there was no smell at all.
——It only smells of wax... no other smell.
——IIt is suspected that this may be a copycat version. If not, then their quality has declined.
……"

All of a sudden, there are so many bad comments. Is it true that the quality has declined as the comments said? But the problem may not be candles, but people's sense of smell.Consumers who give business travel reviews may be infected with COVID-19, because olfactory failure is one of its symptoms.
Assistant Professor of Political Science, Northeastern UniversityNick Beauchamp studied the buyer reviews of Amazon's top three Yankee candles. He found that around December, comments about "tasteless" rose sharply.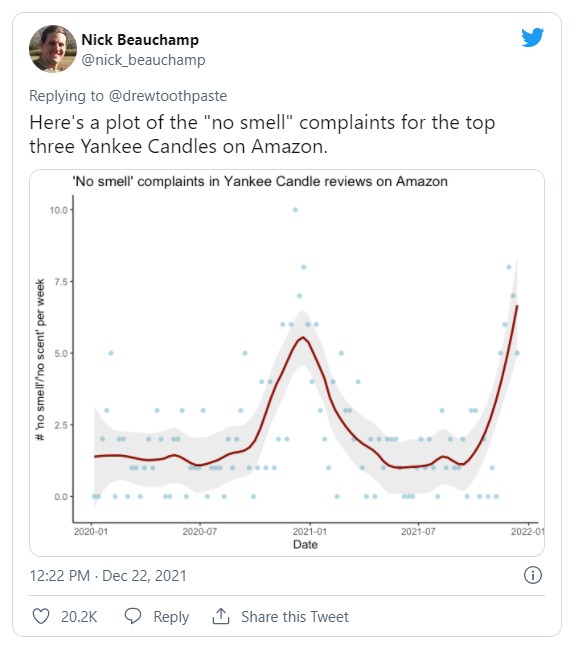 At this time, the global epidemic situation is rising again, and the epidemic situation in the United States is creating again"Sad mileage".
According to the New York Times, as ofIn the past week of the 26th, the number of newly confirmed cases in the United States increased by 48% compared with last week, and the average daily increase of cases reached 182682 on the 7th. Data from the New York State Department of Health shows that since the 5th of this month, the number of children hospitalized with COVID-19 has quadrupled.
With the rapid spread of the Omikron virus strain in the United States, the positive detection rate of COVID-19 every day in the United States is higher than the peak period of Delta virus transmission this summer.Among the newly confirmed cases in the United States, the proportion of cases infected with Omicron virus is close to3/4, in parts of the East Coast, the number is as high as 90%.
In fact, this is not the first time that such a situation has occurred. At the end of last yearJustIt is reported that Amazon's aromatherapy candle stores in the United States have received a lot of bad comments, and also different brands of aromatherapy candle sellers have received bad comments at the same time.
At that time, some scholars also investigated this. Research Assistant for Adult Development at Harvard UniversityKate Petrova vs 2017totwo thousand and twentyyearComments on the three best-selling aromatic candles and ordinary candles in Amazon AmericaHasanalysis.
The survey found that the score of incense free candles did not change much, but the score of incense candles wasThere was a sharp decline from January 2020 to November 2020, and the reasons for giving business trip reviews were mostly insipid. Poor evaluation of lack of aroma in April、August、October and NovemberThere was a small peak.This is consistent with the outbreak of several waves of the epidemic in the United States.
And this phenomenon was not only seen in the United States, but also in the perfume product reviews on Amazon UK. Not only that, but also feedback from domestic sellers:"I thought it was the Europeans and Americans who had been isolated at home for a long time and became anxious and irritable, so I kept giving negative comments. Now I think my beauty products are also odor based."
In this way, does it mean that the fragrance related products will be affected if the aromatherapy candles are welcomed again?This is really worth the attention of sellers.
A problem with smell will affect consumers' purchase decisions. Moreover, some studies have shown that the sequelae of this COVID-19 may not be recovered for a while. It may be a week, a month, a year, or even permanently damaged. This means that the seller needs to play"Protracted war".
Crisis is also a business opportunity, and sales of wigs and decompression products have soared
The sequelae of COVID-19 are far more than smell. In South Korea, the investigation on the sequelae of COVID-19 confirmed patients shows that rehabilitationAfter 3 months, there will be relatively severe hair loss and asthma during exercise. In Japan, I also interviewed a woman who recovered from COVID-19. Two months after COVID-19's symptoms disappeared, she found that her hair fell off in a large amount, and the amount of hair decreased to about half of the past.
The head of a clinic in Tokyo said that some of the COVID-19 patients even lost almost all their hair. This phenomenon of hair loss as a whole is different from that caused by aging. It has no tendency of age group and is easy to appear several months after the onset of COVID-19. The President also pointed out that this yearThe number of people who went to the hospital for consultation on hair loss in October was 4.5 times that in August.
In addition, during the epidemic period, people's physical activity decreased, but the pressure of work and life did not decrease, which also led to people's"Overhead anxiety" is becoming more and more serious. A survey shows that about 60% of Japanese people have hair loss crisis. In addition, everyone wore masks and could not see their faces, so they paid more attention to their hair and hairstyle.
Due to various reasons, the sales of wigs, hair essential oil and other related products have risen rapidly in the past two years, and the demand is gender neutral.The head of the marketing planning department of a Japanese wig manufacturer said that the female wig industry had increased over the previous year3.6 times, 2.7 times for men. The business of a men's customized wig salon in Ginza is also very popular. Since 2020, the sales volume has increased by 30% year on year.
Some experiencedThe seller said:"The sequelae of COVID-19 will lead to hair loss, impaired vision, photophobia, olfactory failure, insufficient vital capacity, etc. If you sell wigs in 2021, the sales will be very good..."
According to the data of quick sale, the global wig market has reached hundreds of billions of dollars, and China's exports account for80% of the wigs in the world are from Xuchang, China. On Xuchang's own e-commerce platform, on average, 40,000 sets of wigs are sold worldwide every day, with an annual turnover of 1.5 billion yuan.
In the case that the epidemic cannot end in the short term, the wig market can be said to continue to maintain great potential.According to the prediction of industry experts, the market scale of hair related products in the future can reach about71.9 billion yuan.Sellers can seize this opportunity and take advantage of the export advantage of Made in China to create more explosive orders.
Except for wigs,Papers previously published in The LancetAlso mentionedMuscle pain, fatigue, fear, depression and other psychological disorders are the most common long-term sequelae after COVID-19 infection.
Therefore, the sales volume of decompression products also doubled.The previous data statistics of the Russian AliExpress platform are fromFrom January 1, 2021 to January 18, 2021, the total turnover of decompression products doubled compared with the same period in 2020 and tripled compared with the same period in 2019.
In this category, the most popular products are reverse dynamic trimmers, soft pressed bricks with pressure ballshaveRotating gyroscope with LED backlightEtc.Experts analyzed that as people have always been anxious, decompression products are people's first choice; In order to relieve the pressure in the heart and find the outlet for release,The sales of diary books have also been greatly improved in the epidemic.
In addition, exercise is also a good way to maintain physical and mental health and relieve stress.In addition, the epidemic has made many people pay more attention to their health and sports, so sports products have also opened up a market in the epidemic.In particular, fitness equipment that can be completed at home, such as fitness bicycles, belly wheels and yoga mats, are favored by many consumers.
The emergence of an epidemic has indeed changed the world. However, from another perspective, it also brings about a turnaround and hope for many industries.The epidemic may not disappear in a short period of time, so we can only resort to persuasion"Crisis" becomes "business opportunity".