This year, this wave of blockbusters on Amazon has hit some sellers tremendously, but many sellers, including big sellers, have started to look for new ways out of their business.

this yearIn August, the Shenzhen Municipal Bureau of Commerce issued a notice on organizing the declaration of the special fund support for the development of the central foreign trade and economic cooperation in 2021, which brought consolation and hope to many sellers. It is reported that the list of projects to be funded (rewarded) has been published recently, and the publicity period has expired. Among the list of projects to be funded, there are many well-known big sellers.
1.97 million yuan! Tongtuo, Zebao and other big sellers are among them
As can be seen from the list of funded people,Tongtuo, Zebao, Youkeshu, Saiwei, Yibai Network, etcThe 20 big stores were all funded by the independent station project, with an amount of 1.97 million yuan.
According to the previous announcement issued by the Shenzhen Bureau of Commerce,The special conditions for applying for funding for the independent station project mainly include the following three↓
The independent station must beStart online operation before January 1, 2019, and the operation of the independent station is good, and the future long-term operation is stable; Stand alone in the past year(July 2020 to June 2021),The average monthly sales is greater than or equal toUS $300000;Enterprises applying for independent station support must hold the ownership subject of the domain name of the independent station that is greater than or equal to50% of shares, enterprises can hold it directly or indirectly.
With regard to the conditions for the above subsidy declaration, some sellers have discussed that it is not easy for many sellers to declare if they want to meet the requirements of independent station operation for more than three years and the sales volume reaches the standardMost of the big sellers in this list who have won the support of the independent station project are"Frequent customers",This further shows that these big sellers have accumulated rich experience and invested heavily.
As far as the cross-border e-commerce market is concerned, government support is an important driving force for its rapid development.The state has increased its support for independent stations. With the support of policies, independent stations have attracted more and more sellers, opening up a Xintiandi in the field of independent stations.
The CEO of Shenzhen Cross border E-Commerce Association also said that the development momentum of the cross-border e-commerce industry is strong, but due to the impact of multiple factors such as Amazon's number closure tide, logistics and other cost increases, many sellers are struggling. To help cross-border e-commerce enterprises out of difficulties, the government has chosen to provide preferential funding for individual projects.
Among them,partAccess to governmentList of funded enterprisesAs follows, if interested sellers want to view the full list, copy the link and open it:
https://view.officeapps.live.com/op/view.aspx?src=http%3A%2F%2Fcommerce.sz.gov.cn%2Fattachment%2F0%2F923%2F923890%2F9425142.docx&wdOrigin=BROWSELINK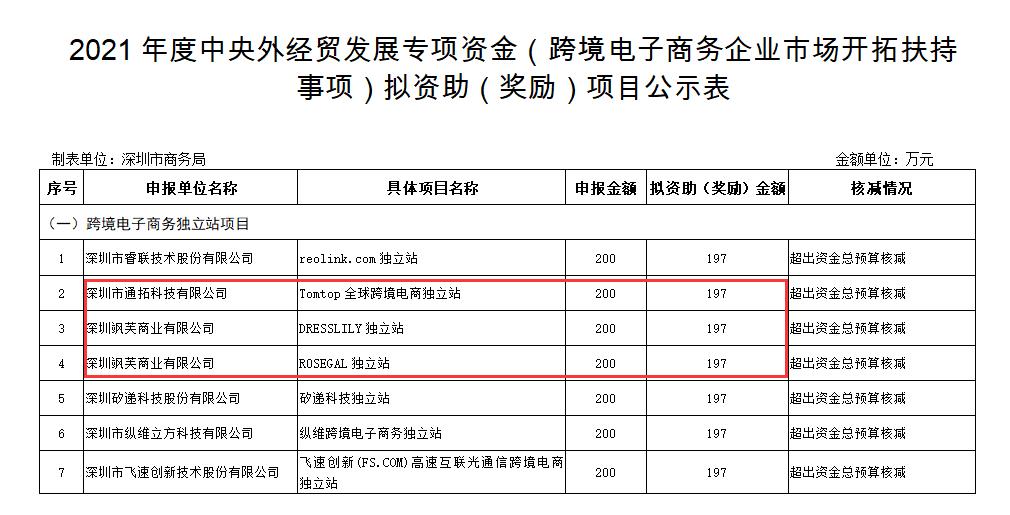 In fact, as early as this yearIn August, the Shenzhen Municipal Bureau of Commerce provided full support for the development of foreign trade and economic cooperation, and vigorously carried out the application and acceptance of special fund support for foreign trade and economic development, of which the development and support of cross-border e-commerce enterprise market is an important part.
Not only the support for independent station projects,Shenzhen Municipal Bureau of Commerce also gave strong support to the cross-border e-commerce digital application project, including Huabao New Energy, Tongtuo, Yibai, Xiapi, Saiwei and Youkeshu26 companies received financial support.
In addition, the Shenzhen Municipal Bureau of Commerce has also given strong support to the cross-border e-commerce public overseas warehouse, including Amler's overseas warehouse, Difang and TongtuoEmler Overseas Warehouse won the highest financial support for2.96 million.
According to the above list, there are many well-known cross-border stores in Shenzhen, and more have won support from independent stations, cross-border e-commerce digital applications, public overseas warehouses and other projects, which can be said to be quite fruitful. In fact, in addition to the well-known big sellers we are familiar with, there are also some low-key independent station big sellers that have also received millions of grants.
The monthly flow is over one million, and the security is selling well
In the list of winners, there is an independent station project called Shenzhen Ruilian Technology Co., Ltd. (hereinafter referred to as Ruilian)(Reolink. com) has also received financial support from Shenzhen Municipal Bureau of Commerce.
Over the years, what has Ruilian done on the way to sea, and what has it achieved?
According to the official website of Ruilian, the companyFounded in 2009, it is a leading video product and solution supplier in China, focusing on video technology,Focusing on smart cameras and sensors, private cloud storage, and Internet cloud servicesFocusing on the application of smart home, the products and solutions are mainly oriented to European and American markets.
Like many cross-border brands, Ruilian started out as a OEM OEM foreign trade product. Due to the low profit of OEM products, Ruilian finally chose the road of brandingstayIn 2015, he created his own brand - Reolink.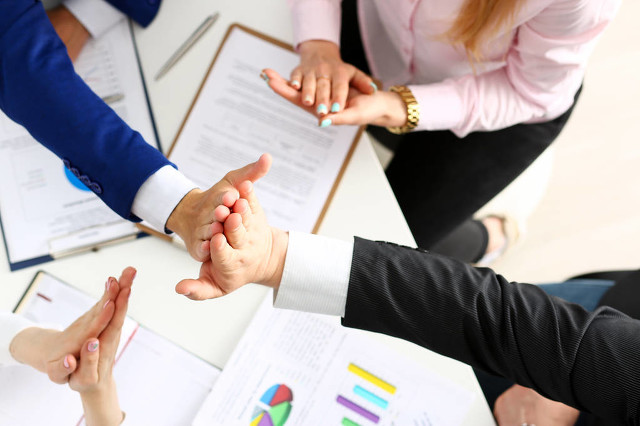 Brand construction naturally requires its own brand moat. Among them, the most important is the technical strength.
Although it is not clearThe R&D fund of Reolink is invested, but it is understood that the number of R&D personnel of Reolink accounts for one fourth of the total number of employees. With the support of sufficient technical personnel, Reolink has established a perfect product line and constantly updated and iterated the products.
According to the official website,Reolink mainly has three product lines, including wireless battery camera, indoor intelligent security camera and security monitoring system.
In addition to hardware products,Reolink also has its own software product, the "cloud subscription service" Reolink Cloud, which is used to meet the needs of consumers for data storage. Although the price is not high ($3-10), the gross profit has reached more than 40%.
According to statistics,The traffic of Reolink independent station reached 1.77 million in NovemberAlthough it is not as popular as the head, as an independent station of vertical products, this number is already good.
Geographically,The largest traffic source of Reolink website is the United States, accounting for nearly half of the traffic (43.83%),Followed by Germany(8.12%) and the United Kingdom (6.94%). In terms of channel sources, Reolink traffic mainly comes from keyword search ads (58.99%) and direct visits (30.91%).
On social platforms, such asYouTube, Reddit, Facebook and Reolink have also launched advertisements, and launched evaluation content in cooperation with online celebrities.
Traffic acquisition is important, but traffic conversion is also important. To improve the conversion rate,Reolink has refined the operation of the website.
To promote purchase,The Reolink website has set up an interactive product introduction map, which can recommend the most appropriate product for consumers according to their choice, and show the product use effect and product comparison through video consumers.
Reolink has an average monthly flow of more than one million. From its establishment to becoming a leader in the security industry among domestic overseas brands, it deserves this funding. In fact, as a large number of Amazon boutique sellers move to independent stations, more and more overseas brands like Reolink focus on technology and brand building, and independent stations will also usher in a warmer spring!